Last summer, at a climber's get-together at Mario's house, i had the pleasure of meeting John Roper. For those of you who don't know of John, he is a towering figure of Cascades exploration, with thousands of ascents (including many first ascents) under his belt. He is also a member of the legendary Bulgers climbing group, and co-creator of the Bulgers Top 100 Peaks in Washington list. Suffice it to say i was enthralled, and managed to monopolize the conversation with him for much of the evening. A key question i asked him: of all those ascents, what is your favorite climb? Without hesitation, he said Wild Hair Crack on Himmelgeisterhorn. Its worth reading his writeup of that first ascent here
here
both because it is quite entertaining, and because it highlights John's reverence for the Southern Pickets.
As something of a Picketeer myself, the conversation got me thinking: i had never been into Crescent Creek basin -- something i needed to rectify! As fall and then winter rolled in, i spent spare moments flipping through Red Fred, starting at the Challenger quad, and scouring the interwebs for lesser-known morsels about the Western half of the Southern Pickets. I also enlisted two good friends and climbing partners, Matt and Keith, in the project. Step one was equipping them with copies of Training for the New Alpinism. We are all mid-fourties to early-fifties, busy with families and careers, and so the luxury of getting in shape by actually getting out climbing a lot was out of the question. In its place, enter max strength box step-ups and weighted hill climbs. Less fun but quite effective. As our forth, virtual, team member, we had Mario, the person who introduced me to the Pickets 17 years ago, to act as my logistics co-conspirator as he recovered from shoulder reconstruction.
I started brainstorming new lines during early morning training sessions at VW with Keith. Staring at Scurlock photos can do that to you. South Buttress on Twin Needles? Southwest Buttress on Himmelgeisterhorn? But what got me most excited was, while trolling through Roper's website, noticing mention of unclimbed peaks (peaks! not lines, peaks!) in the Pickets. What?!?! I homed in on Beep and Honk (named by John of course), two unclimbed sub-peaks on the unclimbed West Ridge of Ottohorn. That West Ridge, from the photos i had, seemed moderate and downright reasonable. An appropriate goal. Maybe.
Wayne recommended to me years ago that to truly prepare for a Pickets trip, you need to get out on a couple of soul crushing training outings. We rounded down to one. On the Northeast Ridge of Triumph, on summit day I felt physically fit but mentally off, strung out after a surprisingly anxious night of non-sleep at high camp. Matt also wasn't feeling dialed in. The project seemed in doubt. As i get older, and particularly since becoming a father five years ago, risk and mortality are more mentally present when i'm in the alpine, sometimes to the point of making it just not fun. Had my ambitions outstripped my waning climbing ability and risk tolerance?
We tempered our goals a bit, planning to climb Terror first, as a way to hopefully get some momentum before trying something new. This new framework got our team mojo back together, and with a reasonable albeit not stellar forecast, we headed off on our trip.
In the afternoon Matt, Keith, and I began our hike in, loaded up on water after fording Terror Creek, and then headed uphill.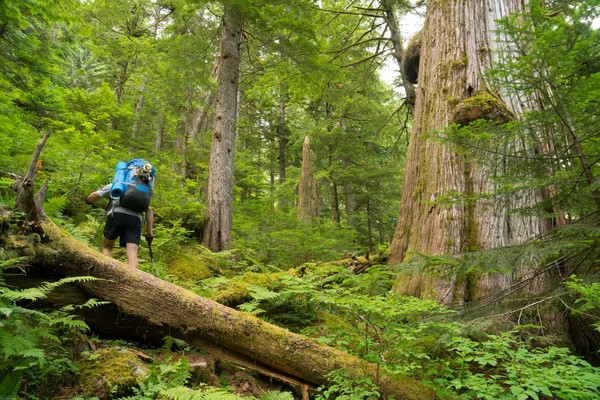 We camped at 3600', to split the approach into reasonable chunks, which worked great.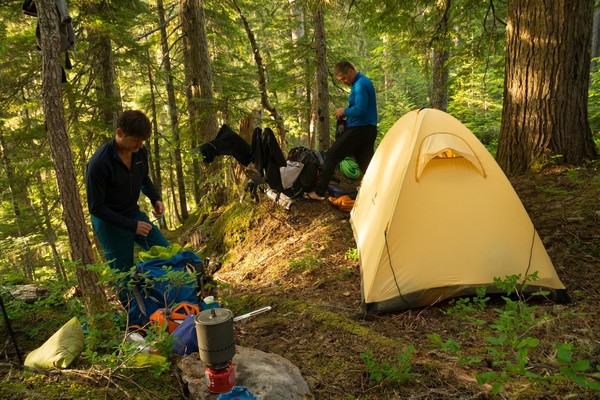 The next morning, with a mostly sunny forecast, we awoke in a whiteout. Here is how "Mostly Sunny" looks in the Pickets.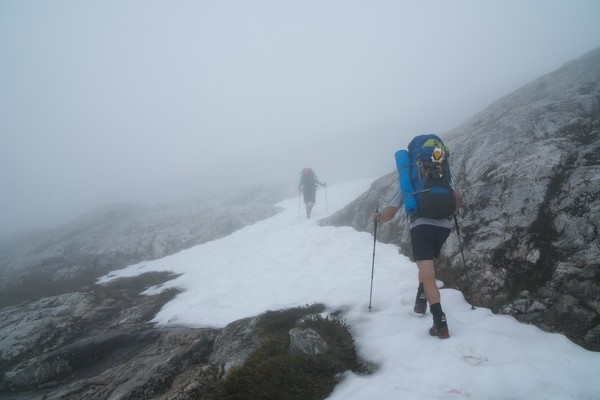 We continued up into Stump Hollow, and over to the Barrier camp, and then sniffed out the correct place to drop off the ridge. We still had no views of the spires. But once we dropped in, the clouds started to lift, and by the time we arrived at camp below Terror, it was sunny enough to dry out and take in the scenery.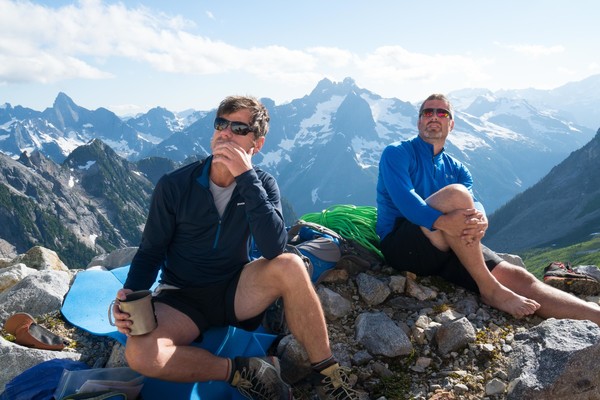 That night the winds howled. Keith was nearly blown over during a nighttime pee run. We delayed our departure for three hours until the winds dropped. The weather turned fine as we hiked up to the Terror gully.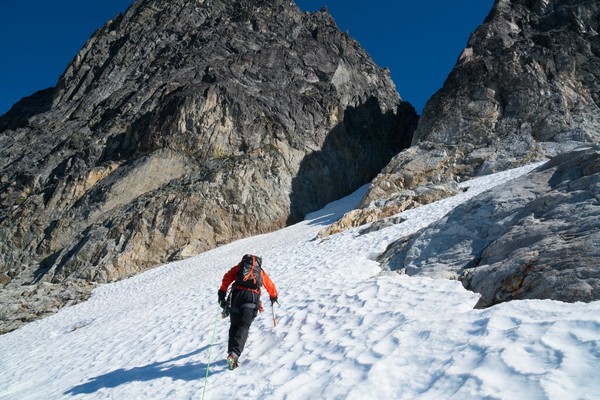 The gully had begun to really melt out, and there was a tricky break in the snow (just above what is shown in this photo) that Matt led through with some nifty mixed climbing. I was happy to not have that lead!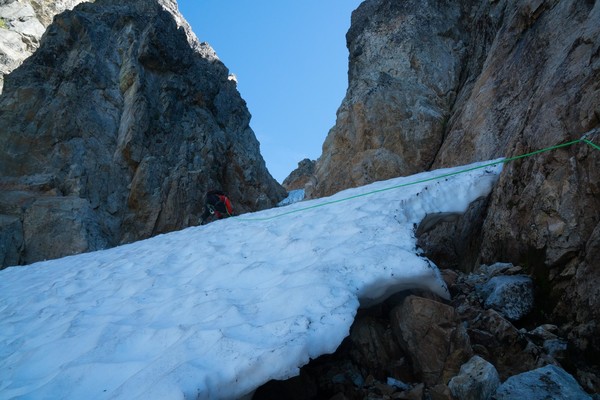 At the notch, after a bit of futzing around to find the best start, we began cruising up the enjoyable climb.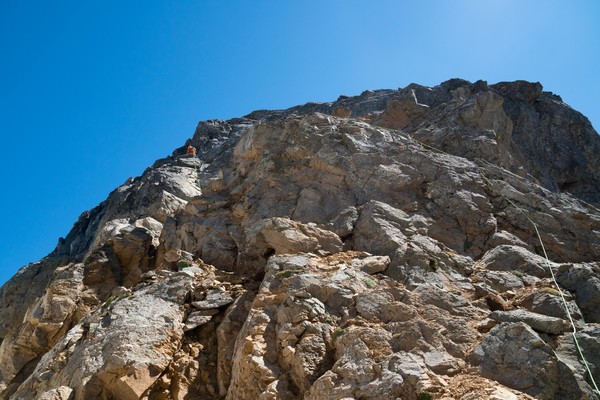 Soon we reached the distinctive summit.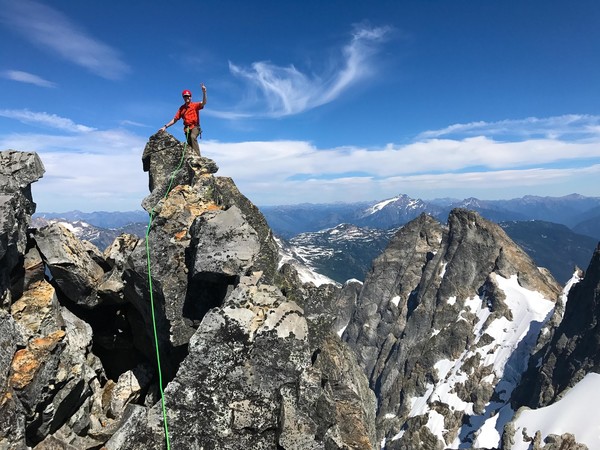 On the descent, we used the skier's right side gully to bypass the tricky snow break. There was a rap anchor here, but it needed some love, so we beefed it up with a second piton and a better nut.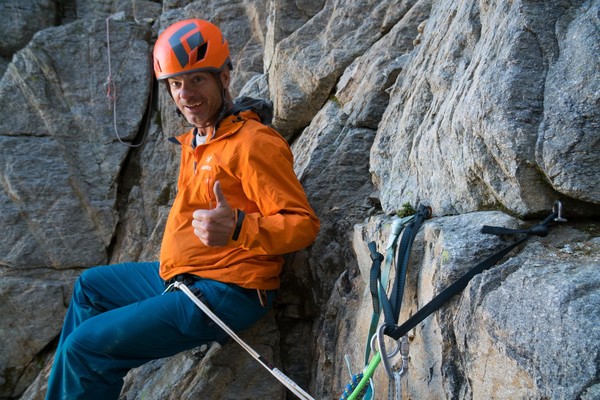 It felt good to have Terror under our belts. So far, the trip was going right according to plan.
The next morning, we hiked West below the spires, and gained the Southern Pickets ridge crest at the saddle just East of West Peak. We tagged West Peak, which is definitely worth a visit for the outstanding perspective. Here is Matt nearing the summit. You can see the goal for the rest of the day (the West Ridge of Ottohorn) laid out behind him.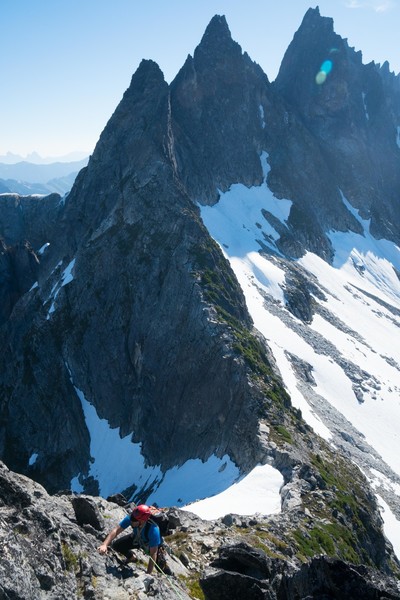 The summit views were outstanding (including Mongo Ridge over Keith's shoulder).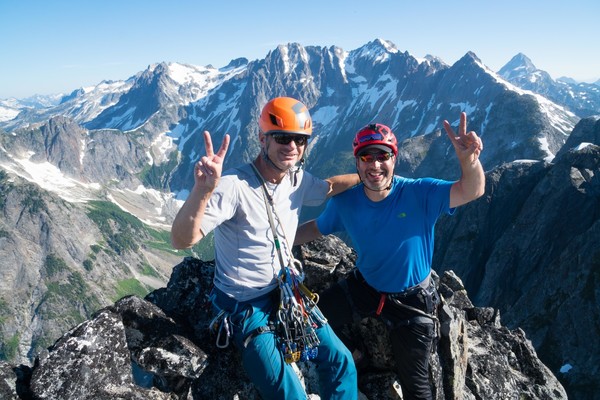 Back at the saddle, Matt told us he was going to sit out the Ottohorn attempt. After talking it through, we repacked and Keith and I headed out into new territory. This picture taken by Matt a little later in the day shows the route over, from left to right, Beep, Honk, and Ottohorn.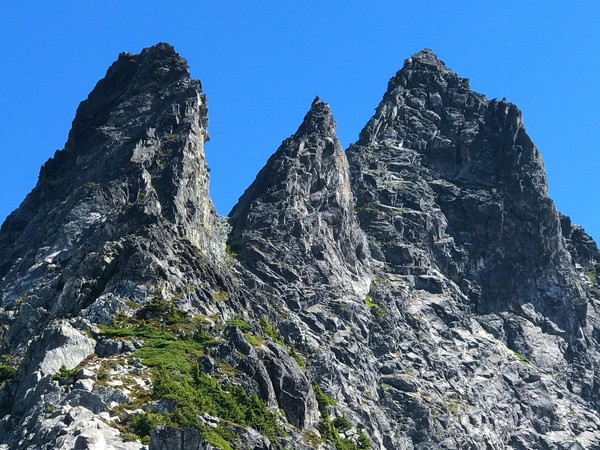 We began by hiking East along the crest. After a bit, it turned to a more defined rock crest, and i led a long simul-climb pitch to the base of Beep, the first tower. Here is me leading that block: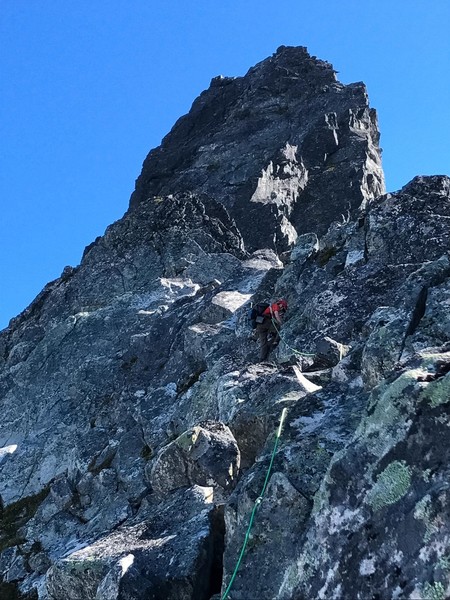 and Keith following: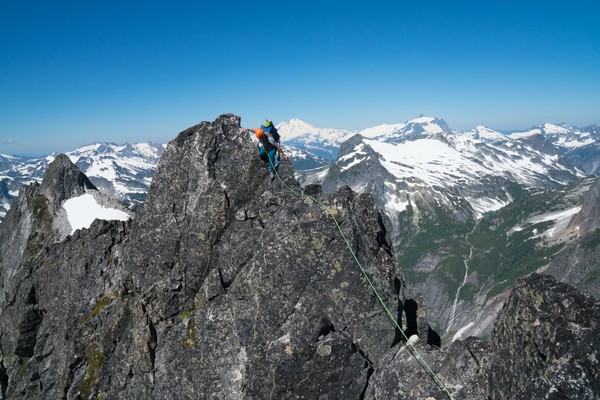 Keith then led a steeper and somewhat heathery pitch up the start of Beep.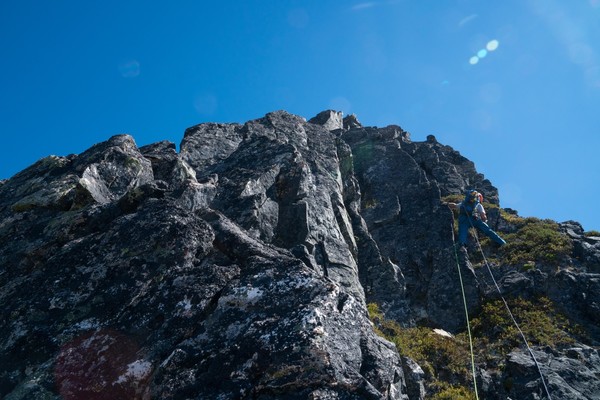 I then tapped in for a fun pitch that began with thin cracks on a lichen-covered face, then worked up to dramatically positioned face climbing past a strangely shaped rock horn. Here is Keith following that pitch: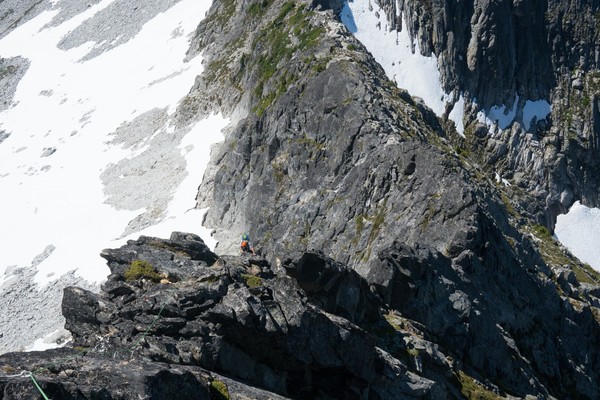 And Matt, back at the saddle, watching us (look for the small red dot):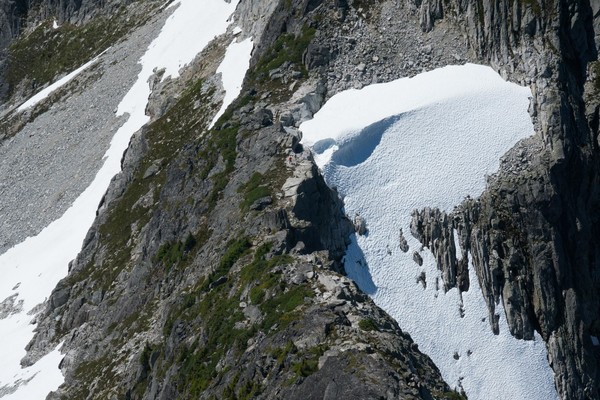 Somewhere around this time, a helicopter flew by at close range, eyeballing us. We gave them peace signs and smiles. Not much later, a military jet blasted by right at eye level, less than a rope length out on the North side of Southern Pickets crest -- WTF that was loud!
Keith then led us to the summit of Beep.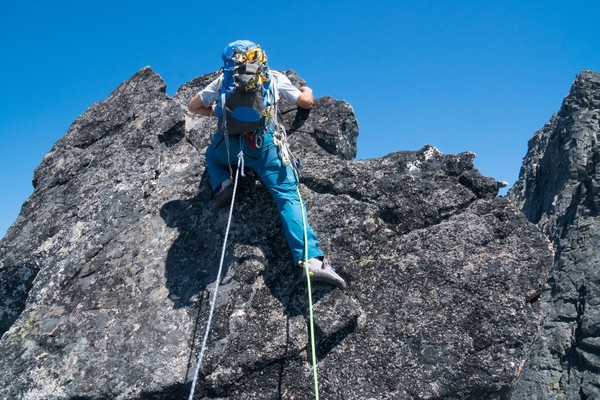 We were pumped, an unclimbed summit in the Picket Range!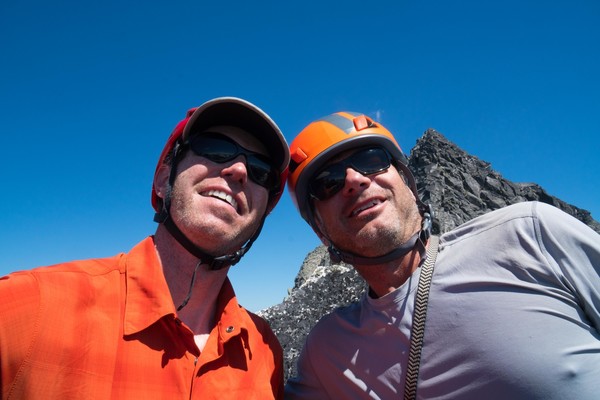 That pump was only mildly deflated when Keith discovered that the sandwich he had packed for lunch was AWOL. It was 2pm and we had a lot more climbing to do. I led a intricate pitch of ridge traversing along the crest of Beep, and then located a lovely obelisk that could work as our rap anchor to drop off. A double-rope rap took us to just below the notch between Beep and Honk.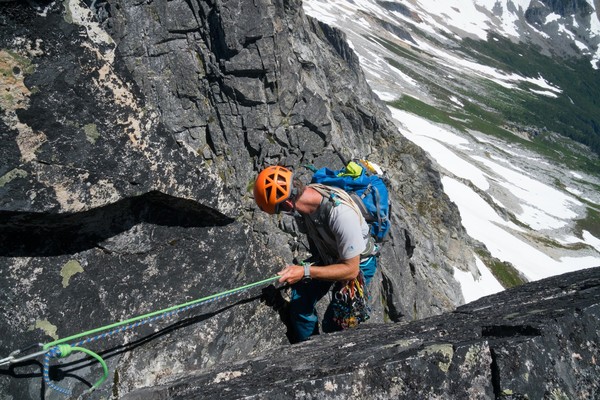 Keith led a rope-stretching pitch up some of the finest climbing of the route, right to the summit of Honk. Unclimbed summit #2, check!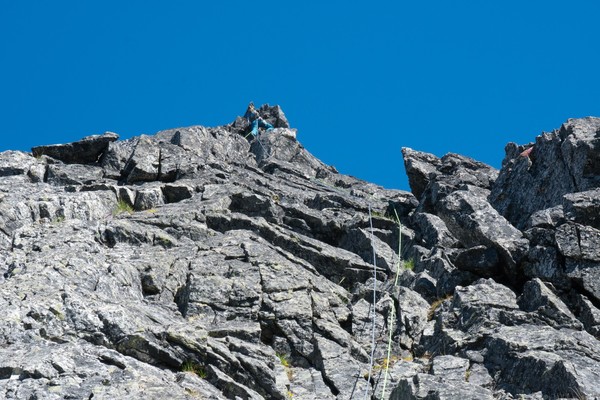 I led a pitch that downclimbed delicately off the summit and traversed to the notch with Ottohorn, arriving at a comfy belay stance. This picture shows Keith as he was about to follow it.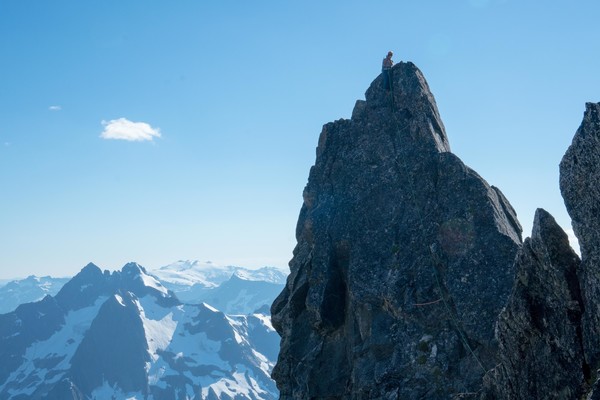 Keith arrived and we gazed up at Ottohorn above us. We were moving slower than desired, but were hopeful that the climbing would ease up. The belayed climbing so far had ranged up to 5.8, and we needed a bit easier ground to be able to move faster. However, hope is not a strategy... as we were immediately greeted with some tricky bits. Keith broke right around the corner.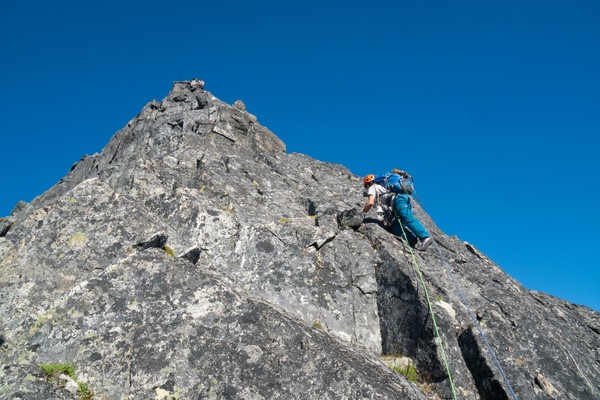 The pitch grew more challenging as he followed a set of steep steps upward. He followed that up with another strong lead that included a couple of 5.9 sequences, as he worked back to the ridge crest proper. At this point, it was abundantly clear that we were not going to finish the route before dark. Keith and i had "the talk" about bivying. Keith quoted the wise words of Mike Tyson: "Everyone has a plan... until they get punched in the face." We each have a couple of decades of climbing under our belts; i had experienced one unplanned bivy (with my now wife), and Keith had never had one. That clearly made me the expert, so i described what we should look for as we went home-shopping.
We did one more traversy pitch along the crest.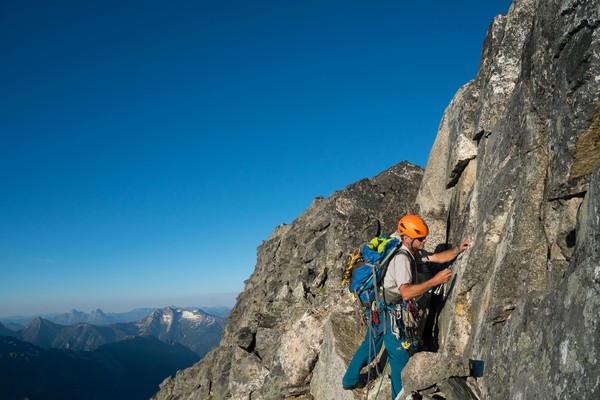 However, we then hit a notch where we had to rappel. The good news was that this rappel ended in a moat behind a snow bank. WATER! I felt smug as i filled my water bottles with snow. "At least we won't be dry at this bivy" i thought. Keith led one more pitch, and by the time i arrived it was time to hunker down.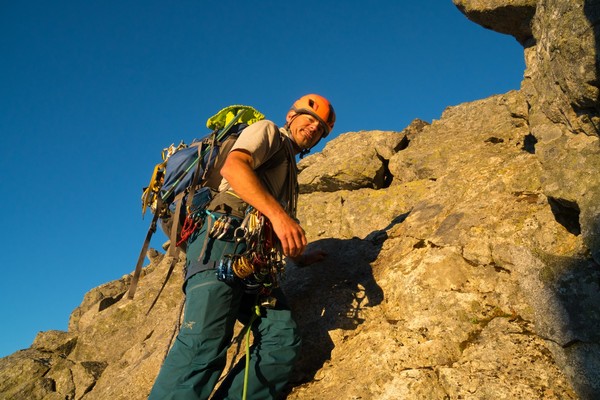 I explored and found a workable spot 15 feet below us on the North side of the ridge. After a bit of site remodeling, as the sunlight faded, i opened my pack to throw on some layers. I reached in, and to my horror, fished out a soaking wet shirt. I hadn't closed my water bottle fully (probably due to snow crystals in the threads), and it had leaked all over the pack contents. My puffy was wet too. It certainly wouldn't be dry at this bivy, all right. Keith reminded me of the mantra that both of our kid's preschools use: "you get what you get, and you don't throw a fit." I threw a small fit, and then moved on to laying down our two ropes as ground insulation.
10pm it felt great to be not moving, just talking. 11pm we tried to "sleep". Keith elected to use his pack as a bivy sack; i used mine as padding. We began hearing noises behind and above us. In my headlamp, i caught a large-eyed snafflehound chewing on my gear. Oh no you don't! I hung the gear from the anchor over my head.
About every hour or two we sat up and talked about how increasingly cold it was becoming. We began to shiver and our toes got cold. Here is how we each looked in the morning.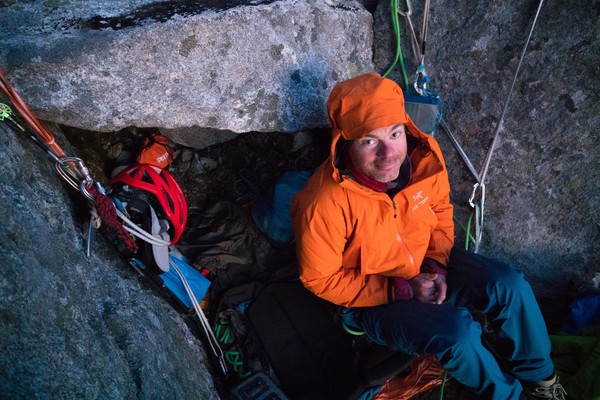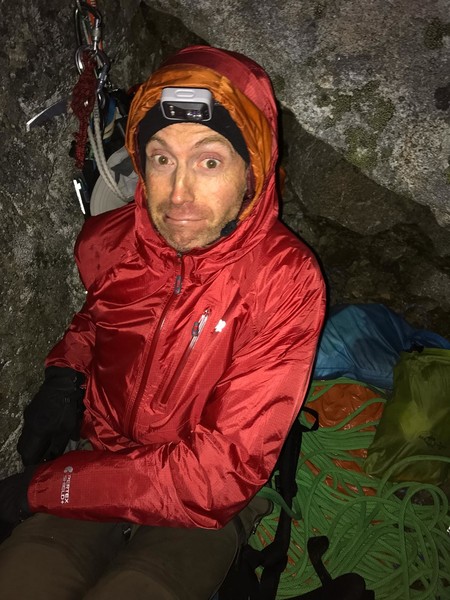 Finally it was light enough to start moving again. We were cold, hungry, dehydrated, tired, but in an amazing spot to watch the sunrise. We checked out of the snaffle-lounge, and got back on our way.
Low-fifth climbing took us to the top of Ottohorn. You can see the excitement in Keith's eyes. Ok maybe he needs his morning coffee.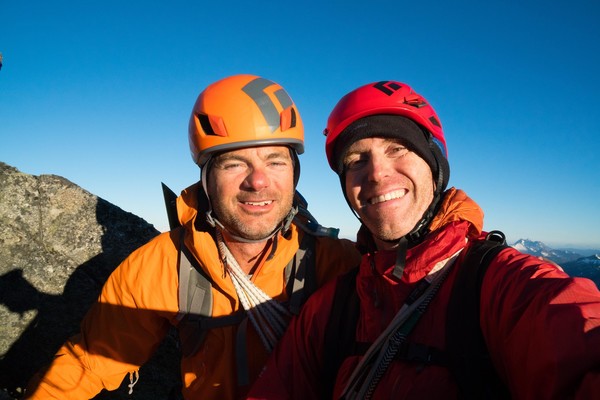 We rigged a rappel off the Ottohorn summit ridge down to 3rd class terrain. However, as Keith pulled the rope, it got completely jammed. NO! I tried to get psyched up to lead back up and free it. A final desperate rope-flicking session by Keith managed to get it free.
Meanwhile, Matt was starting to get worried. He had watched our progress on the ridge the day before, but hadn't seen us since late that previous day. Early in the morning he had hiked from camp back over to the base of the descent gully, and was yelling up to us. We yelled back, but he couldn't hear our responses, and so was beginning to fear that we were in real trouble.
We scrambled down, gained the O-H gully, and arrived at the rap station above the giant chockstone. Finally, as we made that rappel, we established visual and verbal contact with Matt, to our mutual relief. Matt took this picture of us as we descended.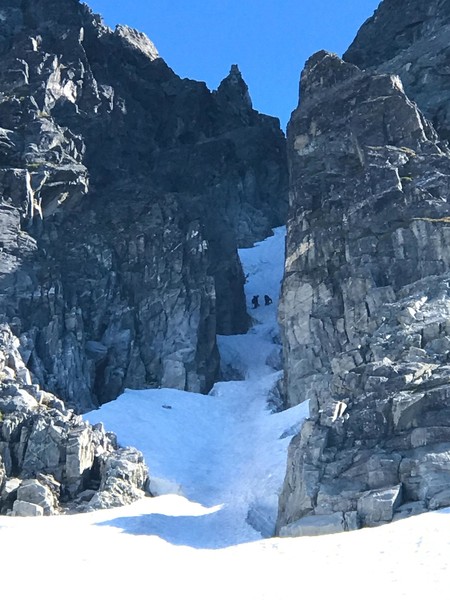 Face-in downclimbing of the snow gully, tediously slow in our depleted state, took us down to Matt and the sunshine. We were wasted. And happy. And thankful. I declared my intent to retire from the sport.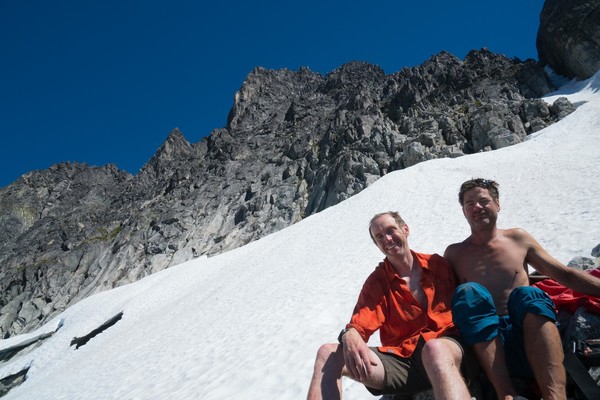 We rehydrated and refueled, then stumbled back to camp.
Mr. Ed the camp mountain goat nosed around while Keith dozed in the tent.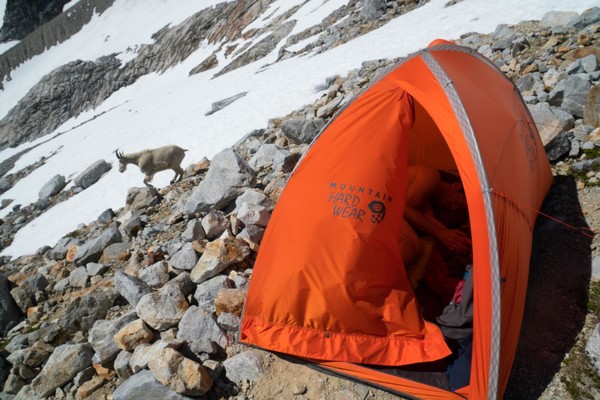 Matt hiked up to the shoulder of Degenhardt to stretch his legs. I sat by a melt stream and processed the climb we had just done. I felt a lot of gratitude and thankfulness. To Keith and Matt, for being great friends and partners. To my wife and daughter for their constant love. To John Roper for providing the nuggets of information that led to these first ascents. To Mario for his enthusiasm, coaching, and weather updates. To Wayne for inspiring me to think about unclimbed routes in the Pickets. And for the opportunity, as John said recently, for "rare FAs that were left unregarded in Paradise."
The climb has exhilarating position and stellar views. The rock is sometimes loose, sometimes quite nice. As for the route name: since Roper had started a theme of cacophony, jumping from the 'horns (Otto and Himmel) to Beep and Honk, and since we were getting buzzed by aircraft on the route which added to the racket, we settled on "Bring The Noise".
We enjoyed a beautiful final evening in camp.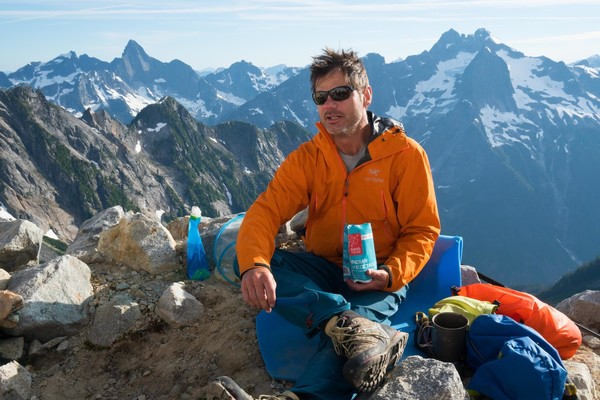 The hike back down to Terror Creek was surprisingly pleasant, as the threatened marine layer did not materialize. We managed to lose the path for a bit between the creek and the Terror basin trail junction, leading to a bit of 'shwacking around in the devils club. But what are the Pickets without a little brush?
I think i may be done with the Pickets. But it was a trip i will always cherish.