Trip:
Dakobed Slam - Sheepherder Trail Approach
Date:
9/11/2017
Trip Report:
My friend Meredith and I climbed Luahna this weekend. I have a longish history with this peak. I attempted it twice already: once in June 2014 and once in June of this year. The first time we encountered more difficult conditions than we expected and burned out by the time we summitted Clark (via the Walrus glacier). Luahna looked so far away that we opted to be satisified with one peak. The second time we got to just below point 7970 before we hit our turnaround time (also via the Walrus Glacier). On that trip we got back to the cars at 12:40 am. Uggh.
We headed out of town at 6 am and started up the trail at just after 9. We were happy that the long washed-out last bit of road has been fixed and we got all the way to the White River trailhead.
We made short work of the first 9 miles. The plan was to get as high up as we could with plenty of daylight, so, after a quick lunch we headed up the "sheep herder" trail out of the basin below Boulder Pass. We got to the meadows at 5800' and it was still early and there was a lot of running water about so we continued up. At 6600' it was still early and we decided to get up to the notch on the S ridge below point 8360 and see if there appeared to be water (snow patches) and flattish spots to camp. If not, we could drop back 800 feet. That proved unnecessary and we headed down the gully beyond the notch and found reasonable spots on heather benches with running water. It was early (4:45) but we opted to make this camp rather than keep pushing on.
Traversing to notch below point 8360: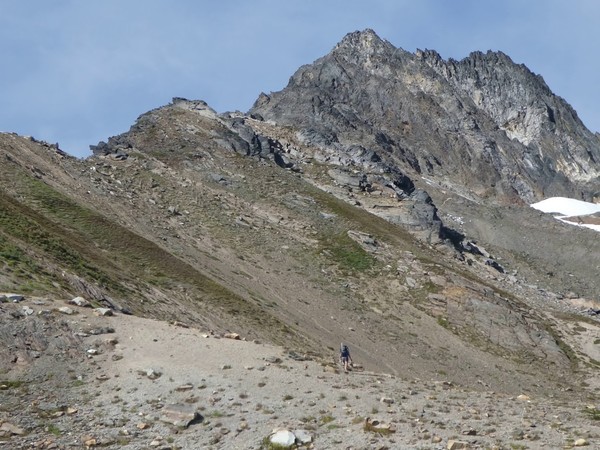 View back down from notch: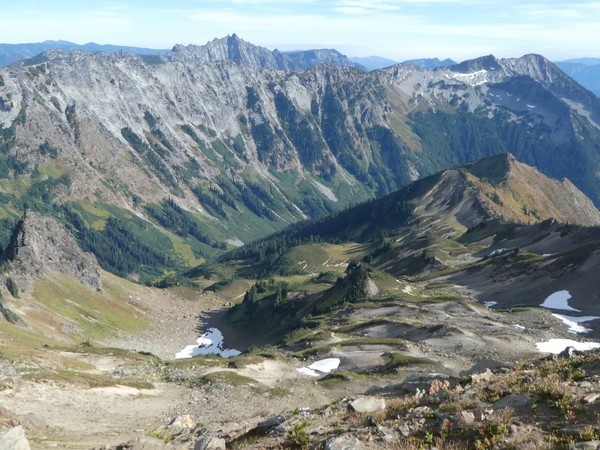 View from notch to Clark: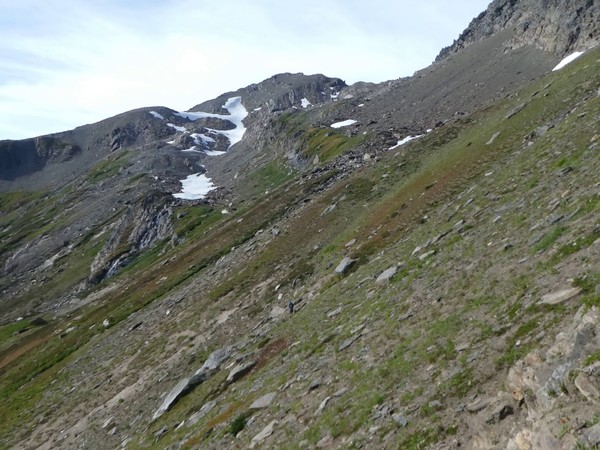 This gave me plenty of time to drink whisky and watch the sun set. Damn! That was a luxury I've become unaccustomed to - and quite welcome.
Technicolor treat: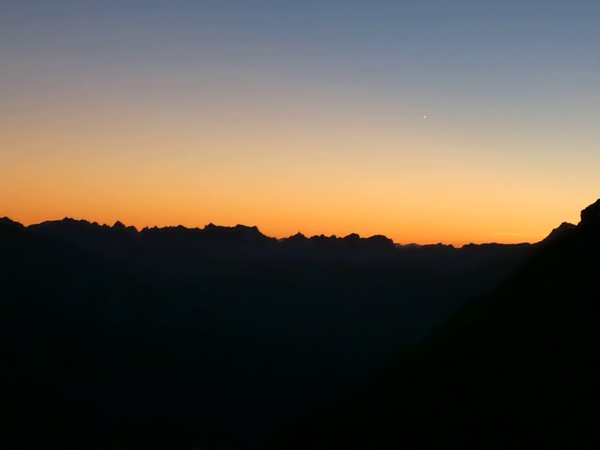 We got up at 5:30 and started up soon thereafter as dawn lit up the terrain. At the notch at 8000' I took a look over the other side. I don't know if this is technically the W face or is more like SW face. The terrain seemed doable but required a long traverse to skiers right to get over the S ridge proper and beyond. We went for it. Although it was unsavory in spots, it went just fine and we were soon under the W face of Clark proper.
Some spice is nice: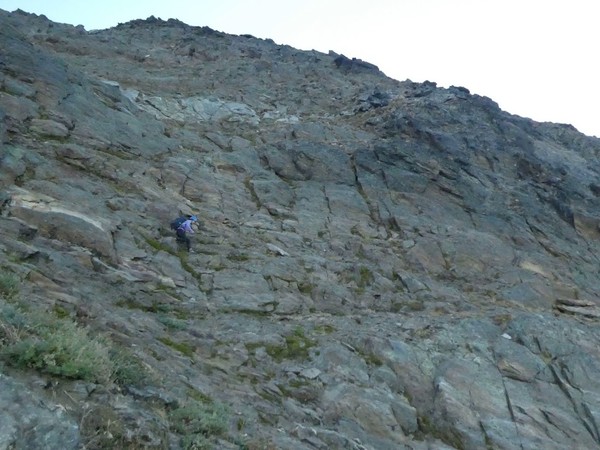 From here we contoured between 7500 and 7600 feet below point 7970 and under the S face of Luahna. We then ascended scree and talus and got undernewath the SW face. From here we followed our nose and found the landmarks we were looking for: a black rock step with a white line through it (to scramble up) and then a "vertical slab/rabbit ears" with a hidden gully Soon we were on the summit.
Second half of the long traverse to Luahna: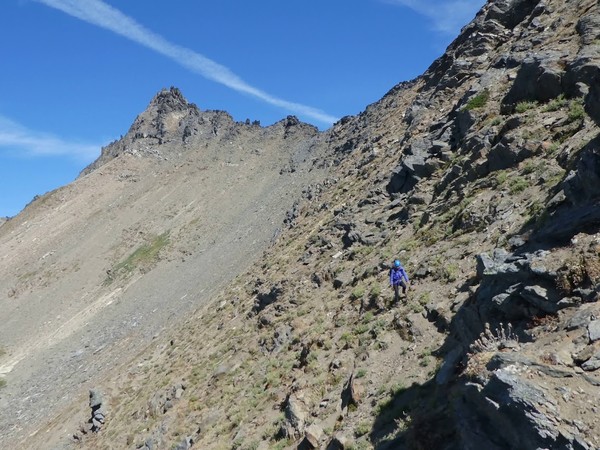 Way up to the Rabbit Ears: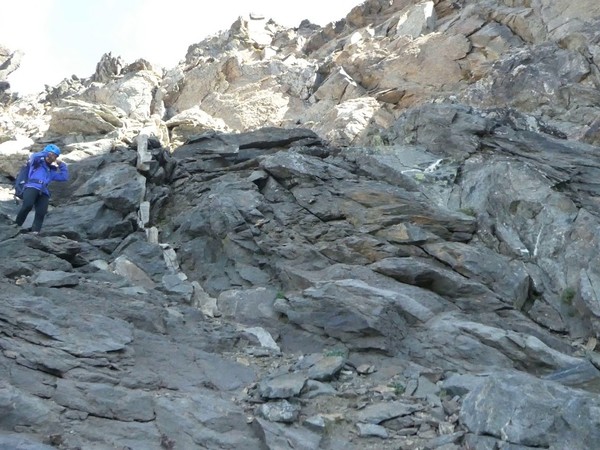 Blurry pic of the Rabbit Ears: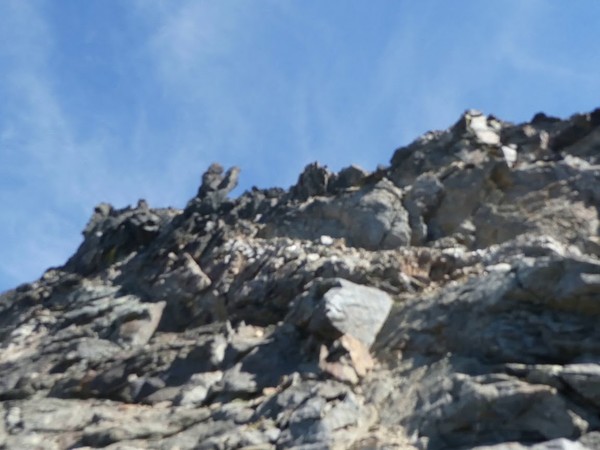 KK on the summit of Luahna: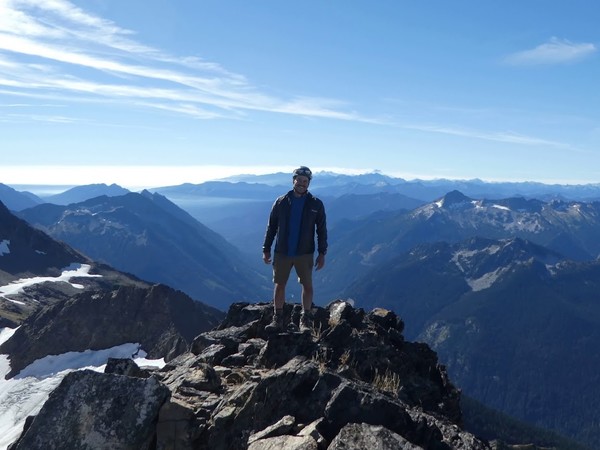 Clark from Luahna: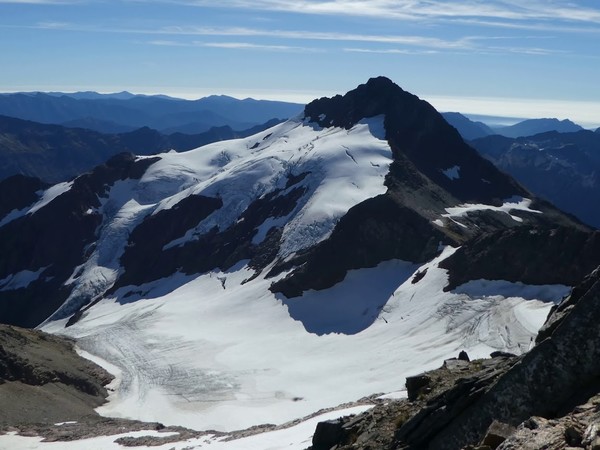 MM enjoying the views: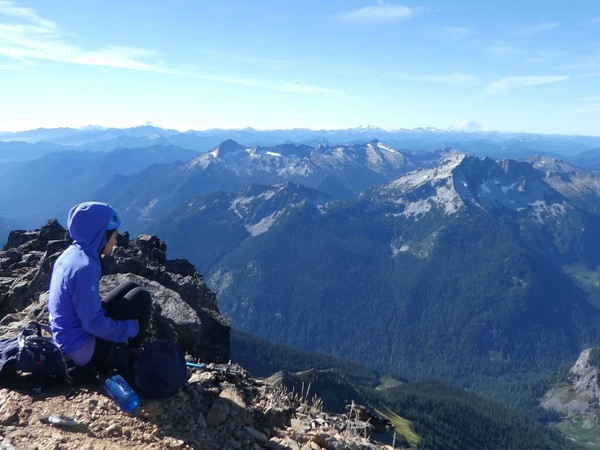 View towards Glacier Peak from Luahna: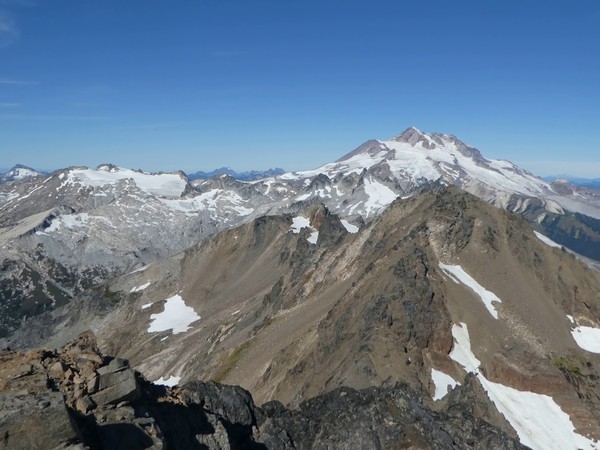 After a long break we started down and retraced out steps. Looking up at the W face of Clark it seemed there was a less circuitous route up but we opted to go with the Devil we knew. We traversed even more on the ascent to climber's right and topped the spur ridge at 7800'. From here we ascended a climber's trail to the summit of Clark.
Clark summit p0rn pano:

After a shorter break we headed down. It took an hour to get to camp, 30 min to pack and 6 hours to hike out. My Stone IPA hit the spot at 9:45 pm and helped make the drive a bit more enjoyabe.
Gear Notes:
Helmet.
Approach Notes:
No bugs. No snow. Plenty of running water.