Trip:
Baker River to Ross Lake in Technicolor - Mystery-N.Despair-Pioneer-Swiss-Spectre-Challenger
Date:
7/25/2017
Trip Report:
Walking out of the tent each morning on this trip, it seemed like I was still dreaming. Versions of this trip have been in the works for years, but weather and vacation schedules had always conspired against us. Thanks to the record dry spell of 2017 (luckily before Smokeageddon), we had perfect weather and an even better team. The views were pretty OK too. But the price of admission is carrying 7-8 day packs (unless you're
seano
) across some of the most rugged terrain anywhere. I had just purchased a new full-frame dSLR a few days before the trip and I felt its weight every step of the way. Still, it was worth every bit of pain (though unlike Tom, I probably won't be back anytime soon).
Following is a short breakdown of the trip, with many photos to illustrate (but I won't provide much detail). The trip was remarkable for me in how wild this area still feels. Part of the fun is puzzling the route out, not following paths worn in the heather. When the way forward is unlocked, the rewards are great.
Day 1: A long dreaded and not-surprisingly soul crushing day spent hauling 8 day packs up to Blum Lakes. We had aspirations to carry on past the lakes to the col between Blum and Hagan, but then swimming and napping took precedence. Big thanks to my parents neighbor Greg, from Marblemount, who shuttled us from Ross Dam TH all the way to Baker River at the start of the day!!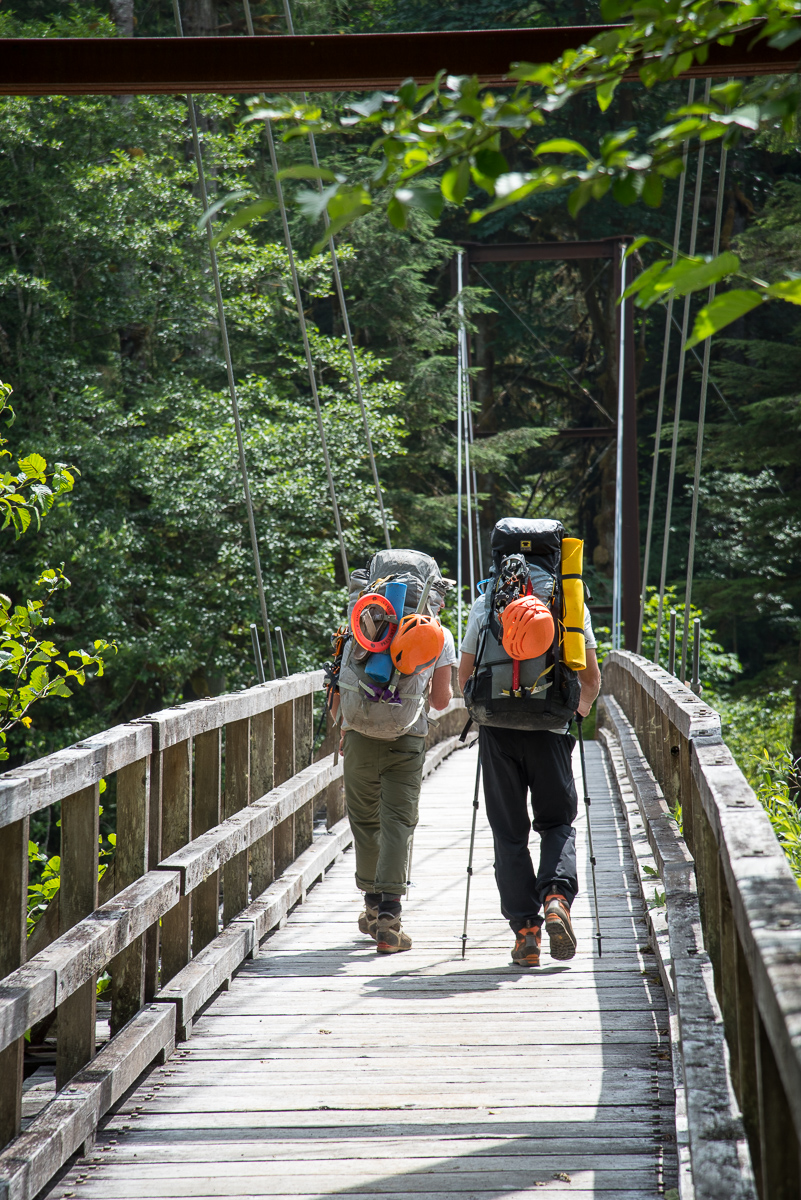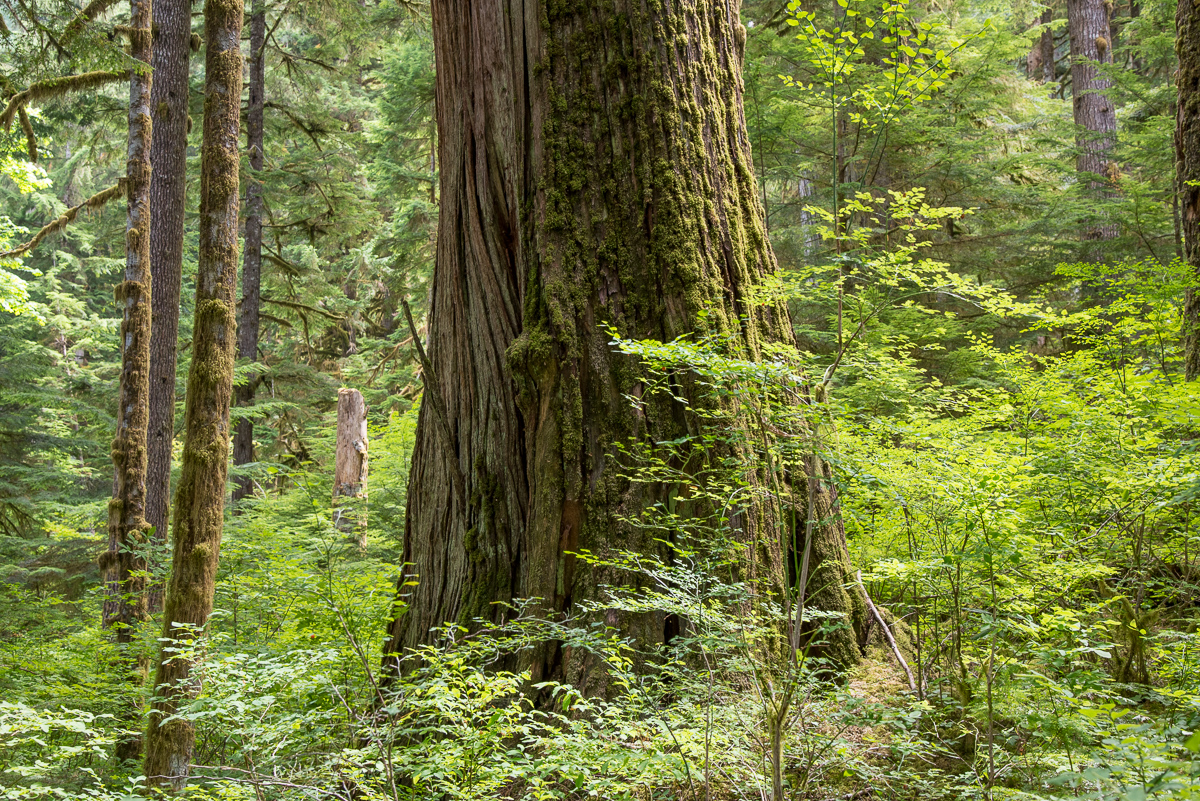 Mount Blum above lower Blum Lake: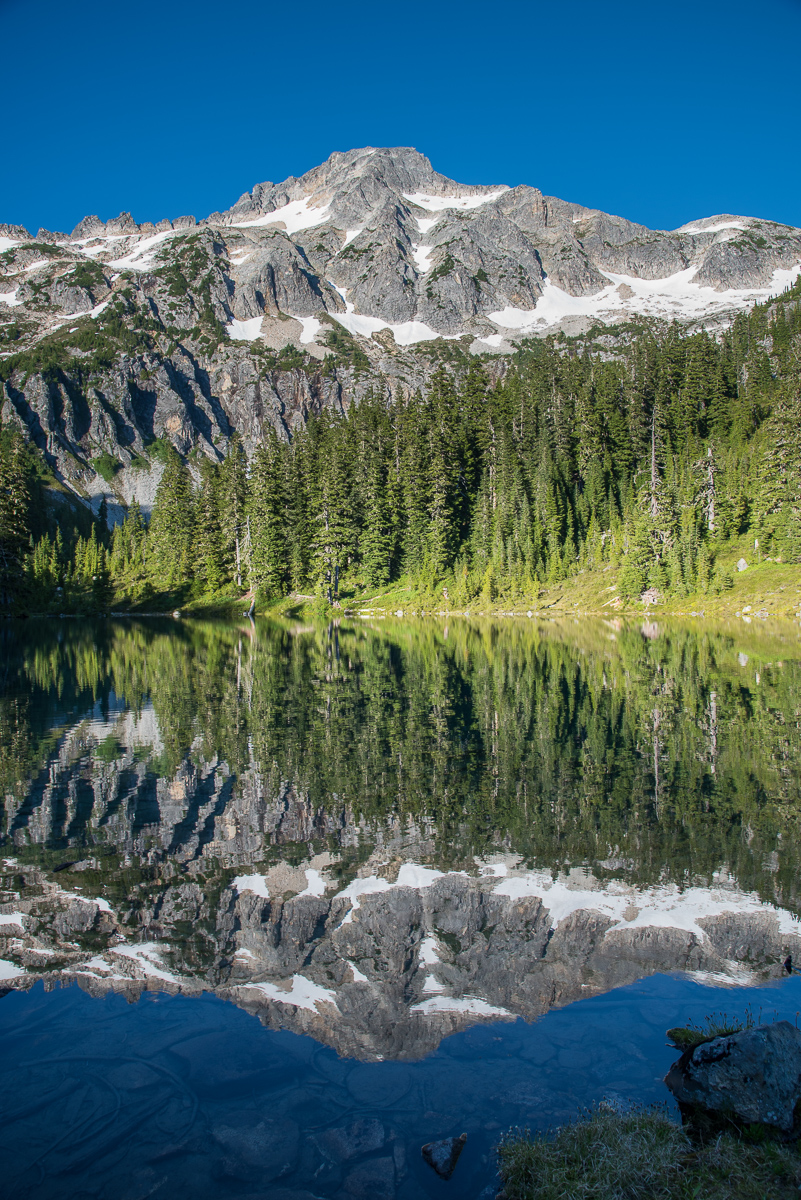 Day 2: Up and over the col, down past Berdeen, up onto Mystery Ridge (climbed Mystery), then off the ridge to avoid difficulties. Finished the day back on Mystery Ridge with a great view of N. Despair (Infinity Camp).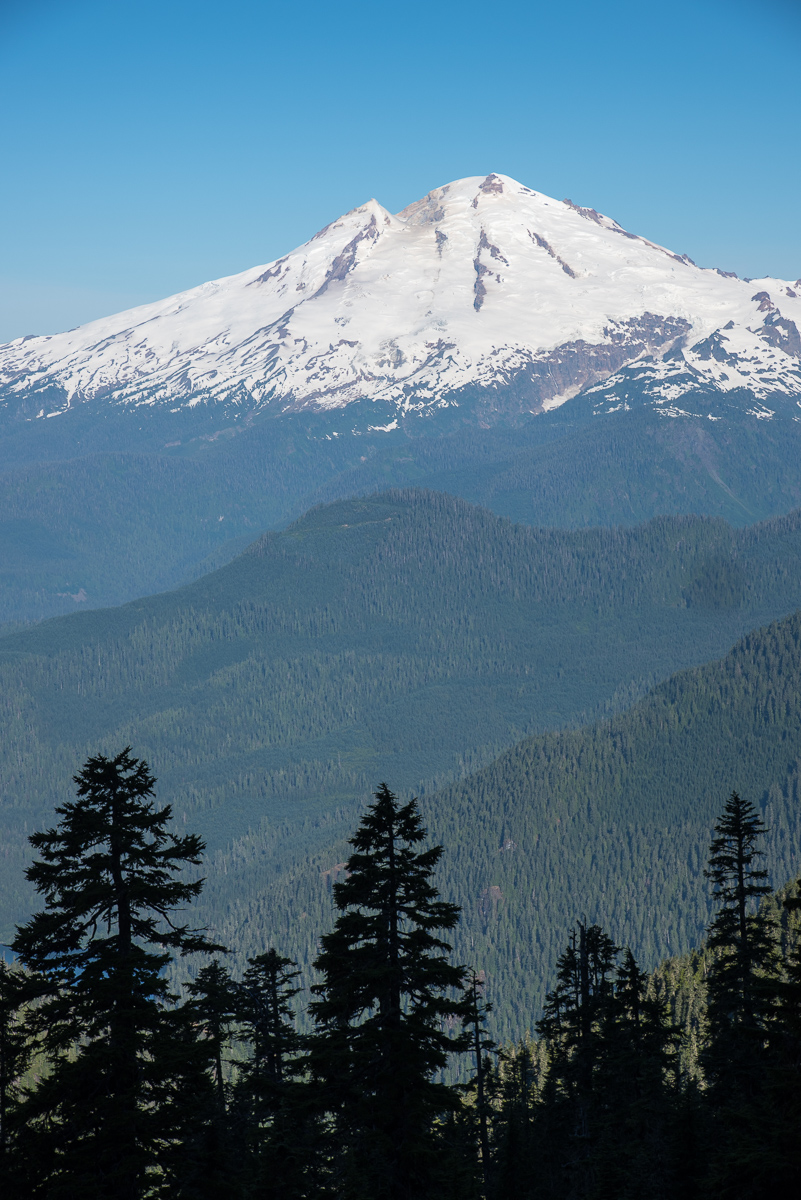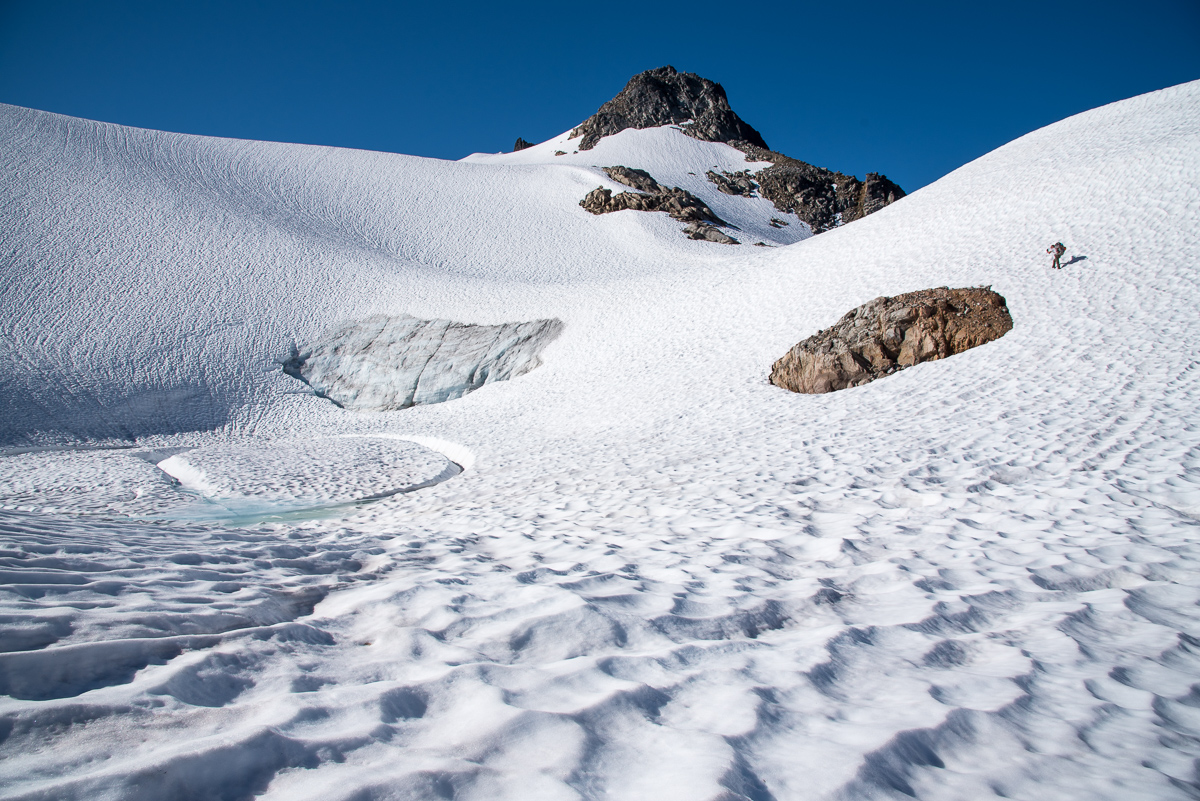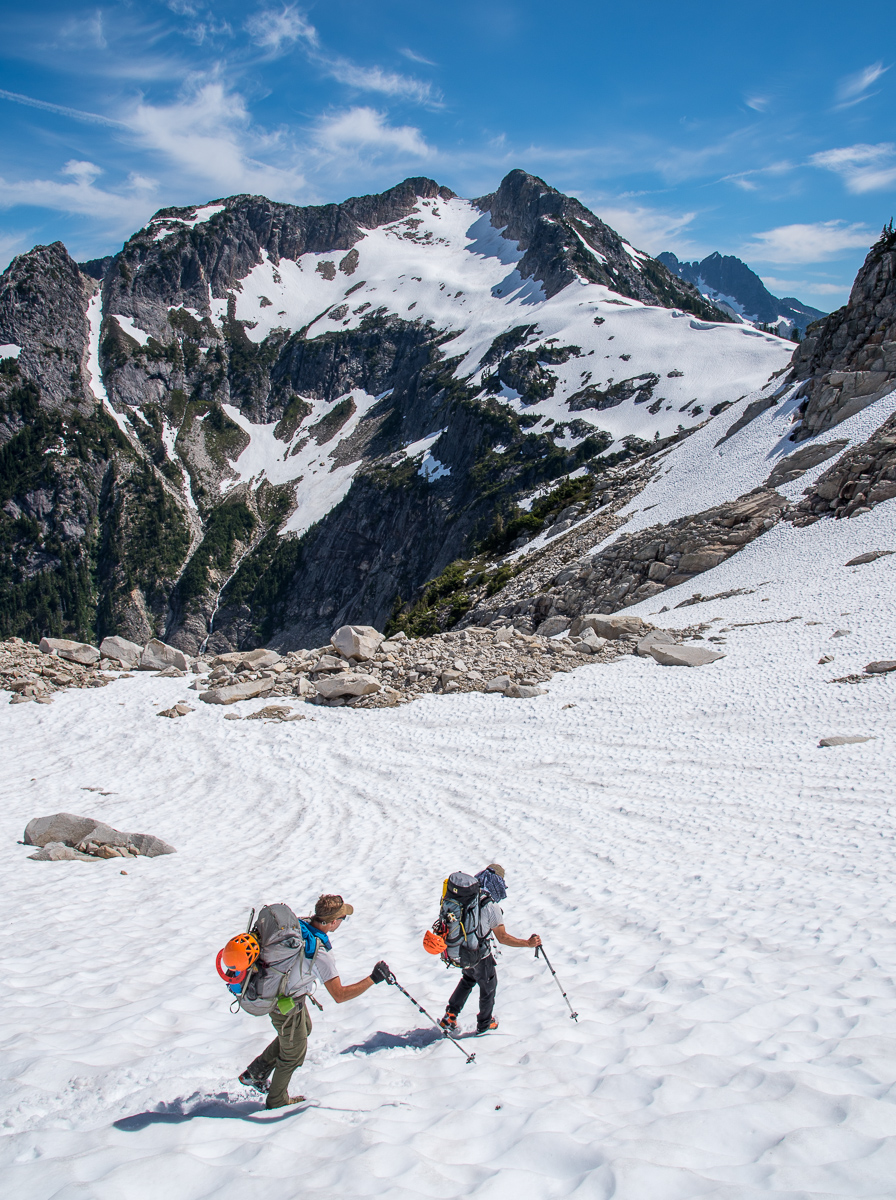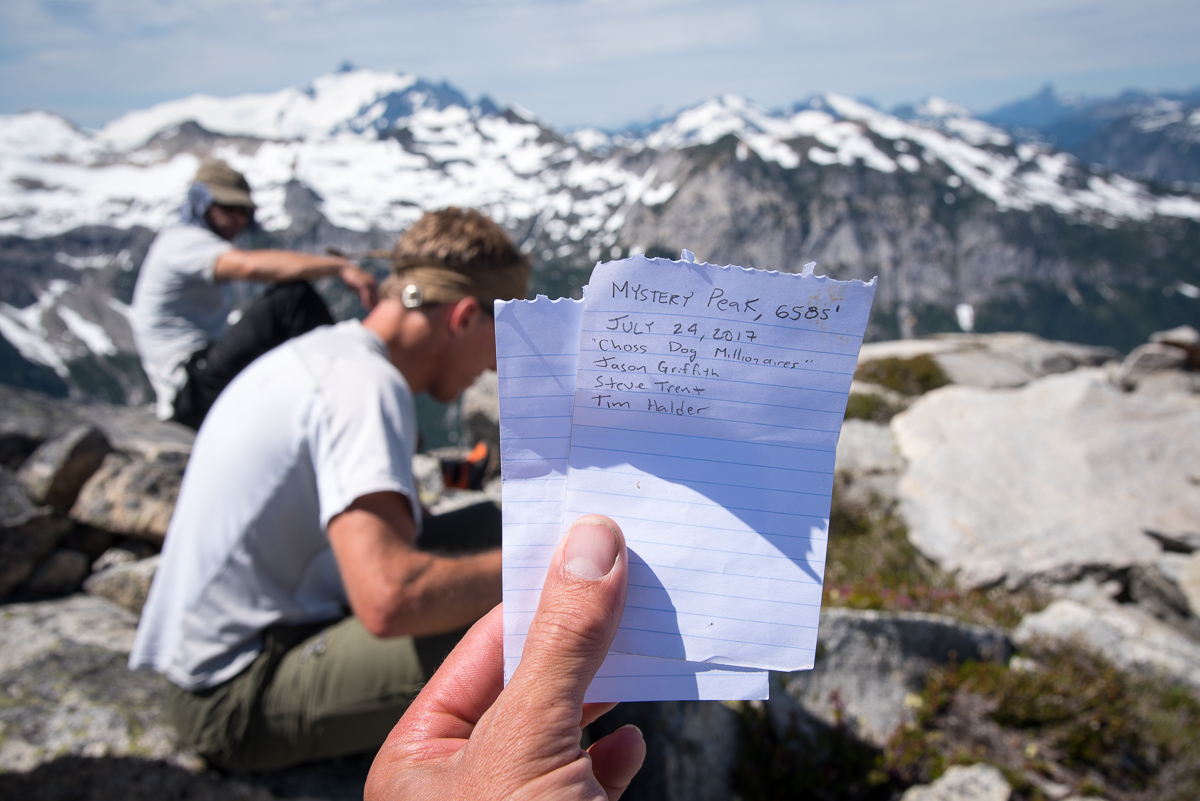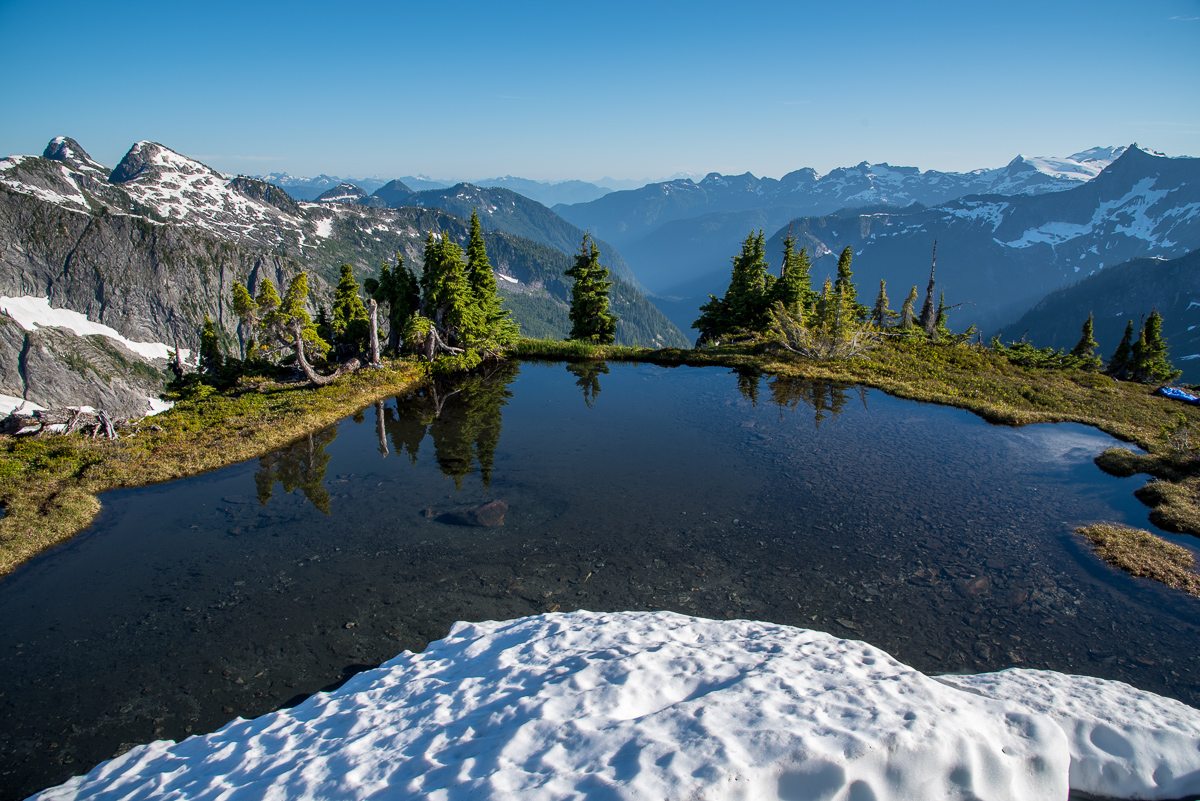 Day 3: North Despair! The final snow arete is worth the long walk and we enjoyed every step with light packs. Returned to Infinity, dropped to Jasper Pass, up around Pioneer, climbed Pioneer (a bit tricky to get off glacier), dropped to Pioneer/Crowder Col, then up bit to nice camp just above key gully on the west side of Crowder. Long day.
Steve and Tim check out the classic route on N. Despair: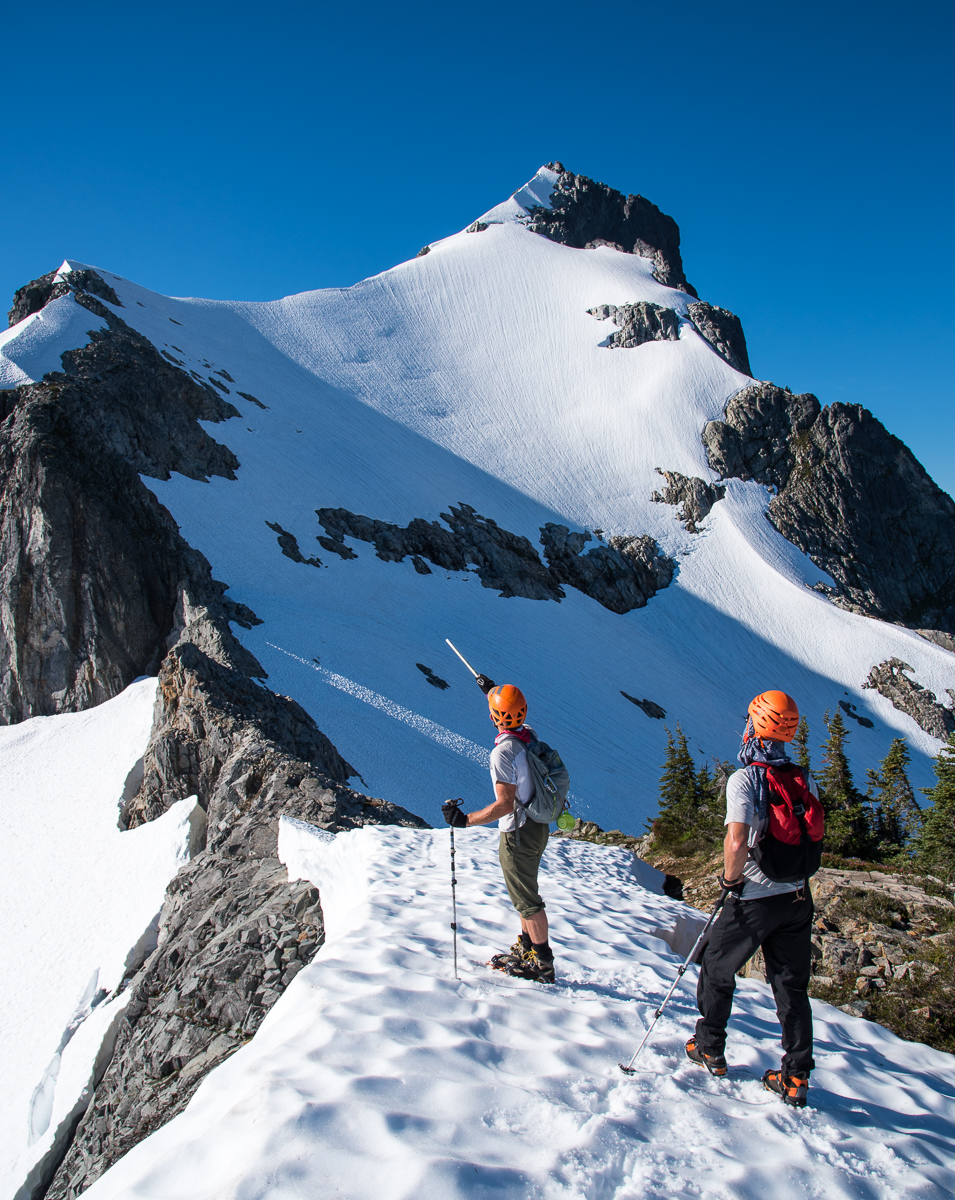 Triumph: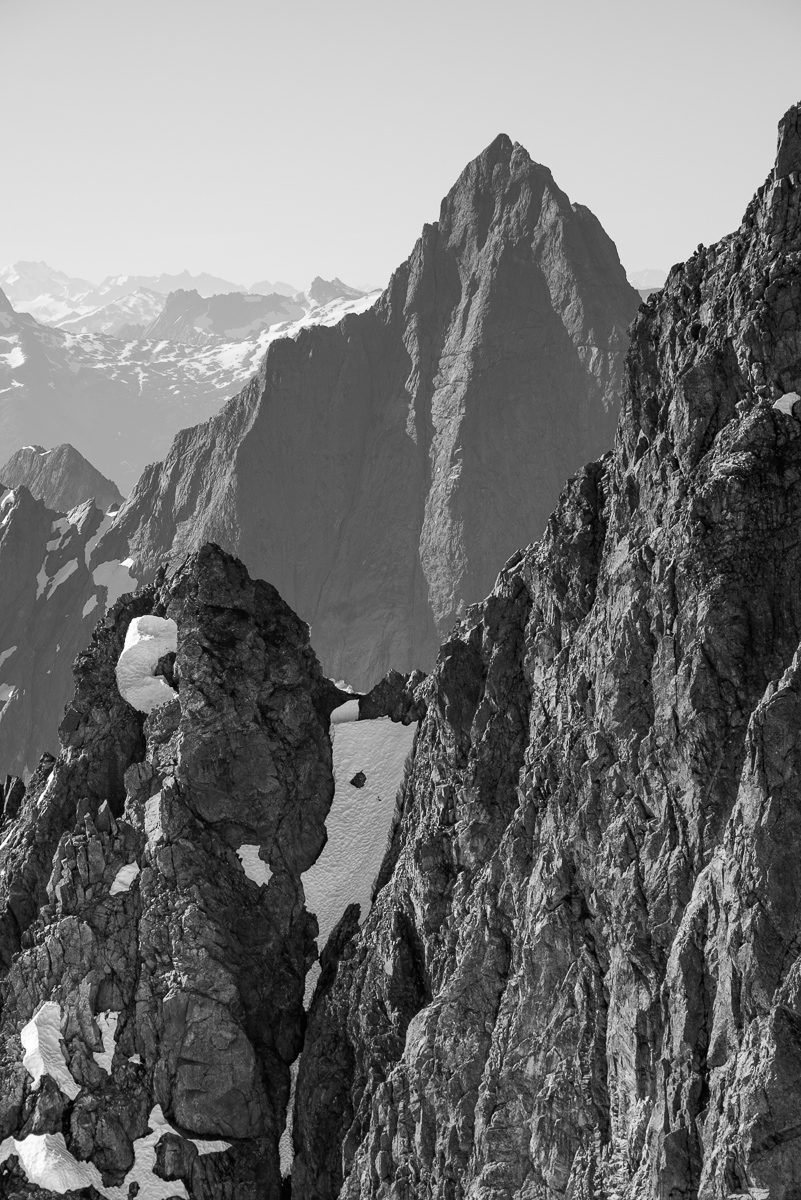 On the N. Despair snow arete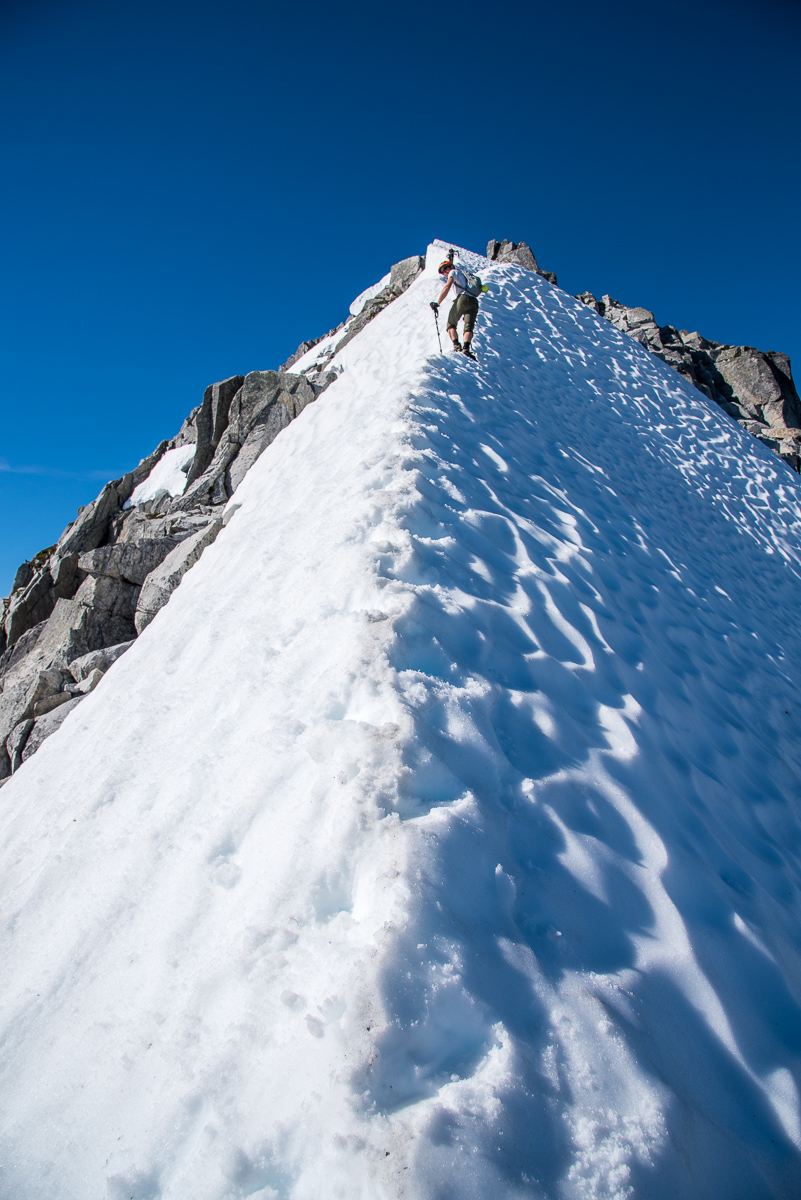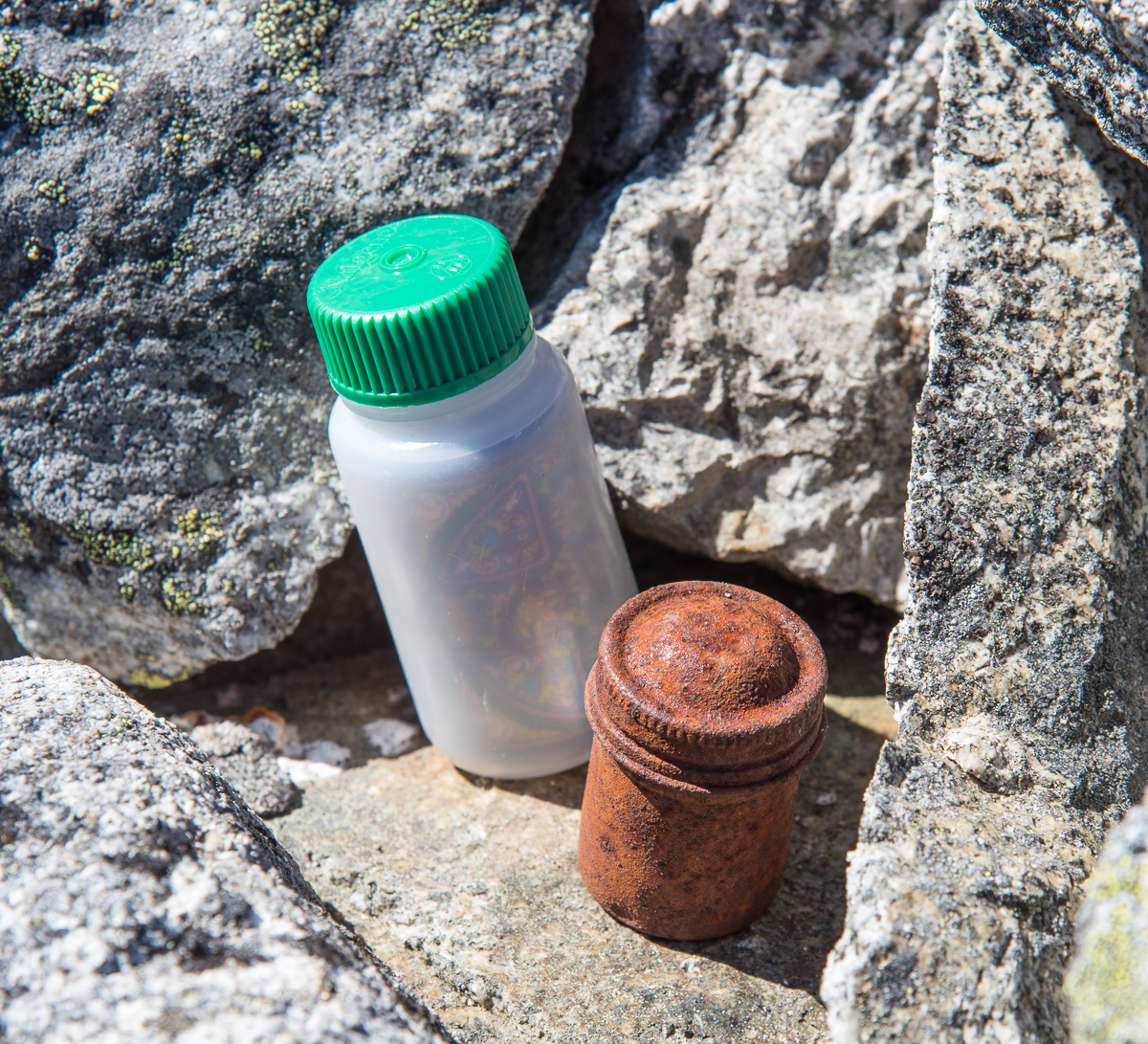 Northern and Southern Pickets from N. Depair. The head of Goodell Creek is wild!: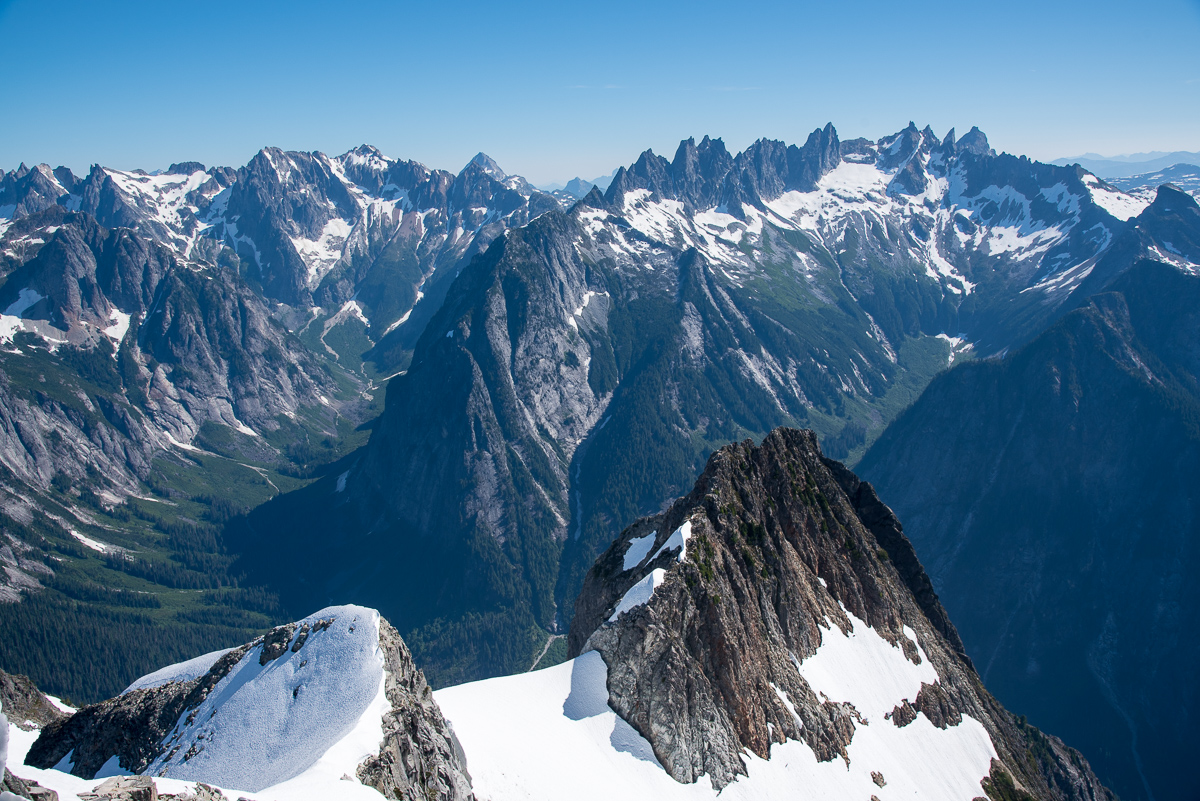 Summit of Pioneer: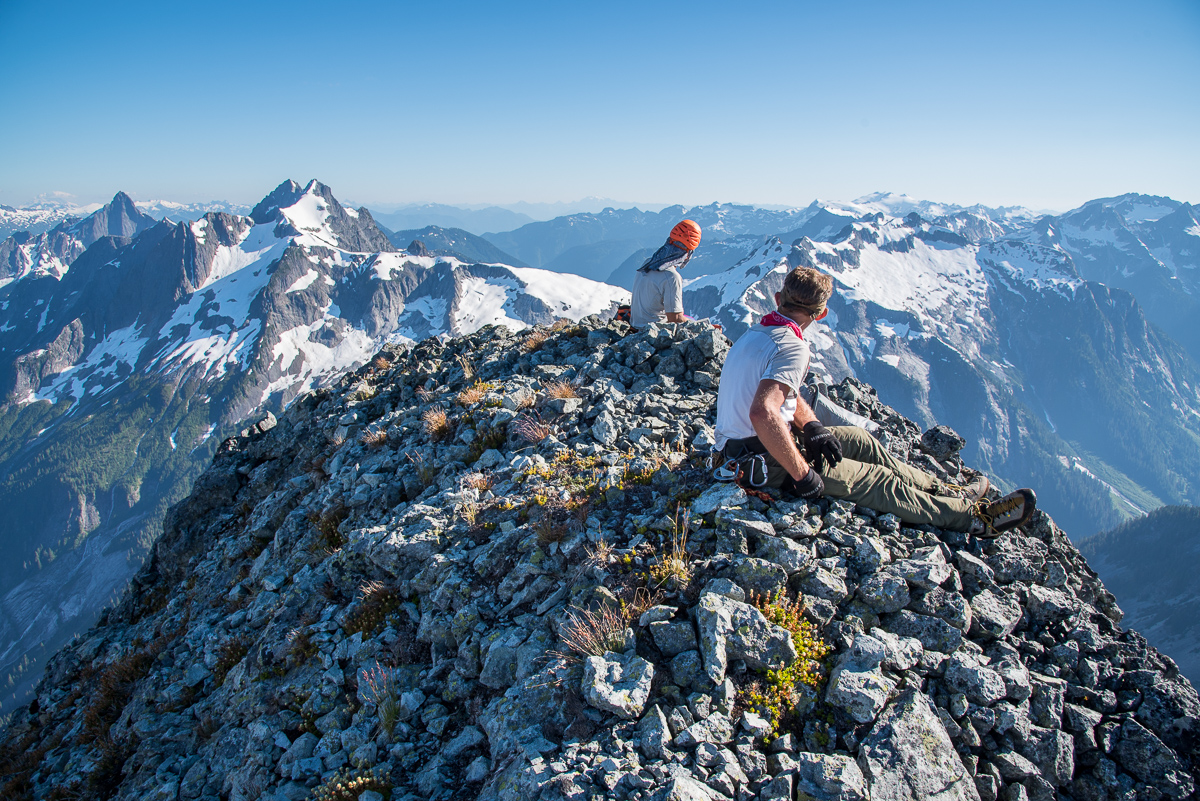 Jasper Pass: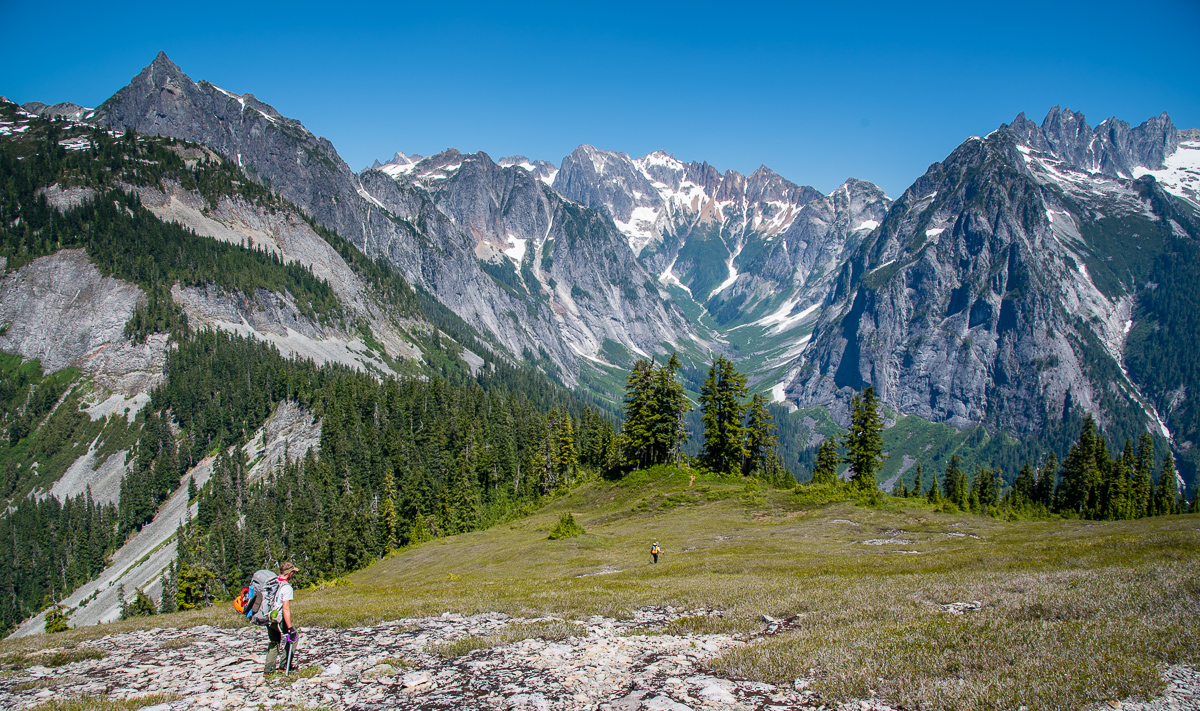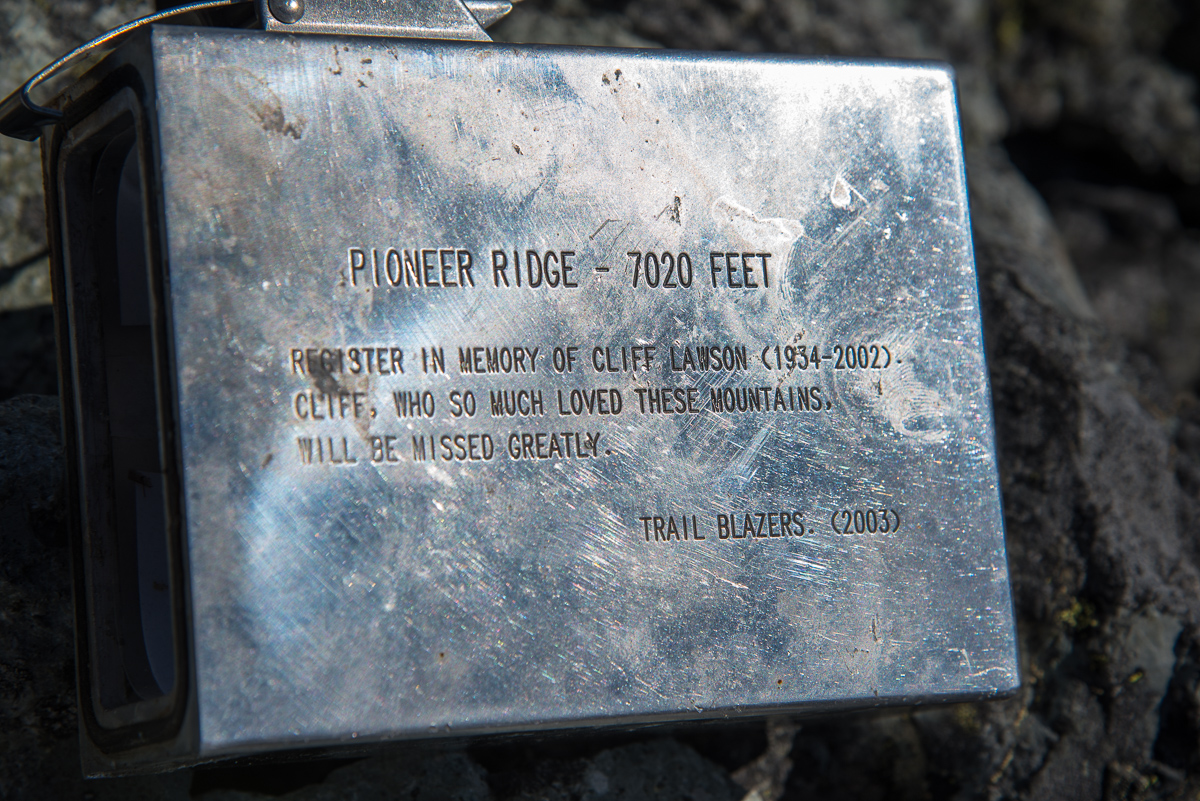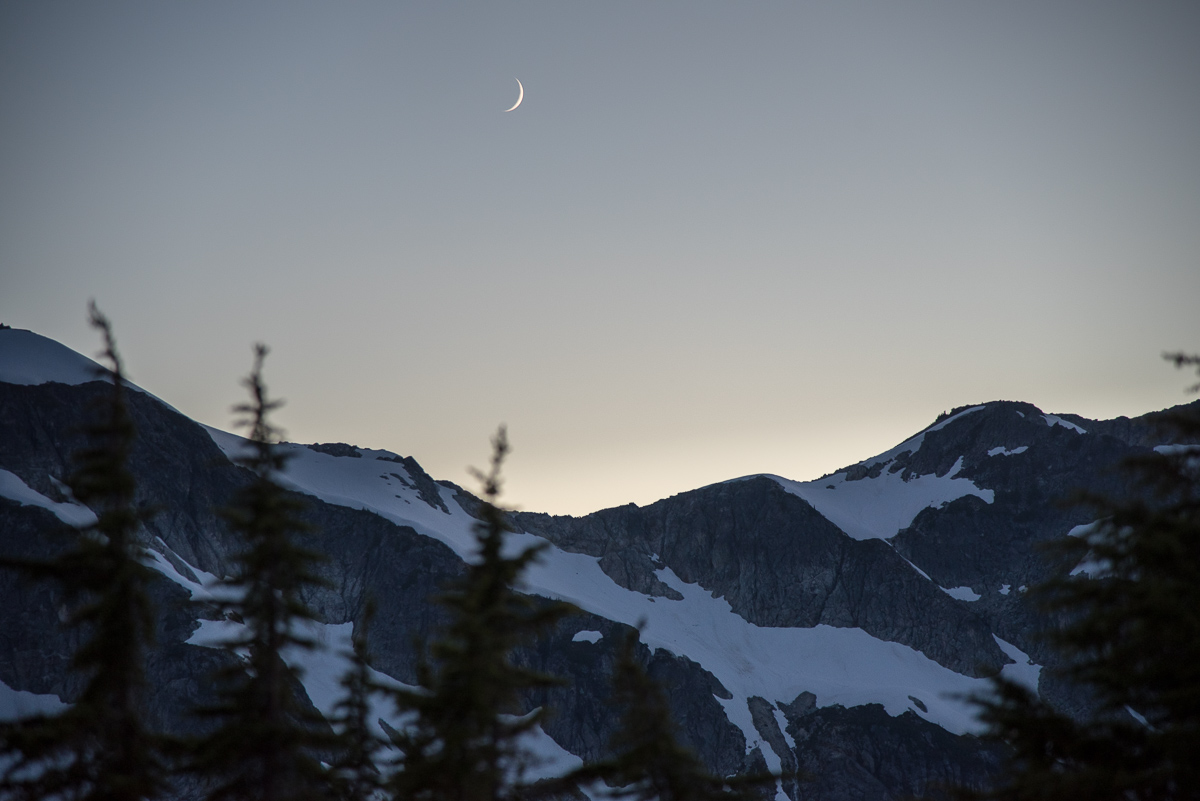 Day 4: Leisurely start moseying up Crowder (non-technical), enjoying the views and our light packs. Dried out the register entries and added our own. Not a lot of traffic up there as you'd imagine. Back to camp to pack up the pigs, then down and around Crowder using the gully to the west. Some shenanigans, though not as bad as the other ways Steph and Tom have explored. Much thanks to the 1967 party for figuring this out! Up to Pickell pass and jaw-dropping views.
Despair above Steve and Tim: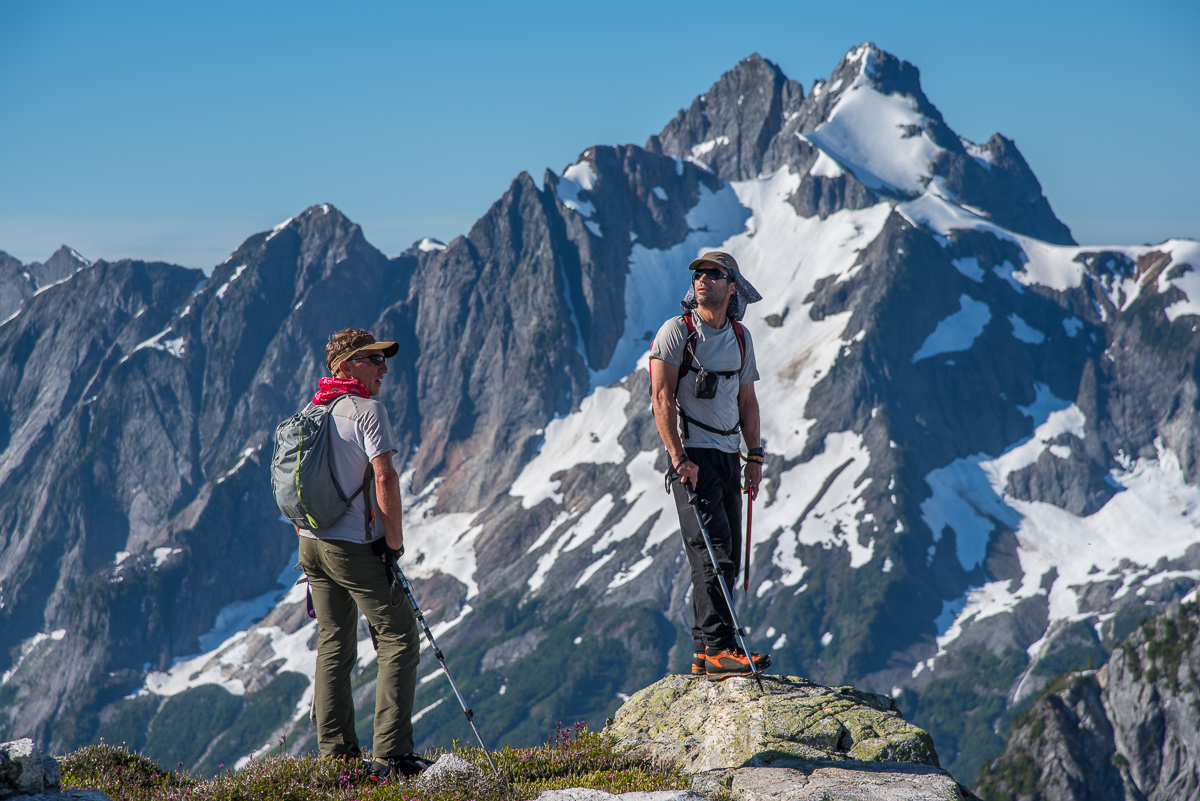 The haunted wall of Spectre!: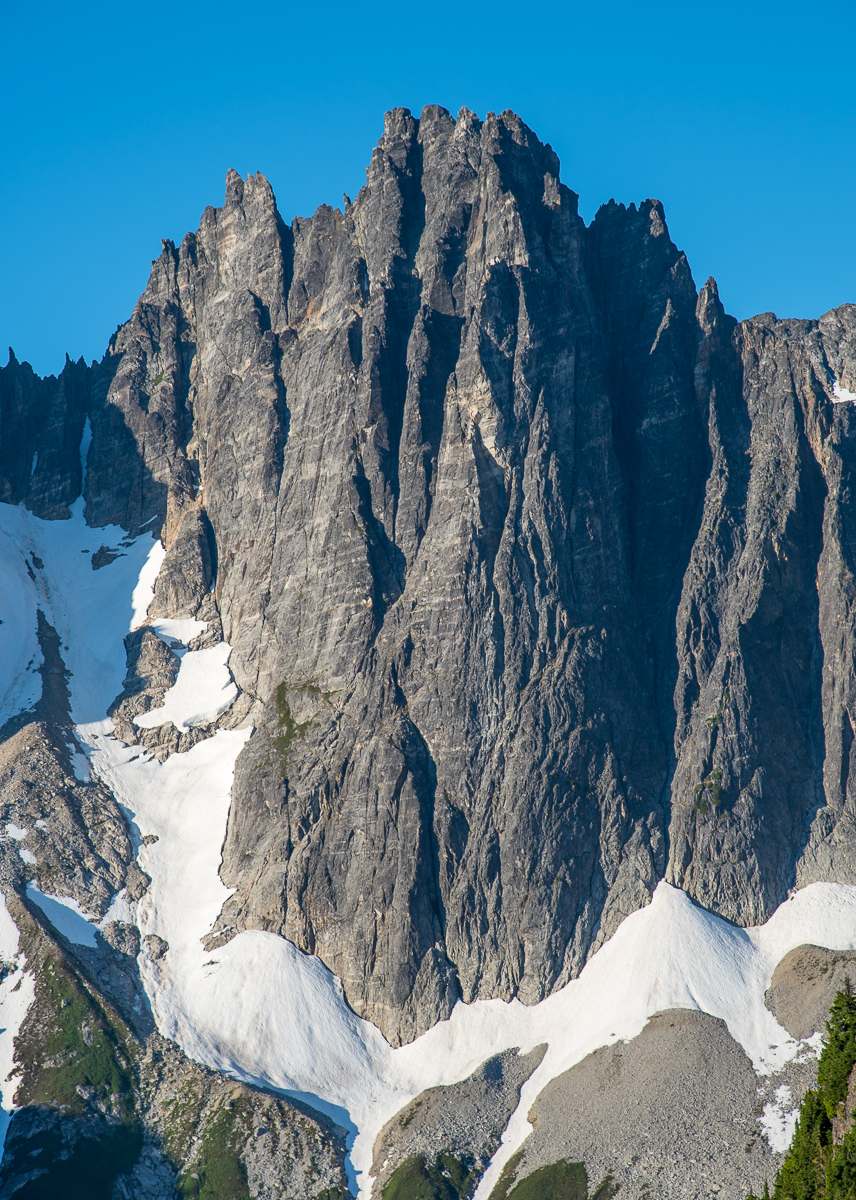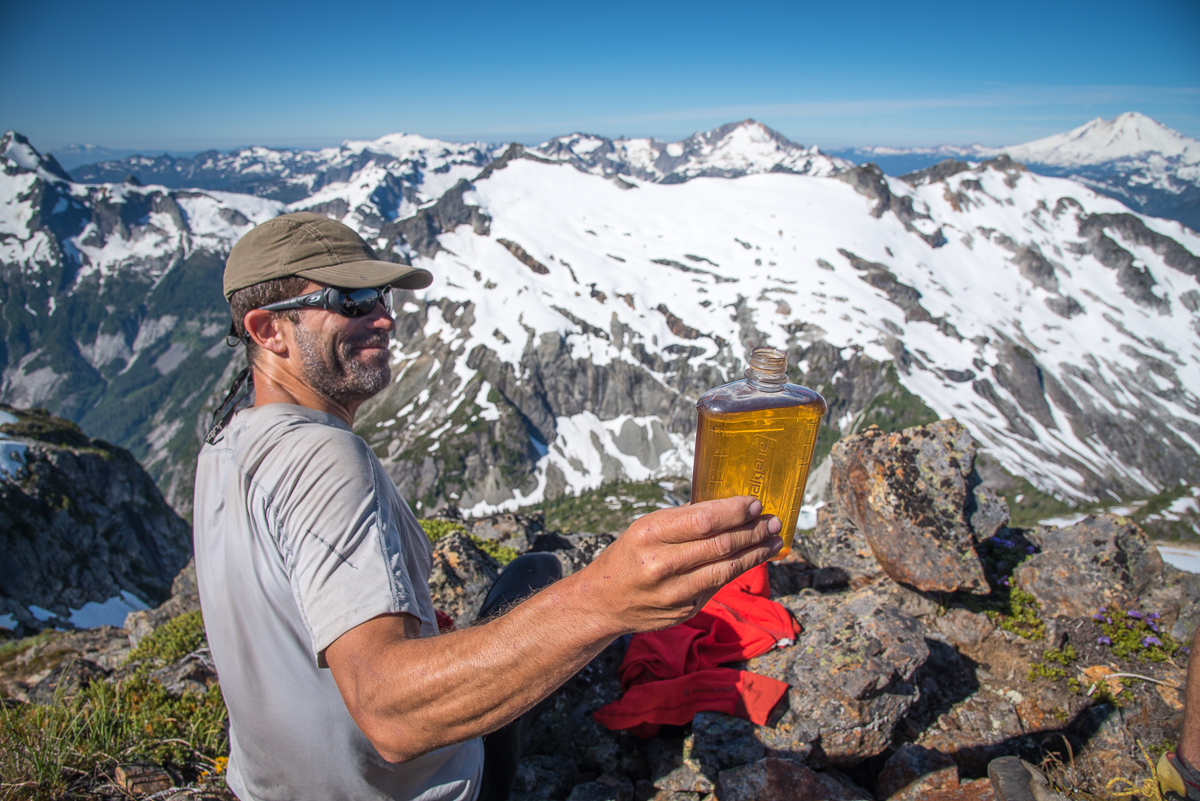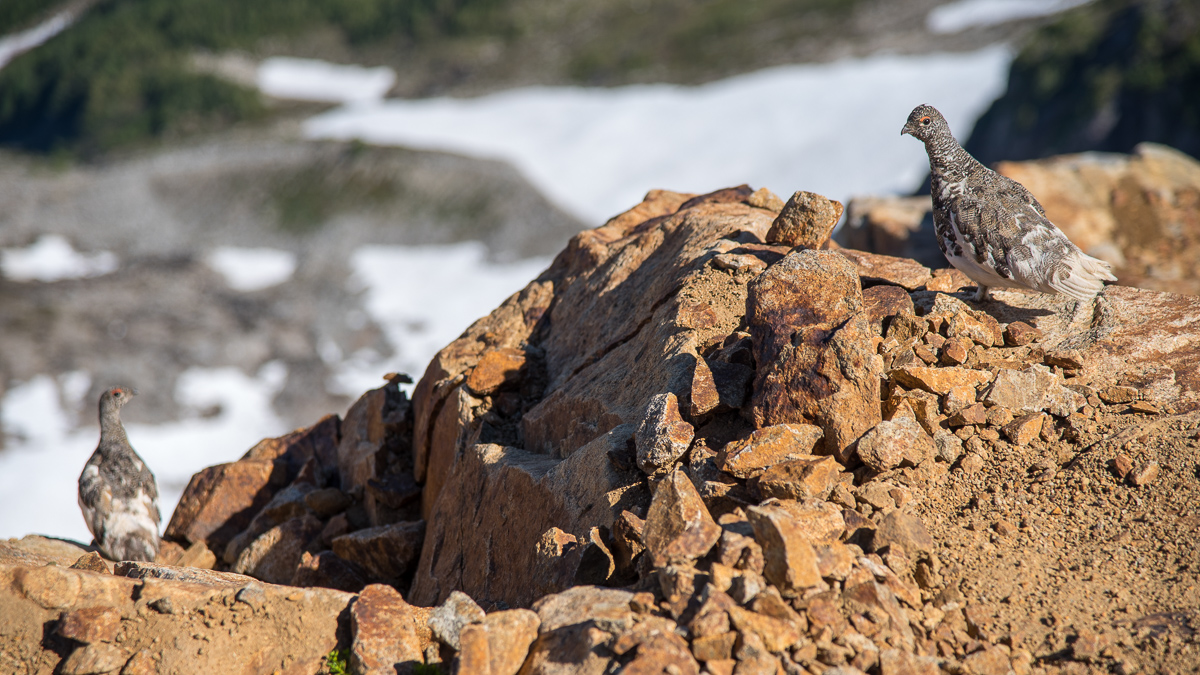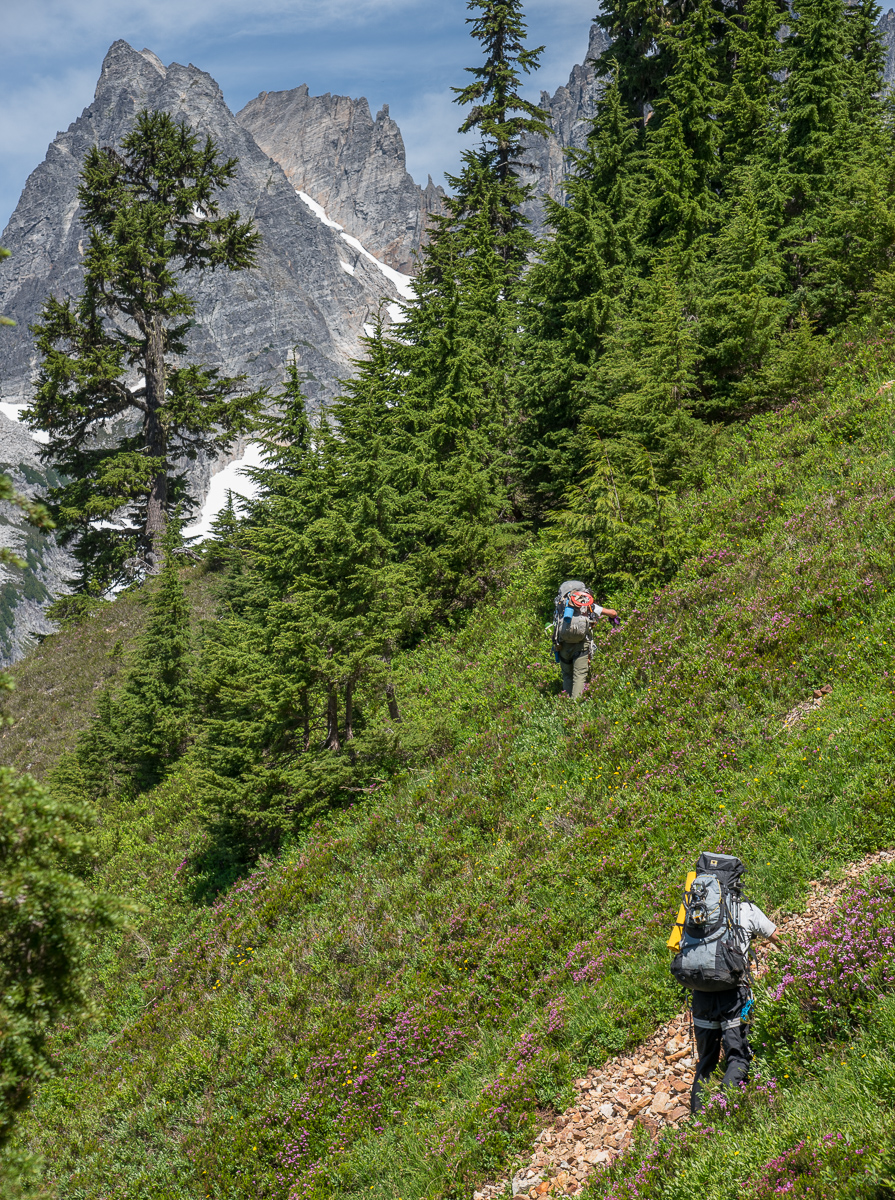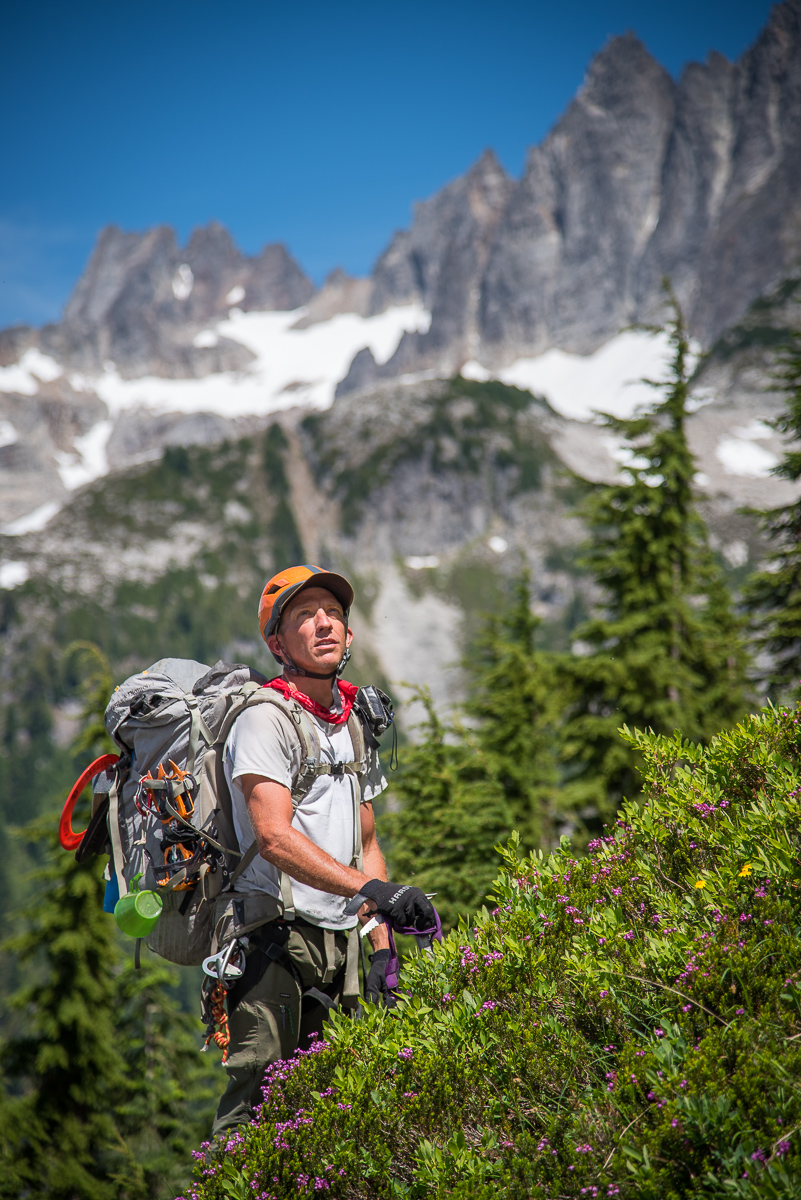 Shuksan in the upper left, above the headwaters of the Baker River: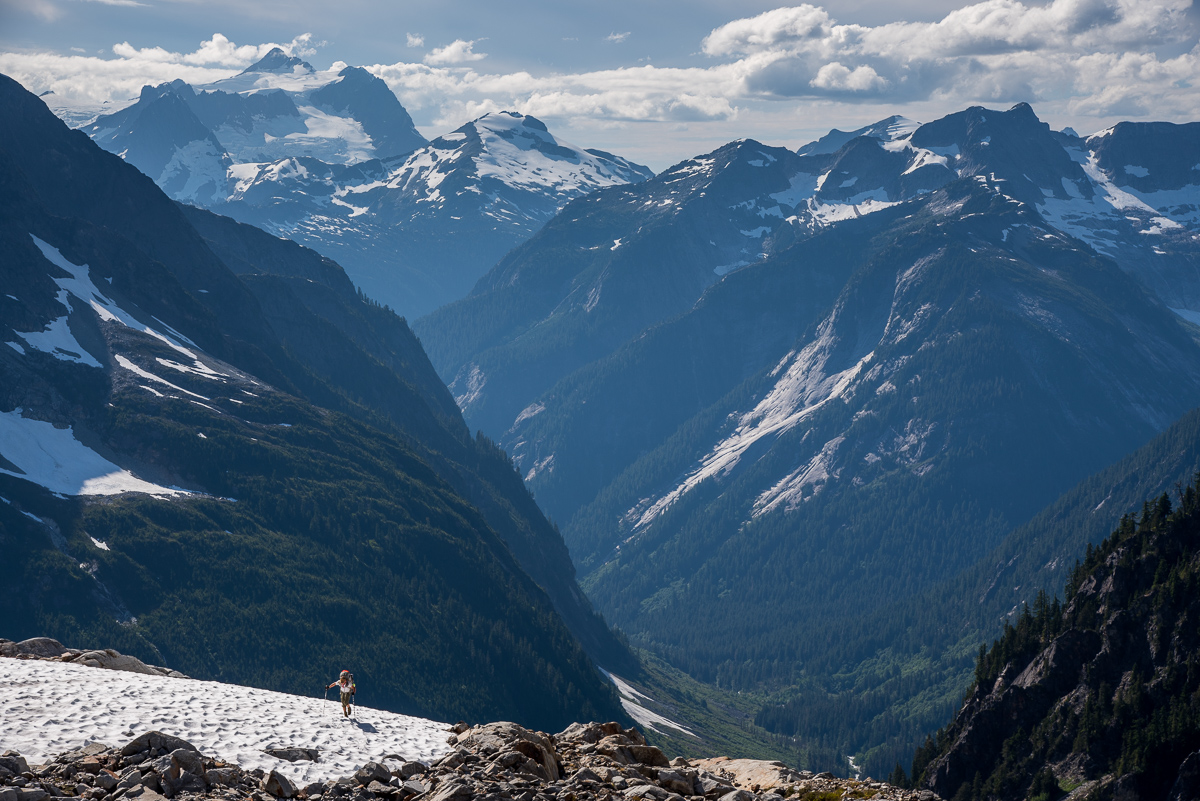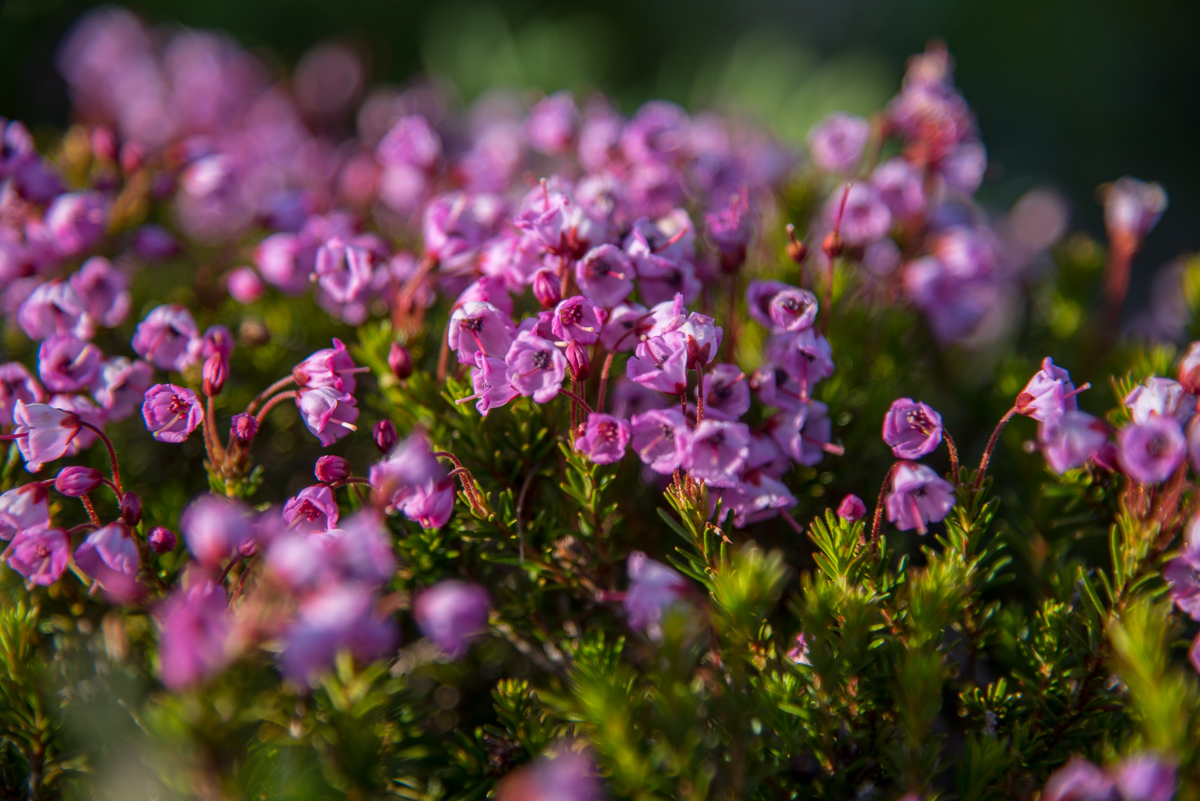 Tim admiring West Fury's Mongo Ridge from Pickell Pass: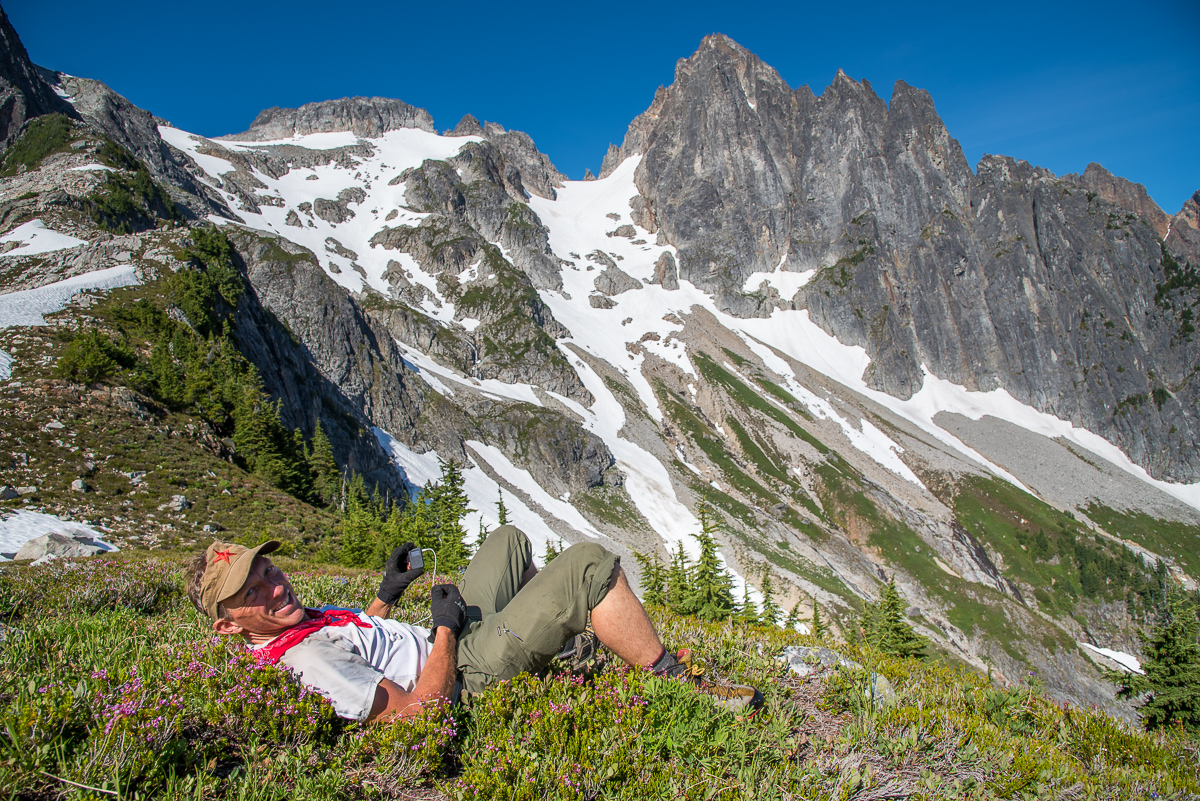 Day 5: Rest day! Sort of. At least we didn't have to hoist the pigs this day. Up to Swiss and Spectre for the day. Swirling mists mostly, which made for good ambiance, but hard to tell which spire on Spectre was the tallest. Climbed a bonus peak we dubbed "Shrundy", but not for the reason you might think. Both Schrundy and the real Spectre had a bit of 5th and one 30m rap to get off. Wild country for sure.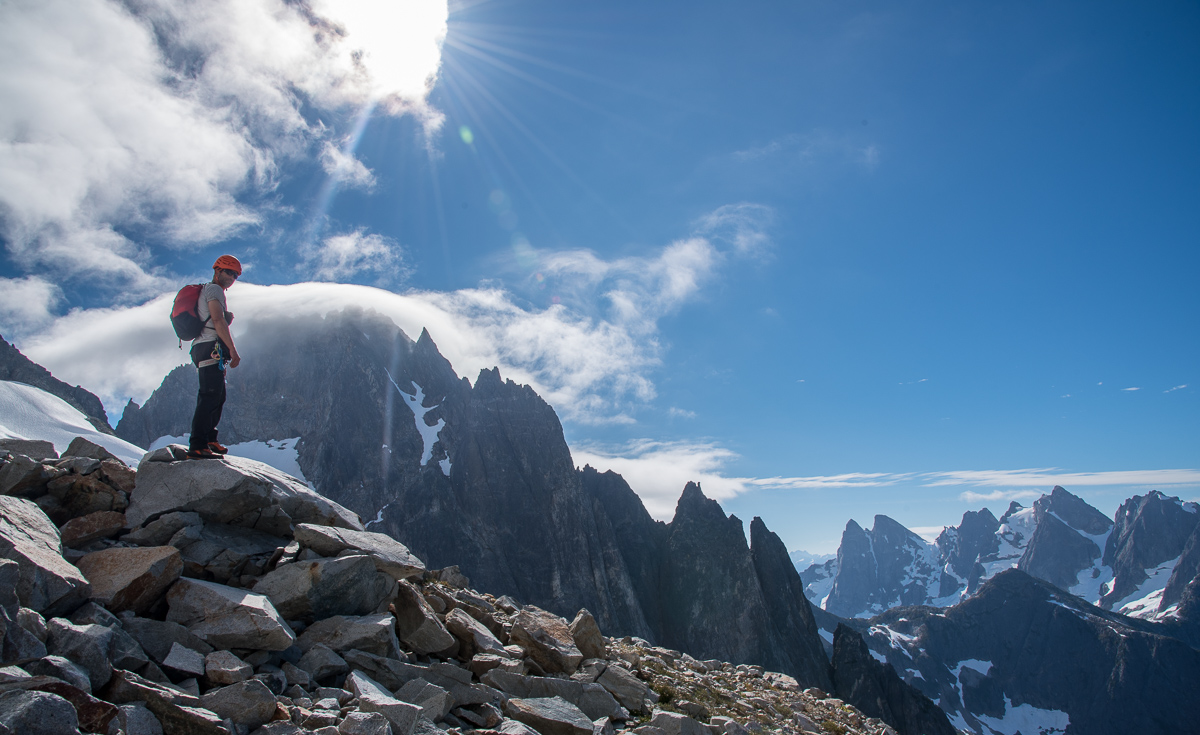 Inspiration (L) and Terror (R) in the distance: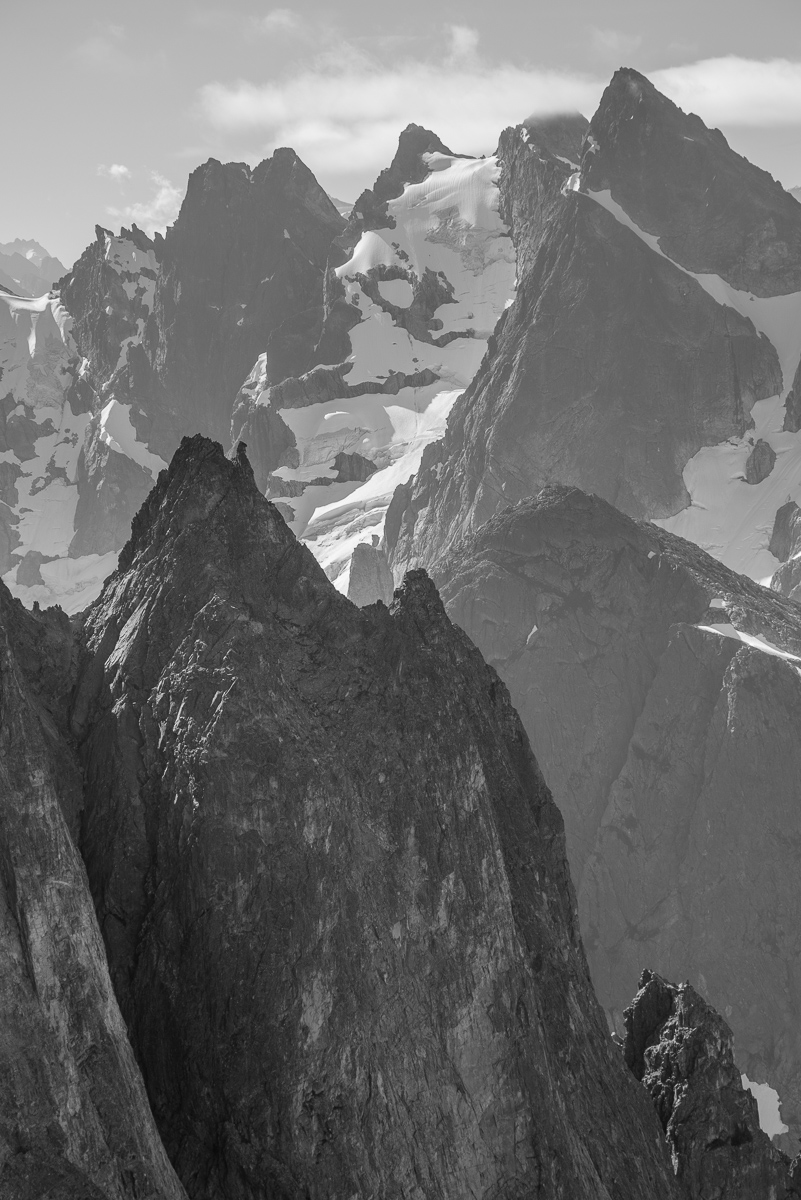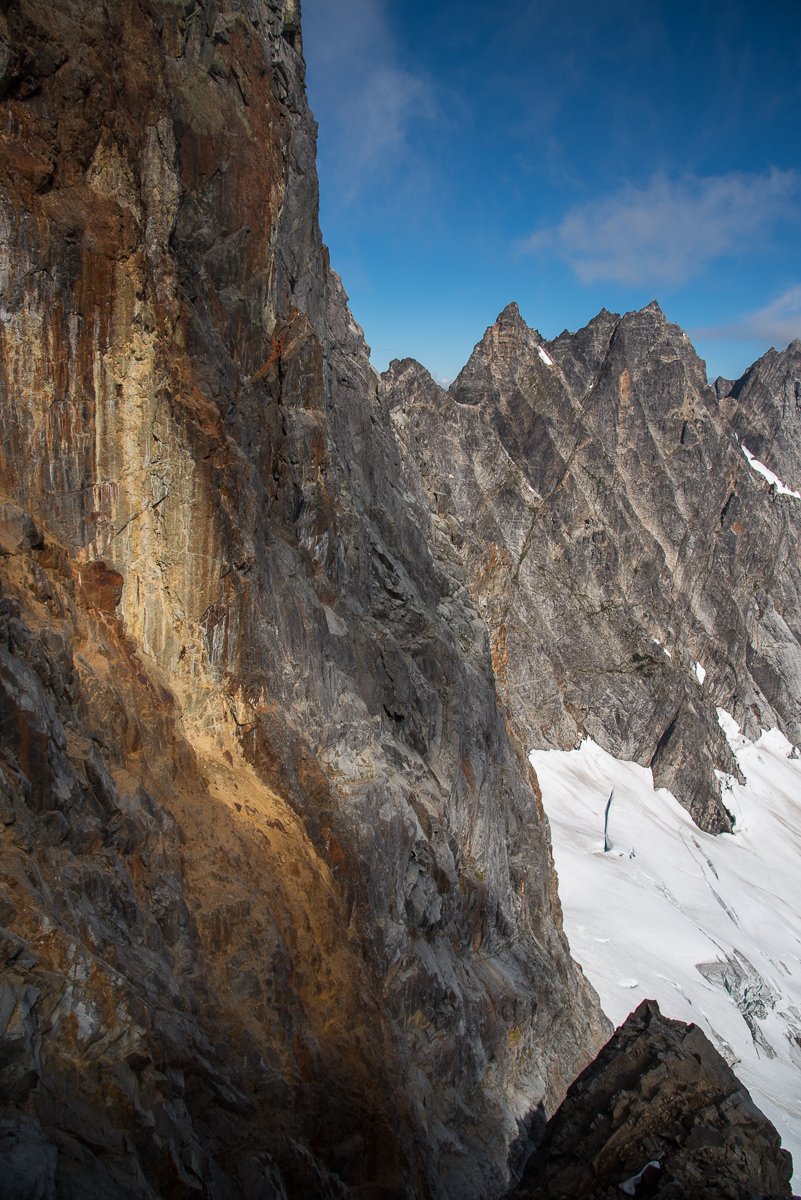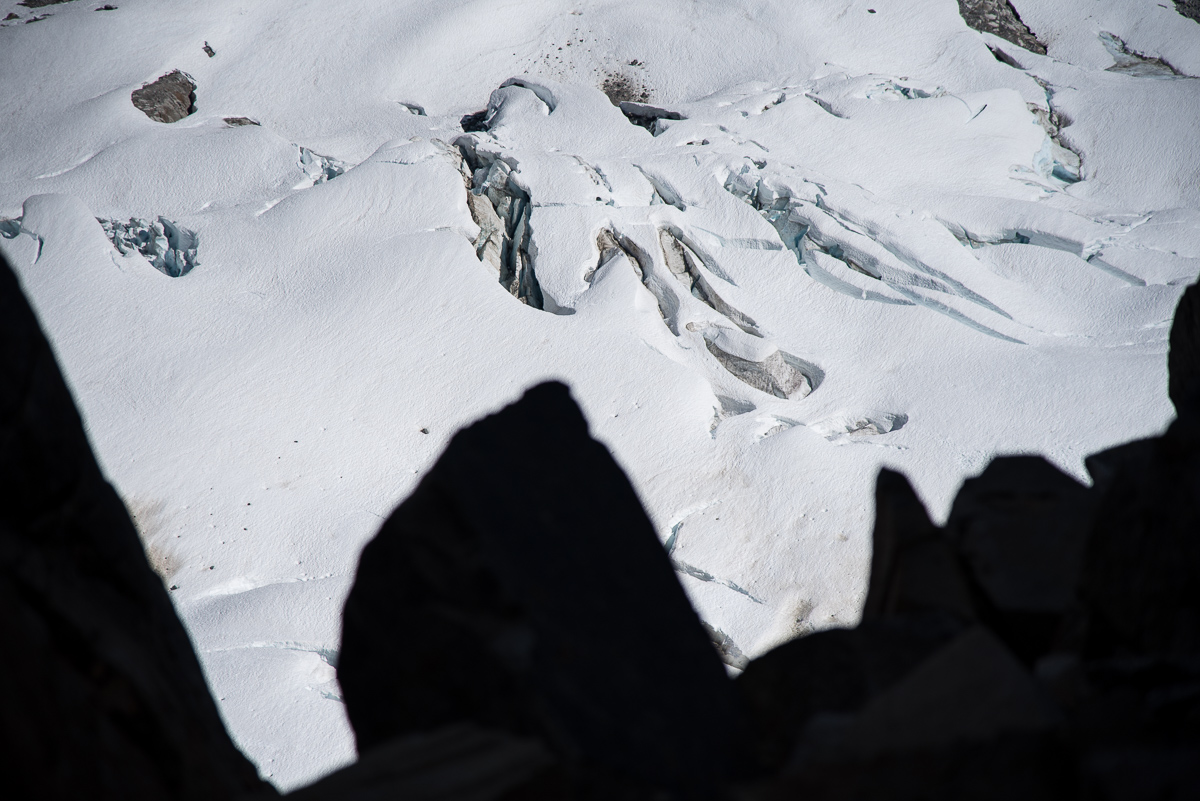 Approaching the summit of Swiss Peak: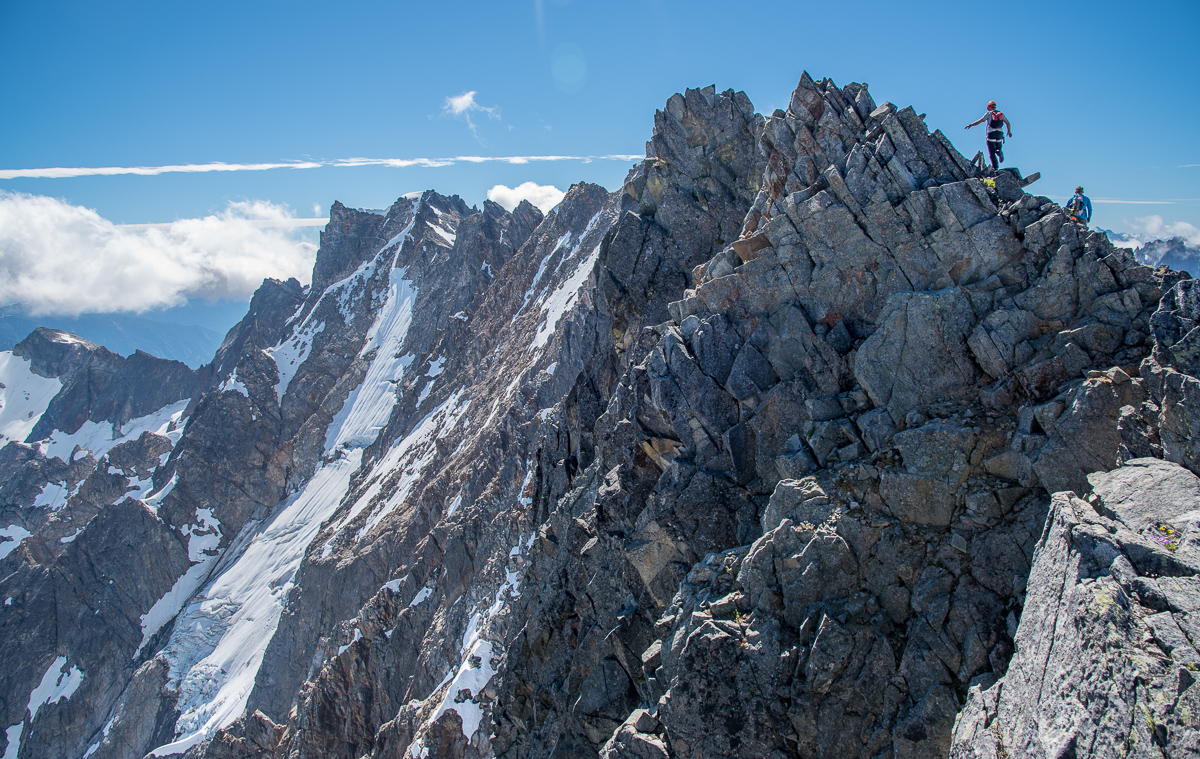 Twin Spires in the mist: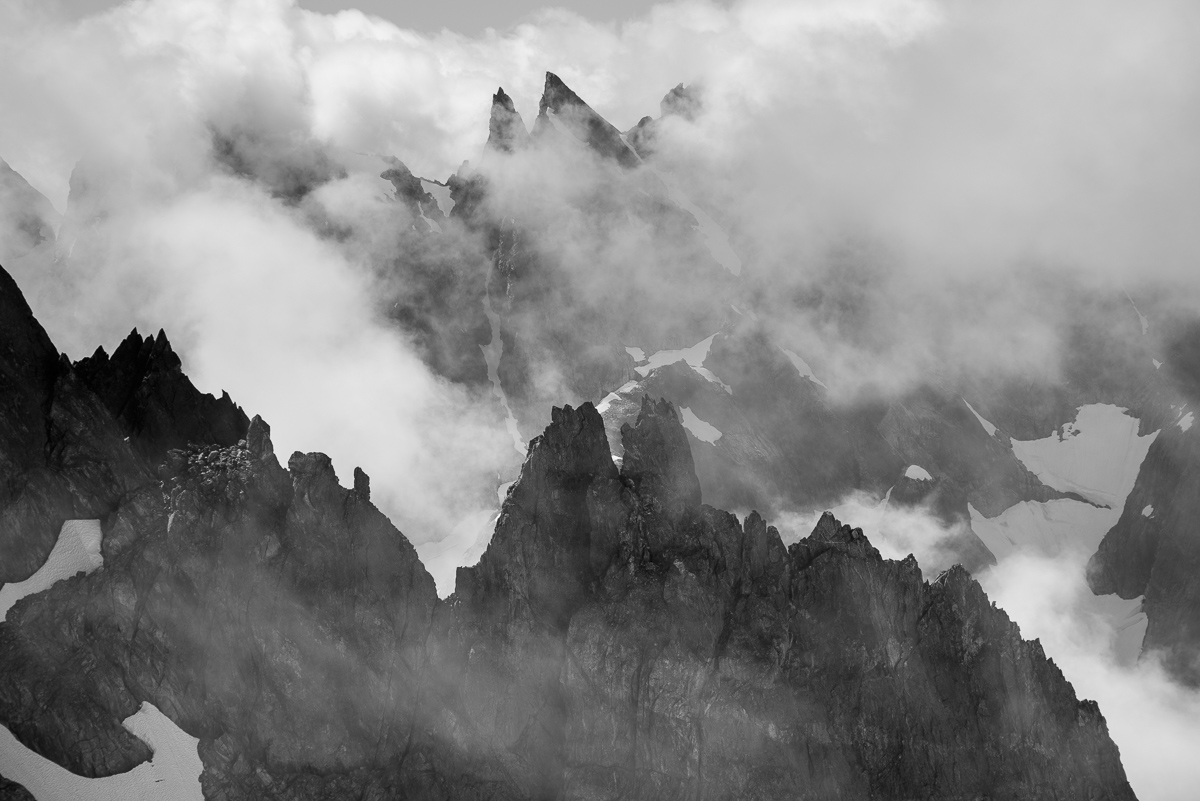 Naptime on the summit of Swiss with West Fury in the background: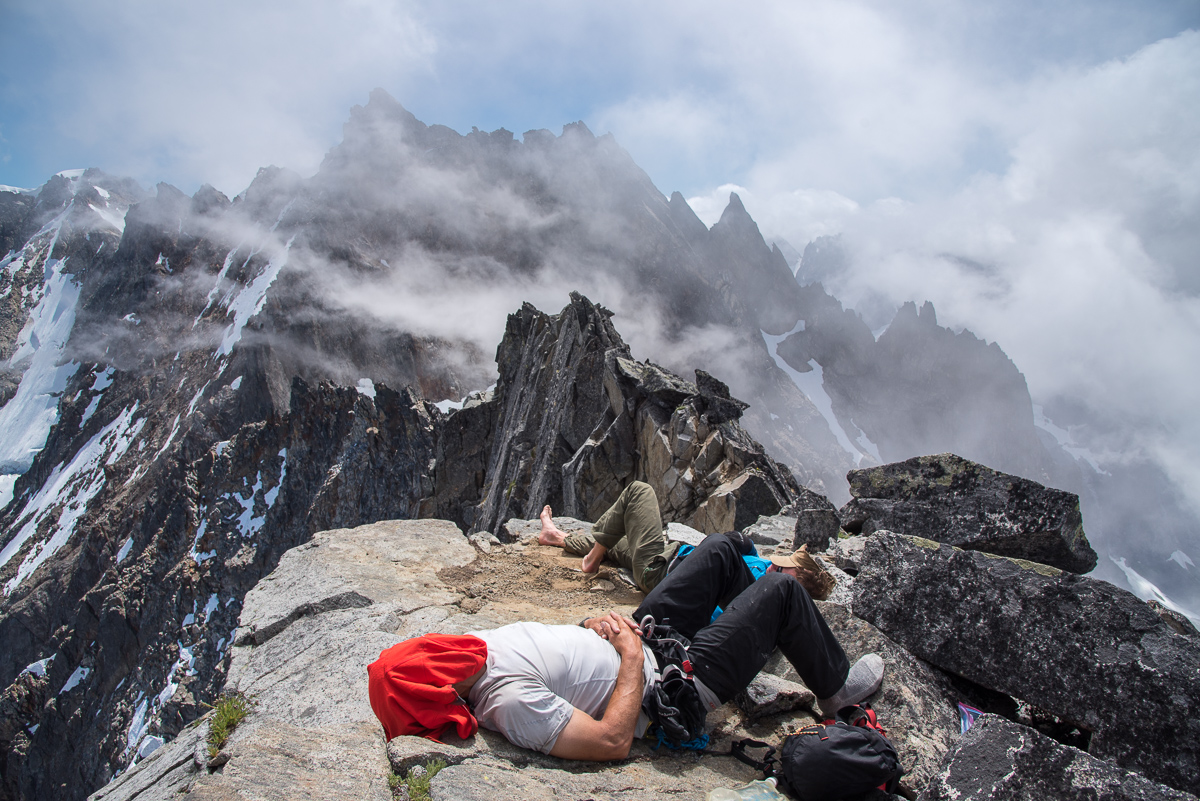 Spectre via the easy way: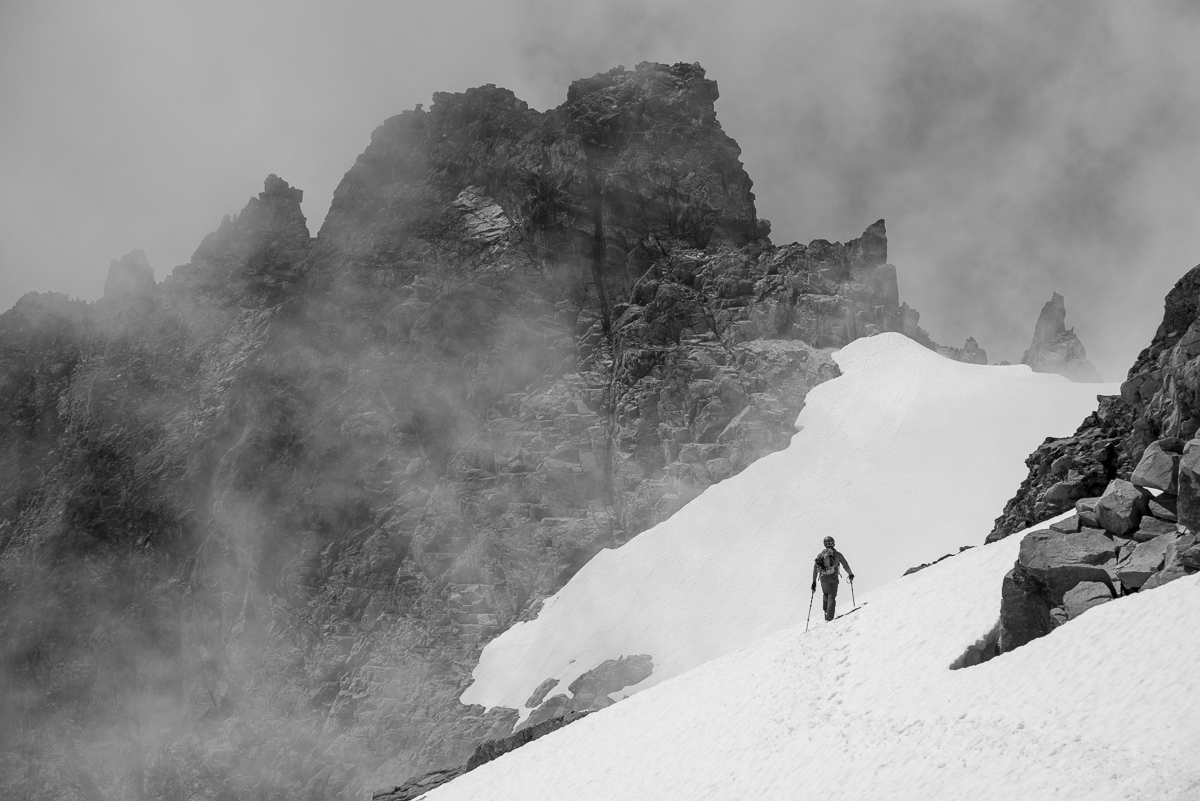 Phantom: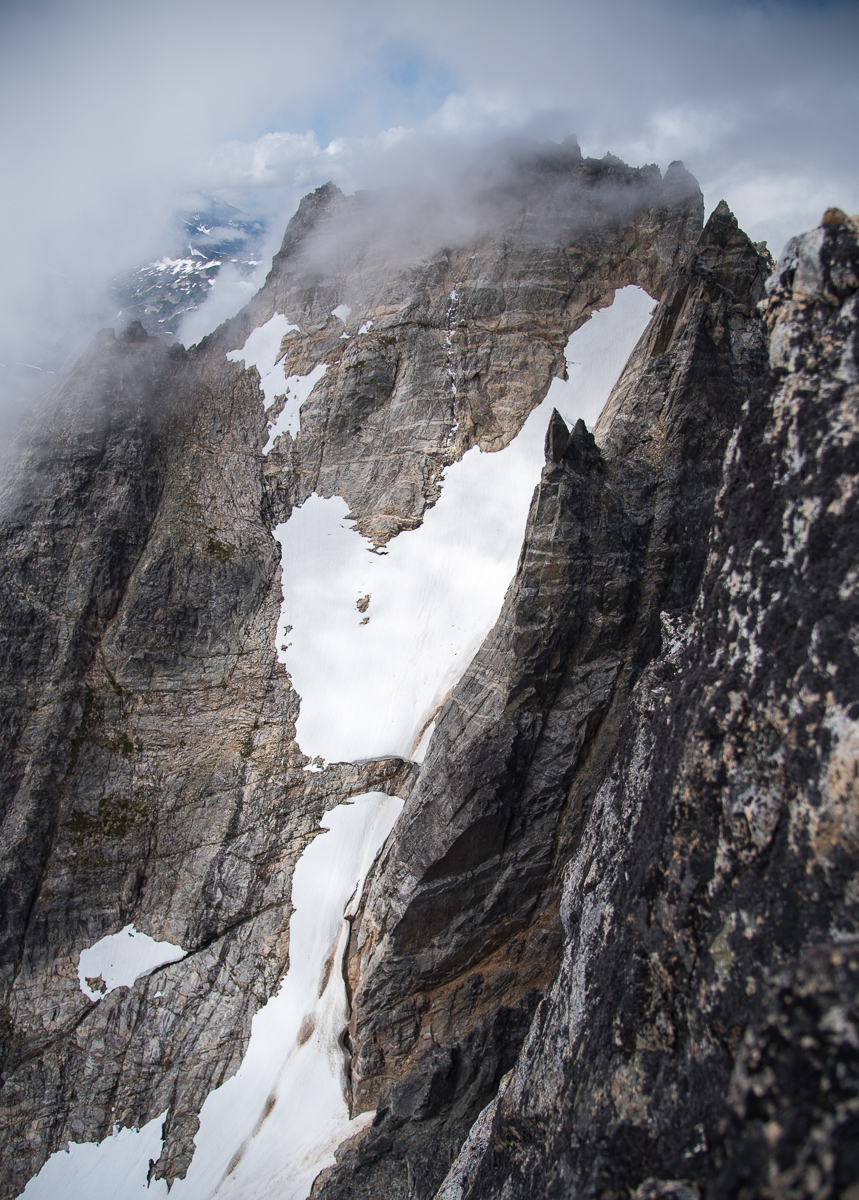 N wall of Southern Pickets from descent to Pickell Pass: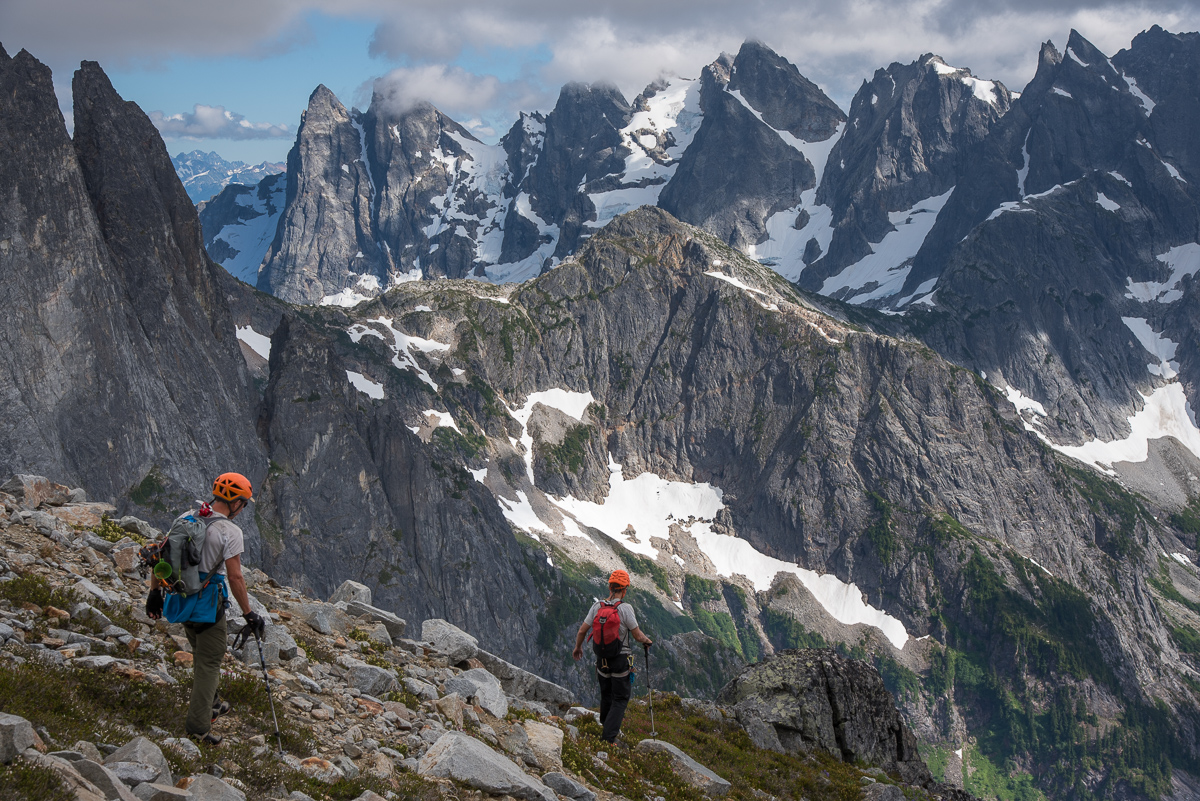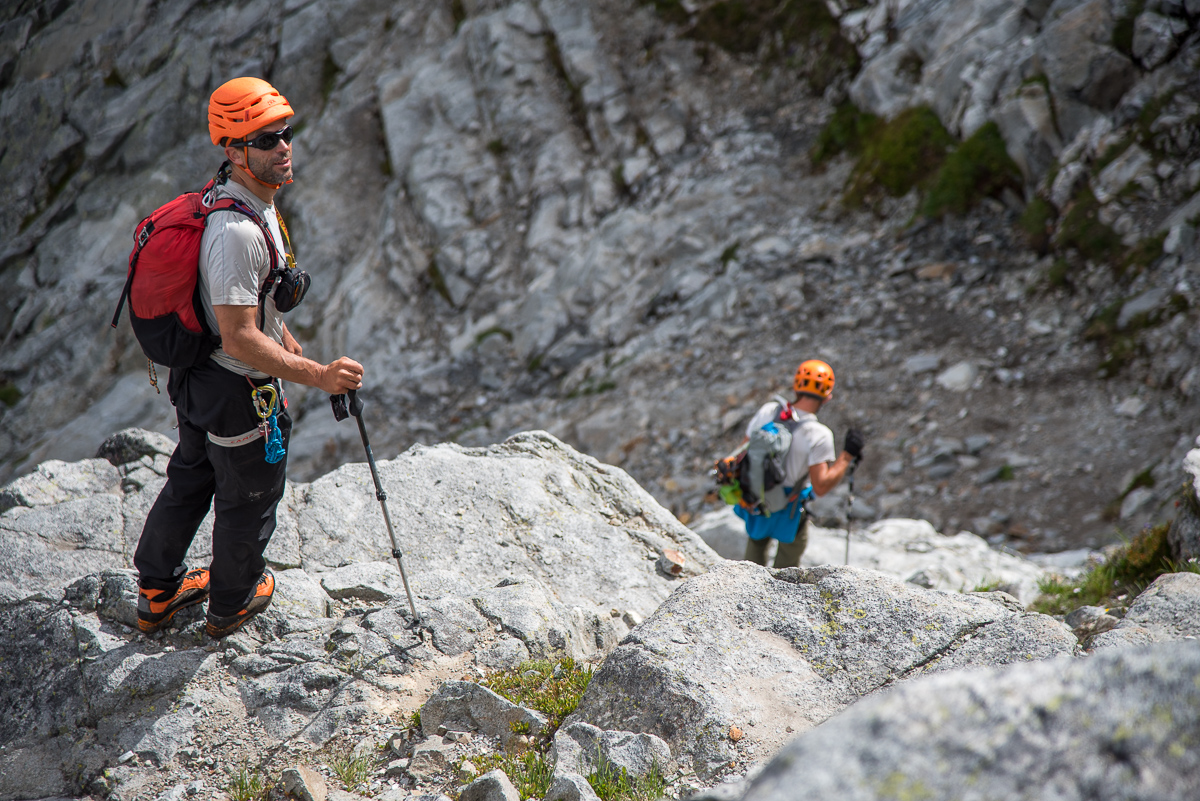 Spectre, Haunted Wall from Pickell Pass: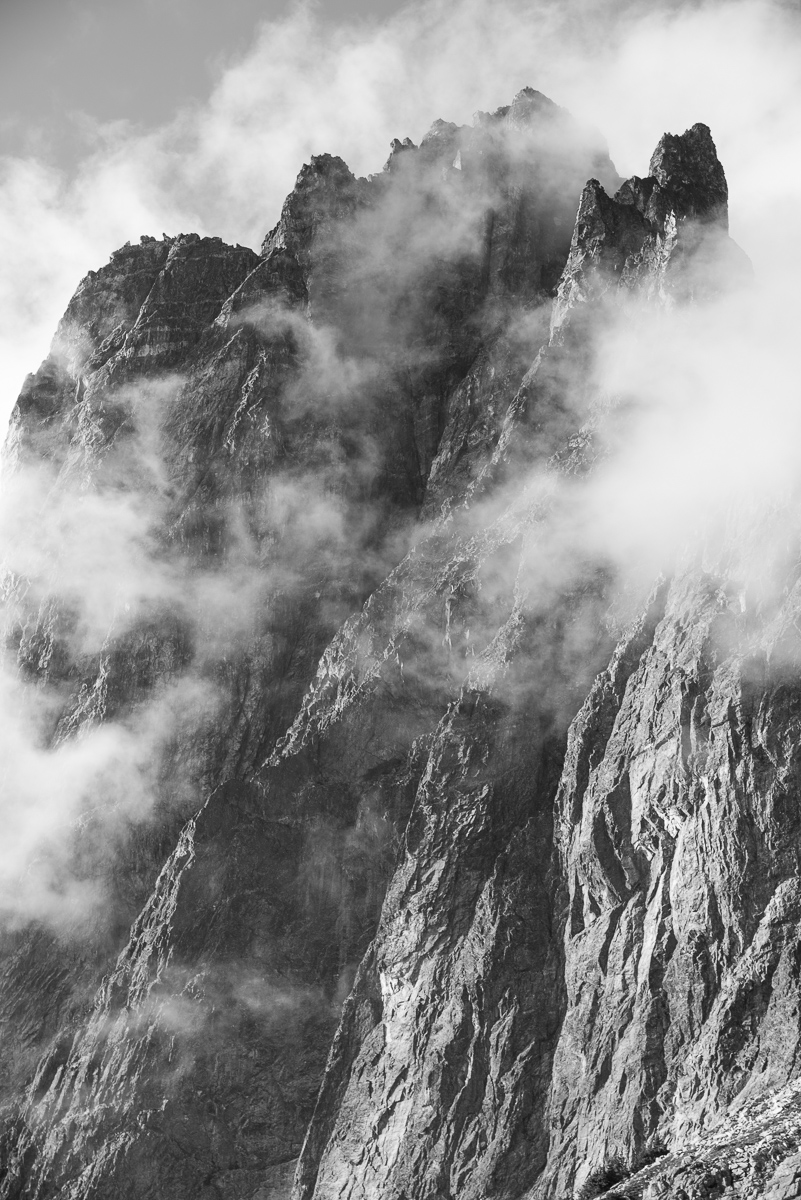 Crowder from Pickell Pass: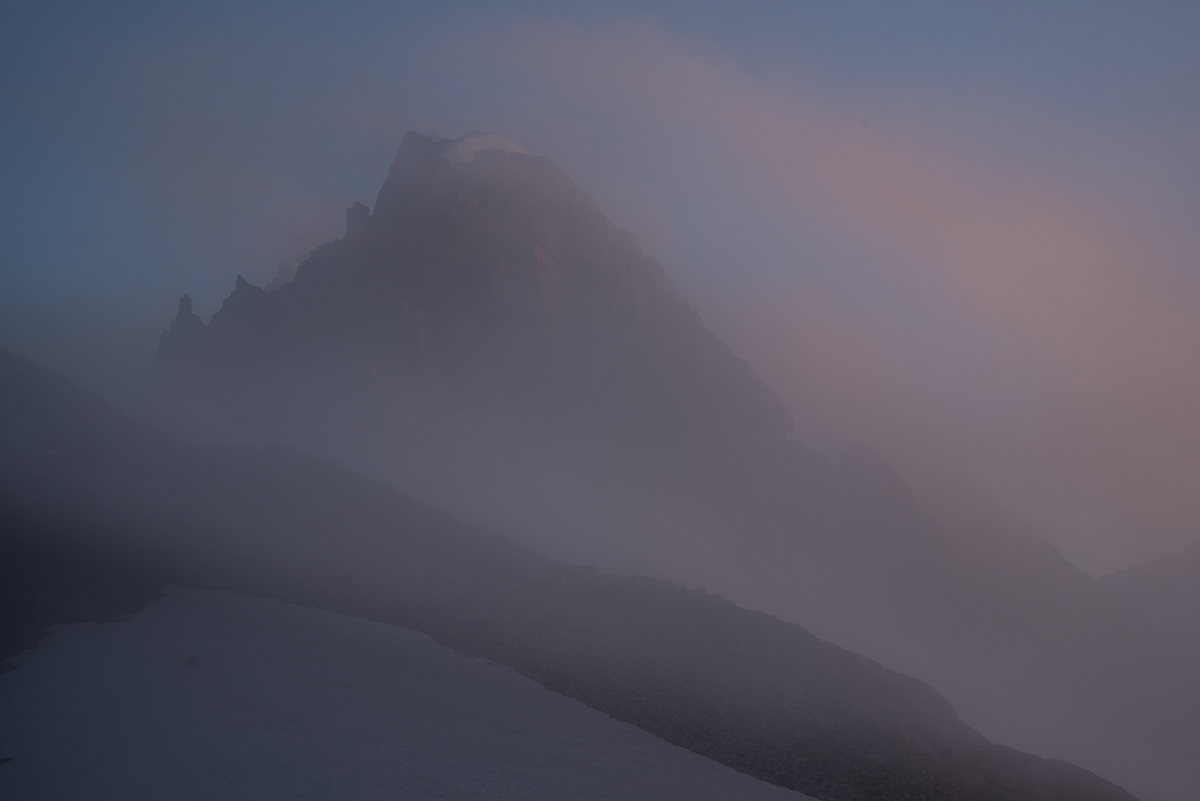 Southern Pickets from Pickell Pass: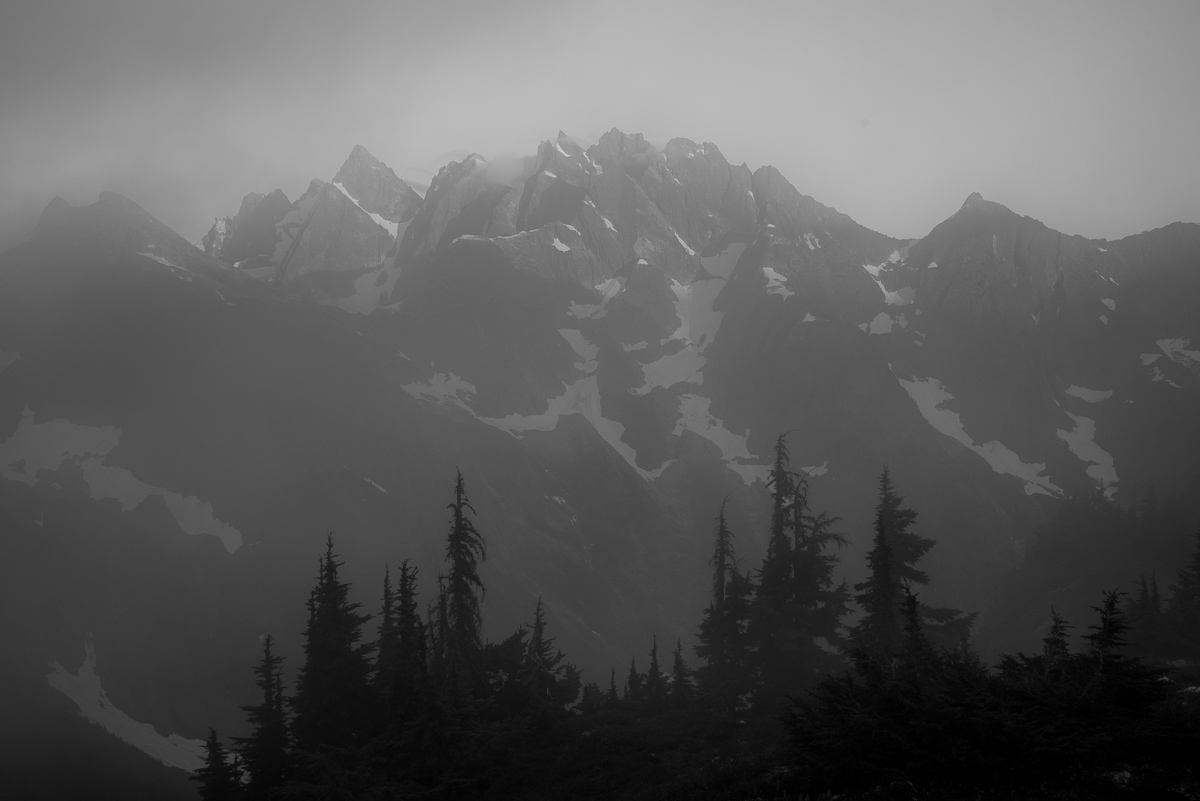 Day 6: We were getting tired. Steve was all for Crooked Thumb, but Tim and I convinced him for a low stress day going up Middle and Main Challenger then camping on Eiley Wiley. Tim and I were hoping to get out in 7 rather than 8 days. I'm just not the choss dog I once was and I had just about had my fill for the week. Still, Middle and Main Challenger were hardly boring (Middle esp. is aesthetic) and Camp Friendly on Eiley Wiley ridge was right up there with Pickell Pass. Longest day, though.
West and Middle Challenger from the south: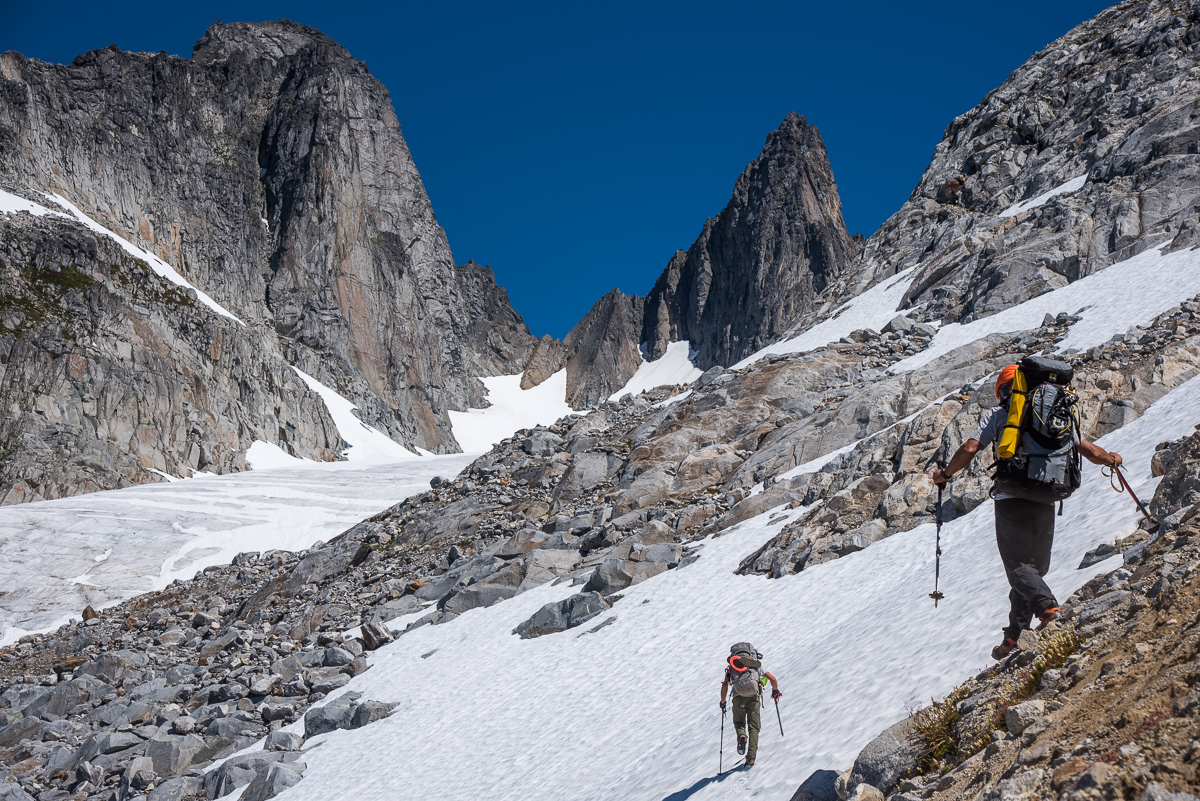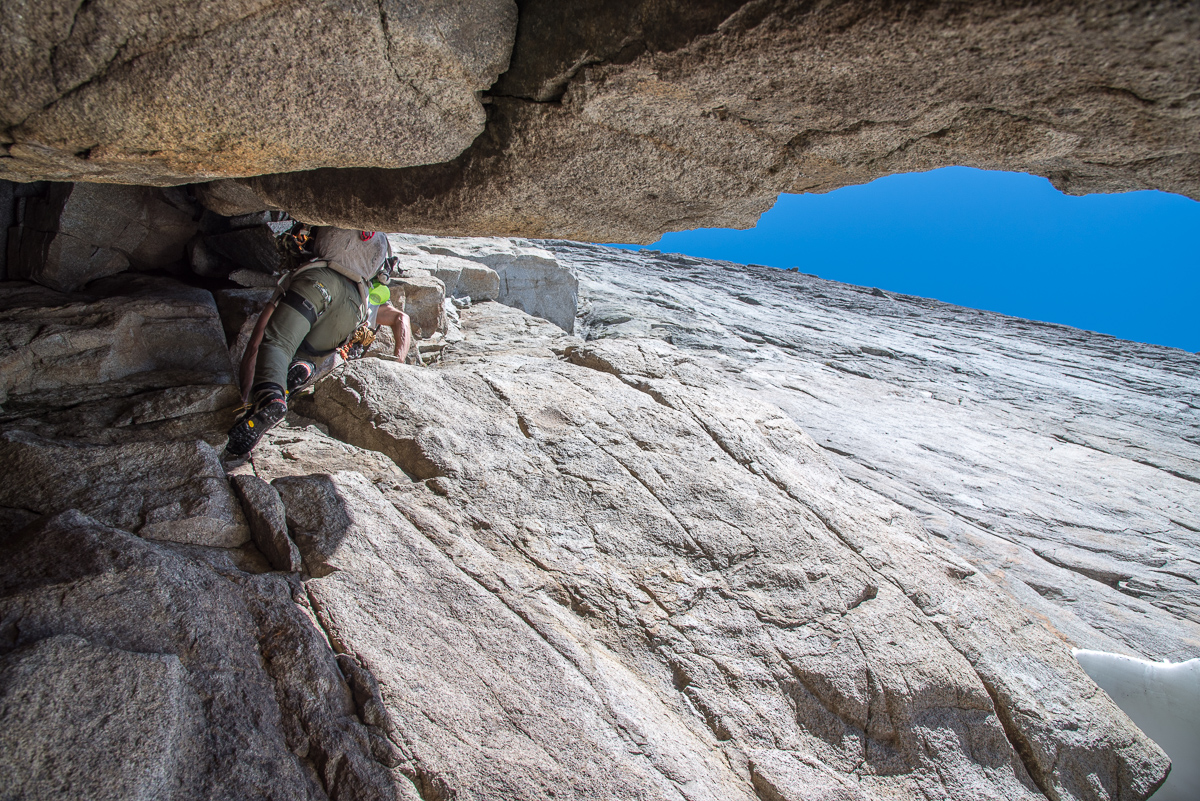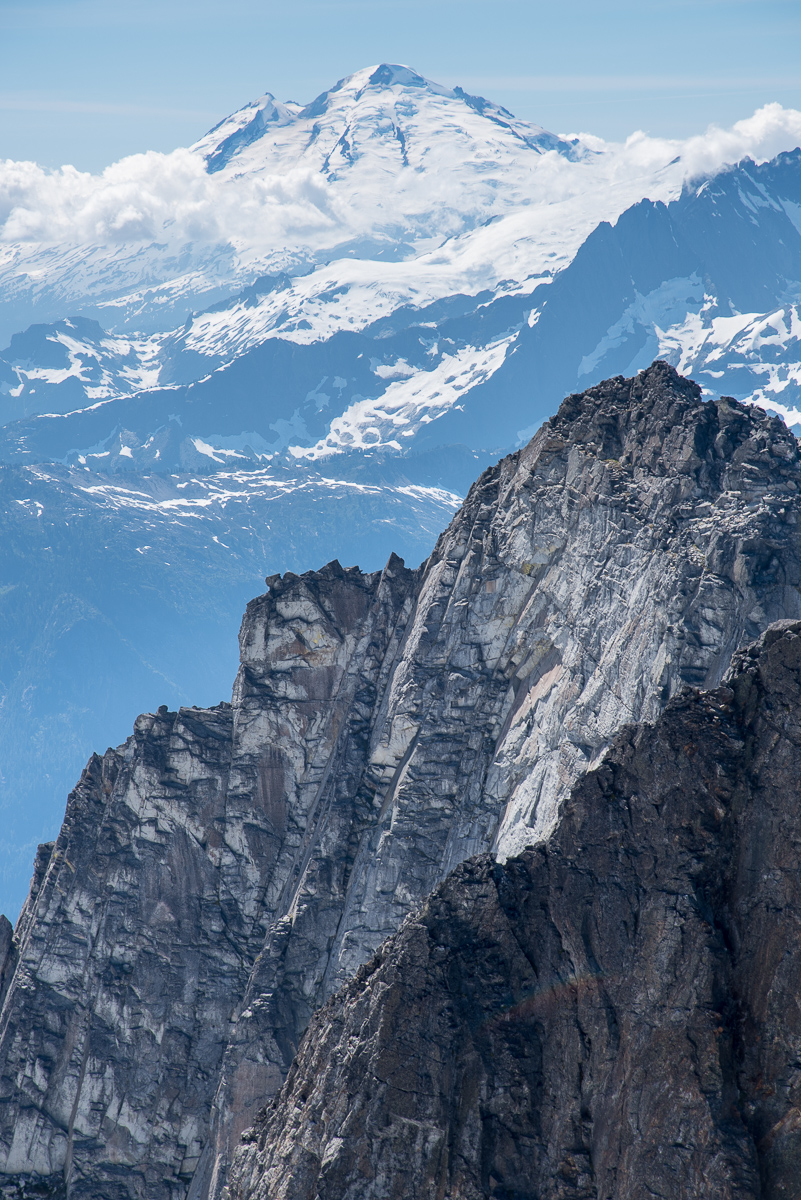 Challenger summits from Main peak (Tim is on Middle Peak!):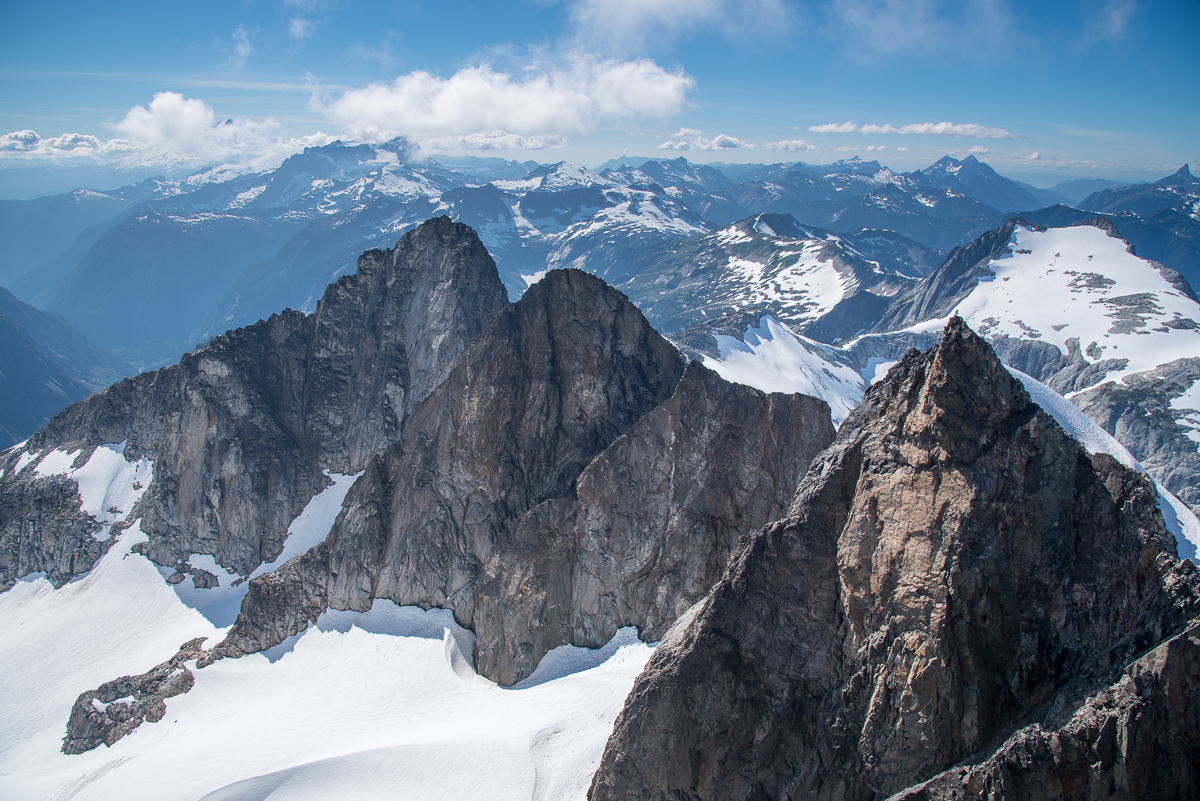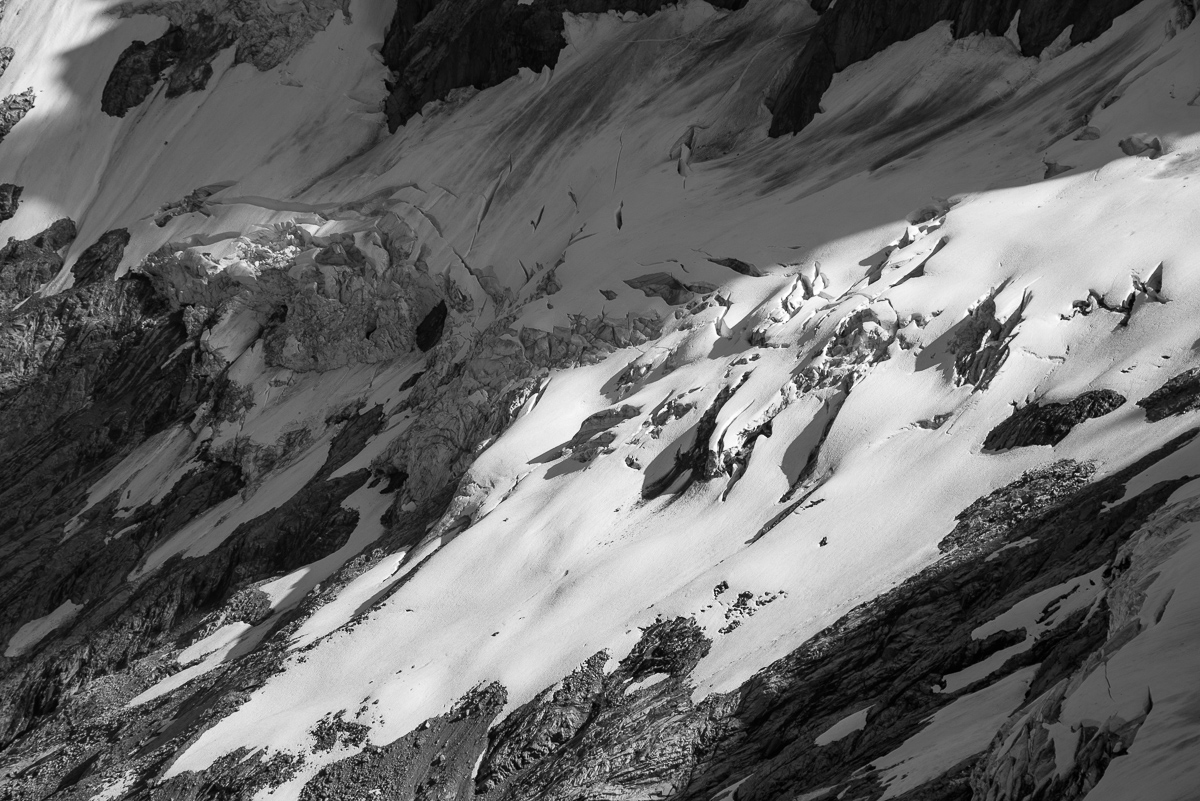 Fury North Buttress (note huge crown line!):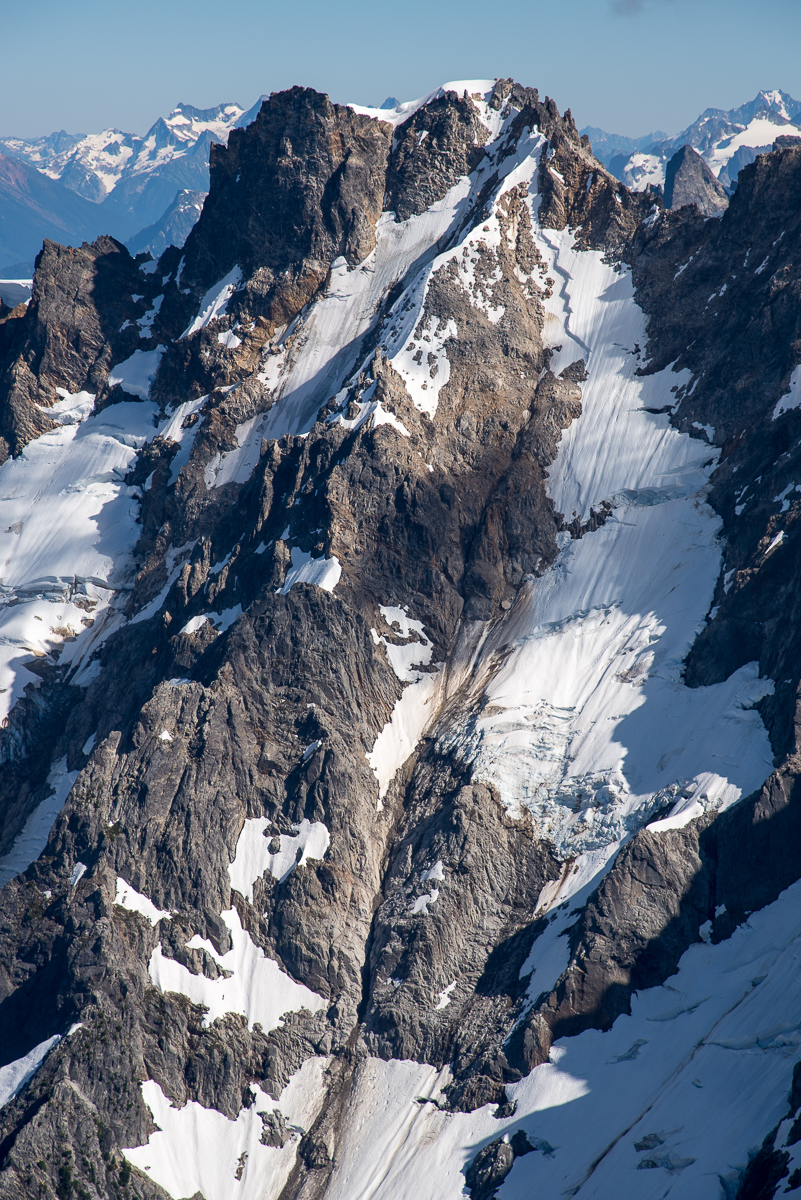 Challenger: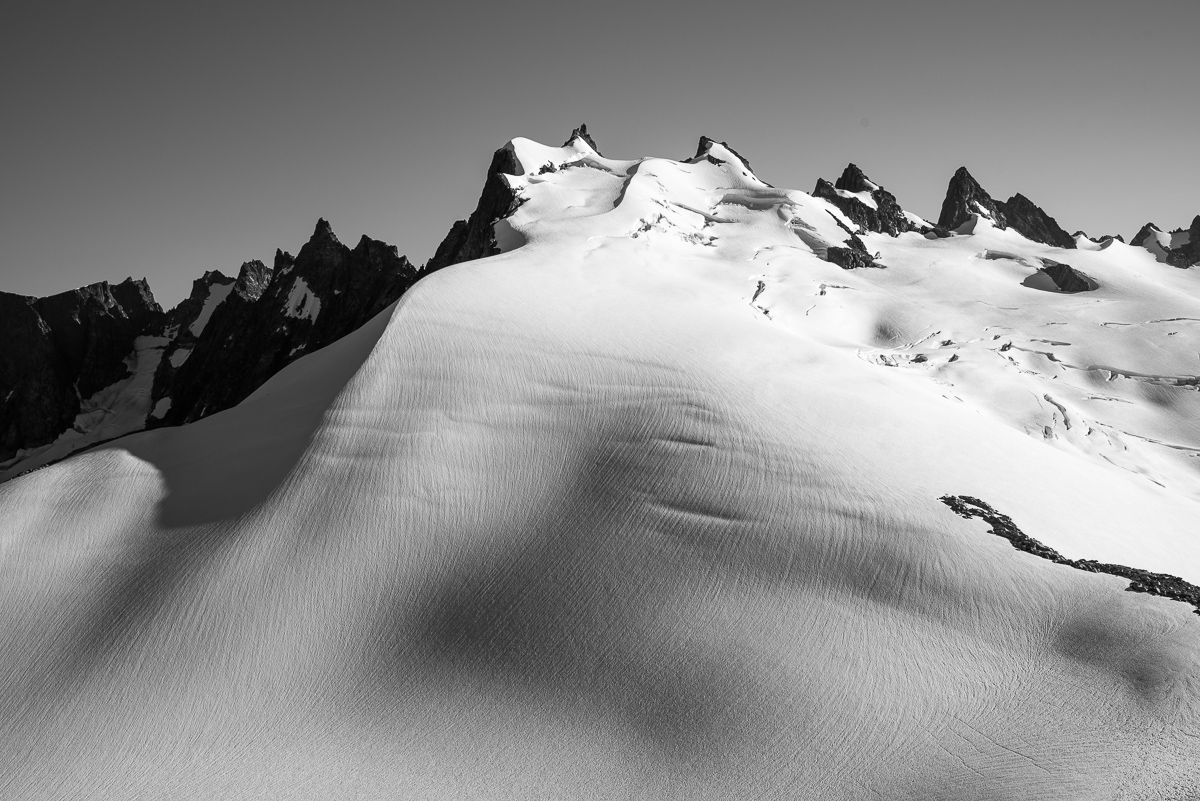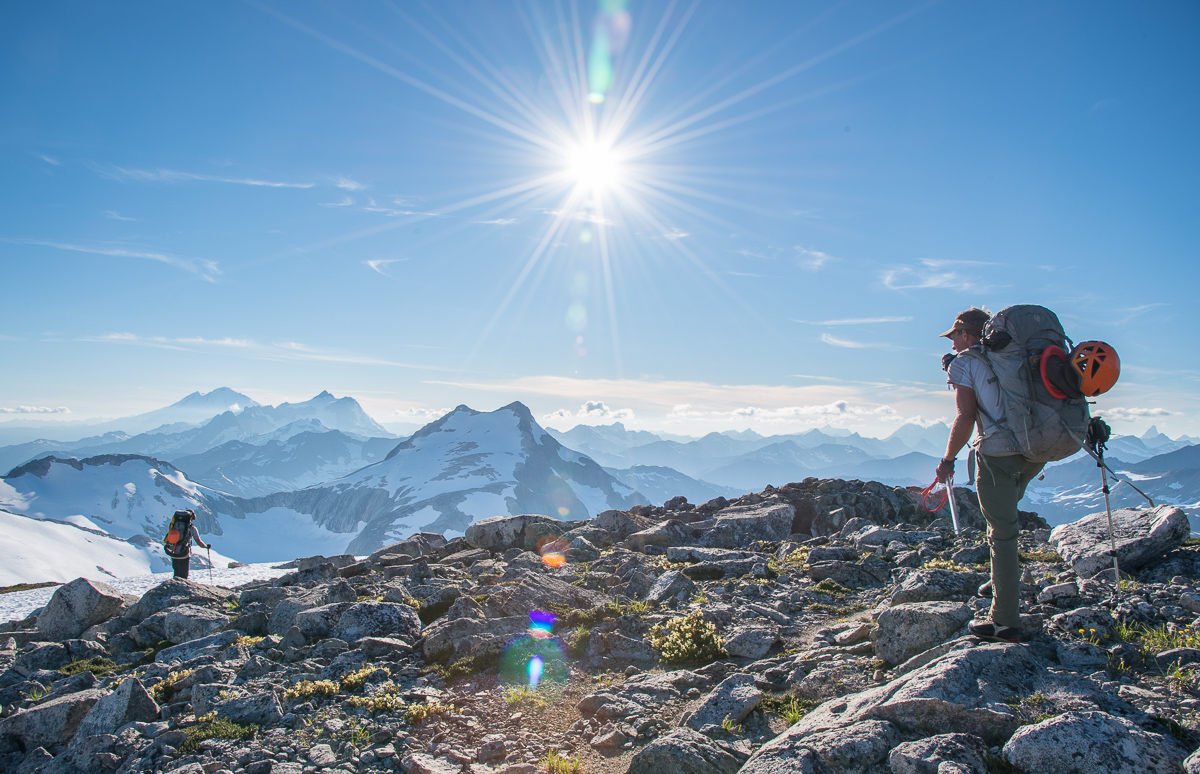 Baker, Shuksan, and Whatcom lined up from west end of Eiley Wiley Ridge: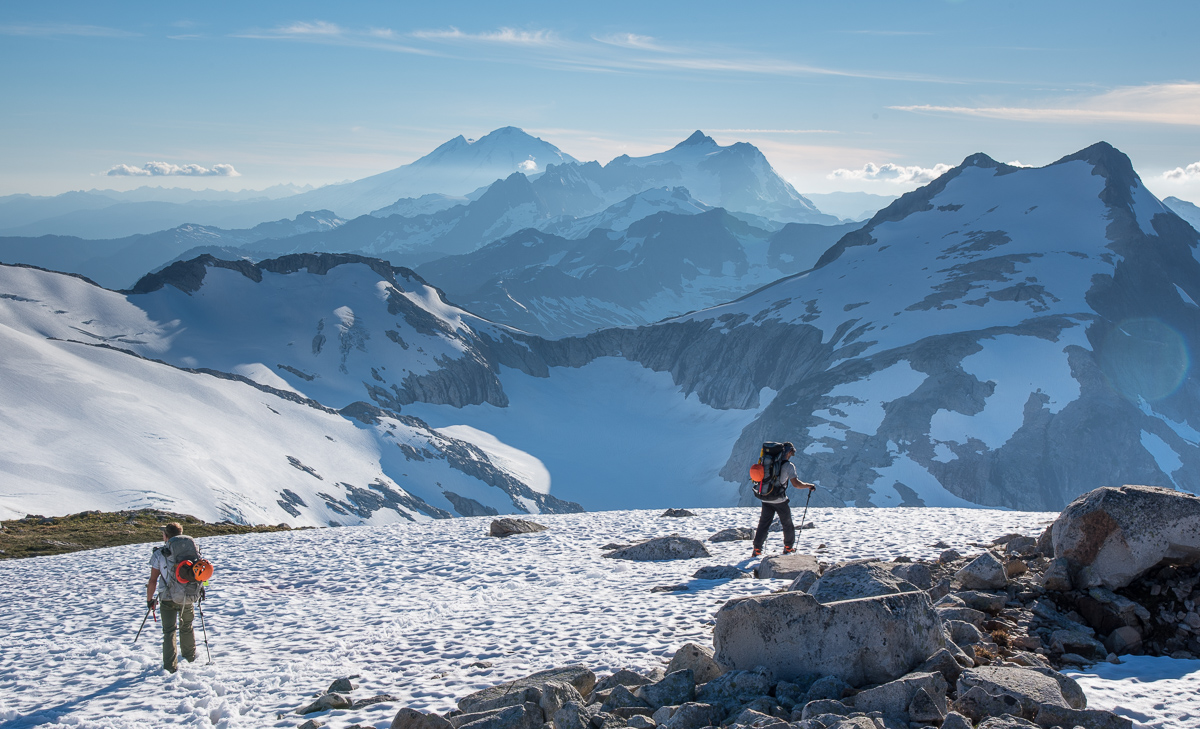 Luna: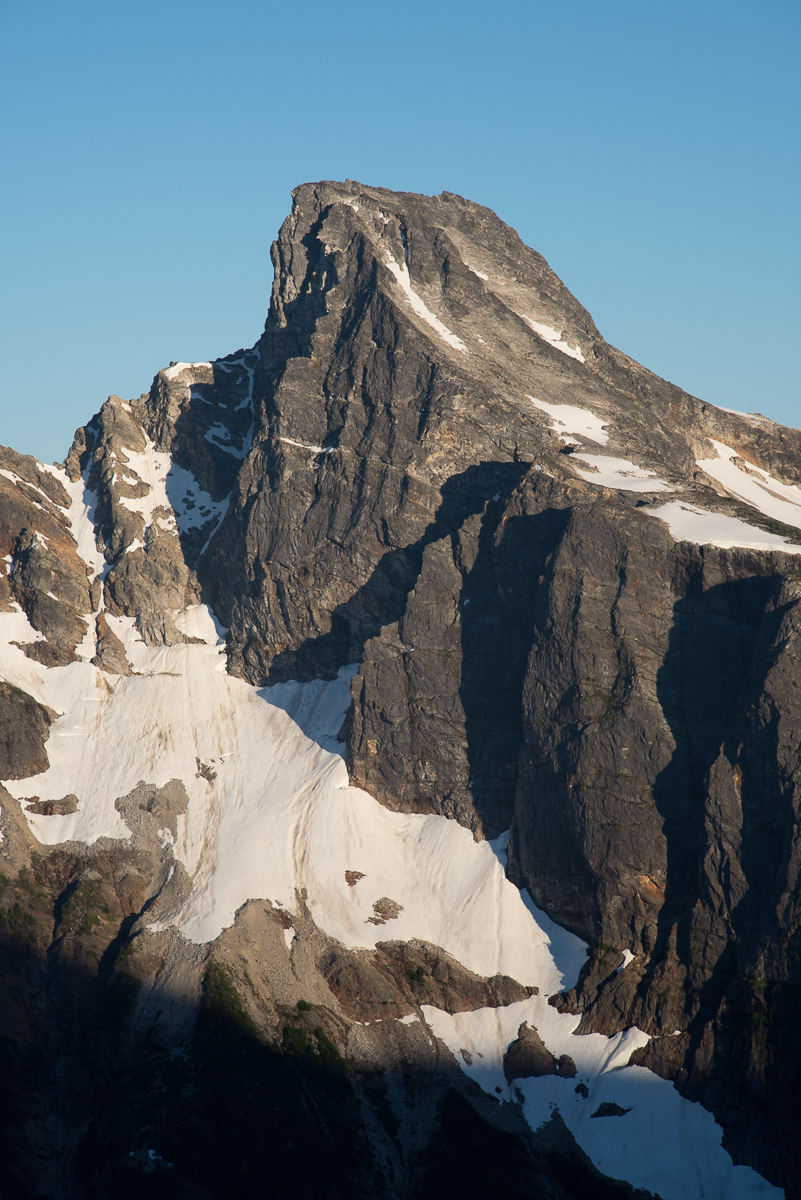 Challenger from Camp Friendly: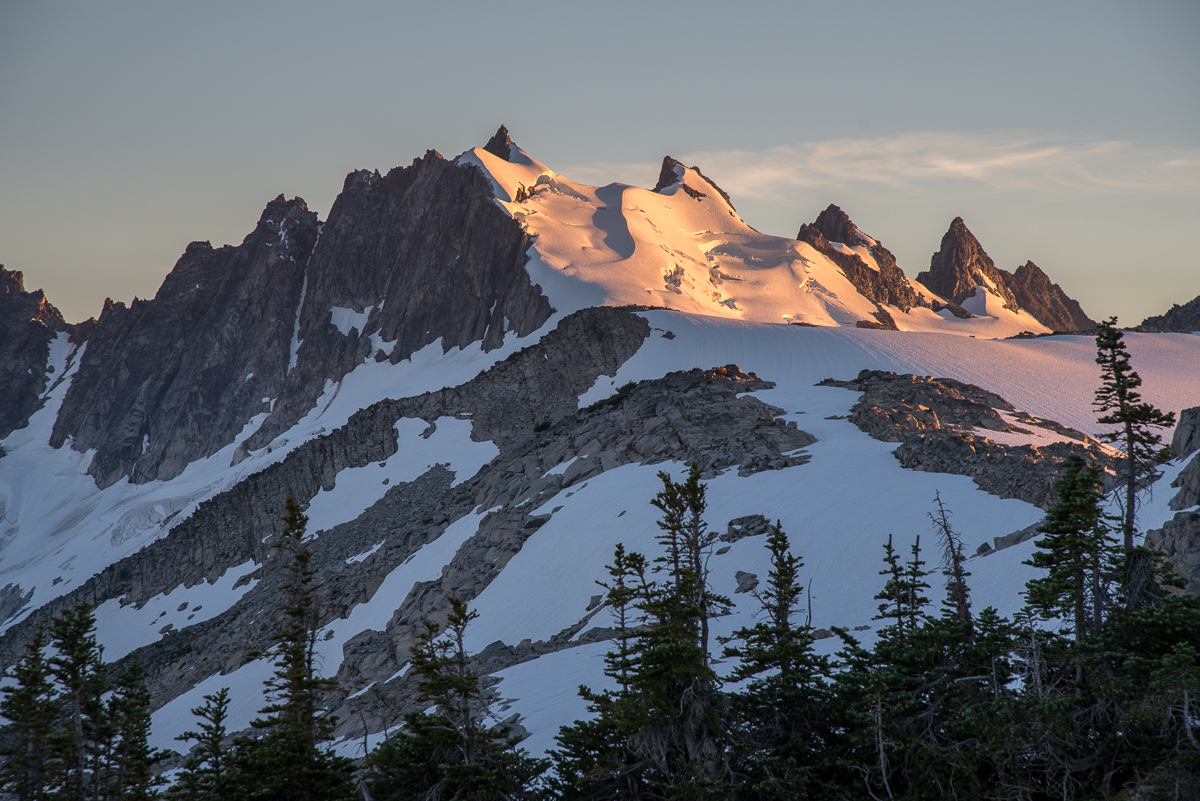 Day 7: The perfect weather continues (though we can see the Diamond Creek Fire growing by the day to the east). Doing the math on the bash to the trail and hike out to the lake, we start pretty early. This is painful for me since we are long out of whiskey. Some steep side hilling to get off the ridge, but overall fairly straightforward and quick travel to reach treeline. The brush down to Beaver Pass is not horrible, but not great either. The trail to Ross Lake started out glorious feeling (if buggy), but gradually pounded our feet silly. The jump off the dock never felt so good. The hike up from the water taxi landing never felt so bad, but much better looking than the fully loaded canoes was saw being drug down the trail. Beer at the car, Pizza at Annie's, shower at home. Fin.
Camp Friendly: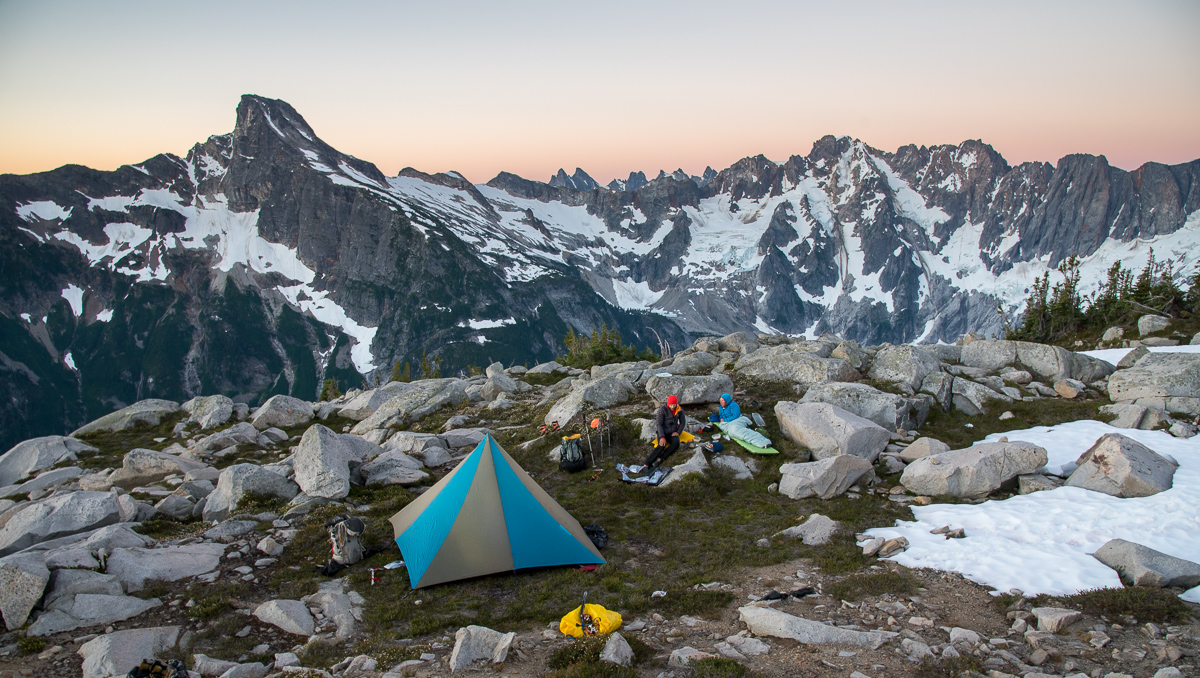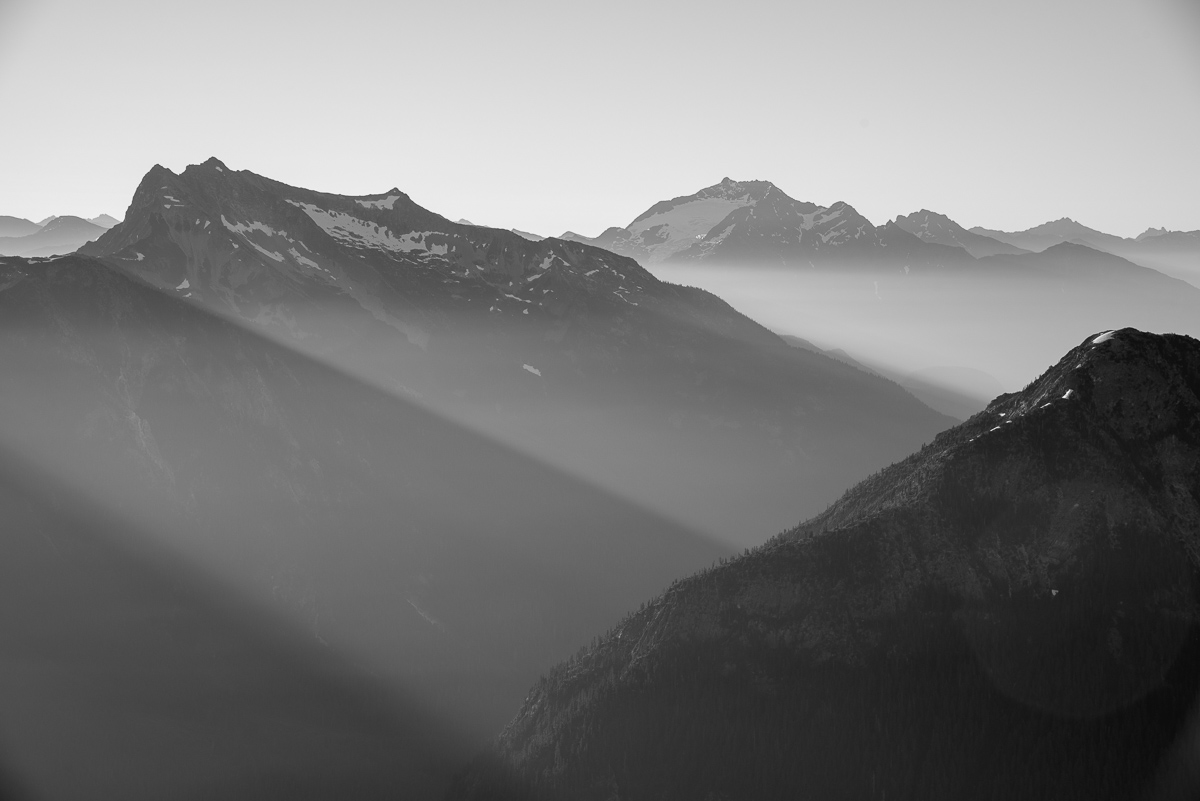 N. walls of Fury and Swiss: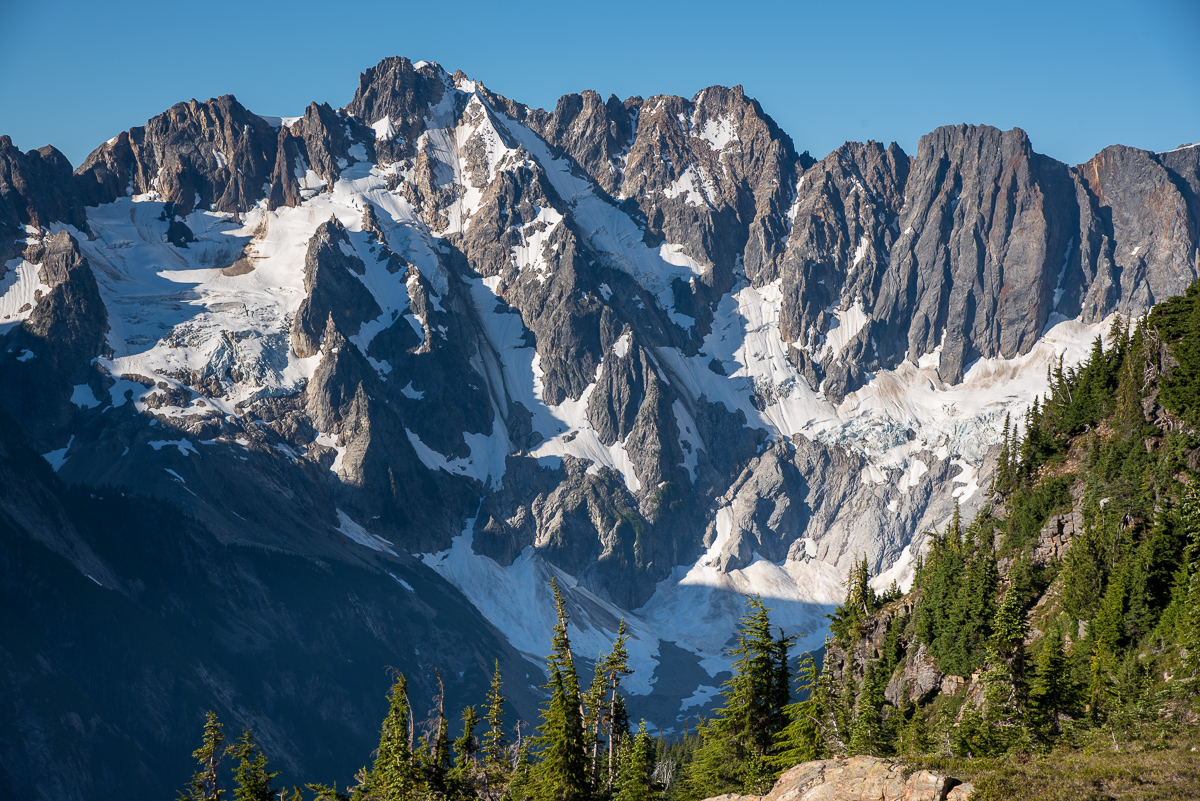 Luna: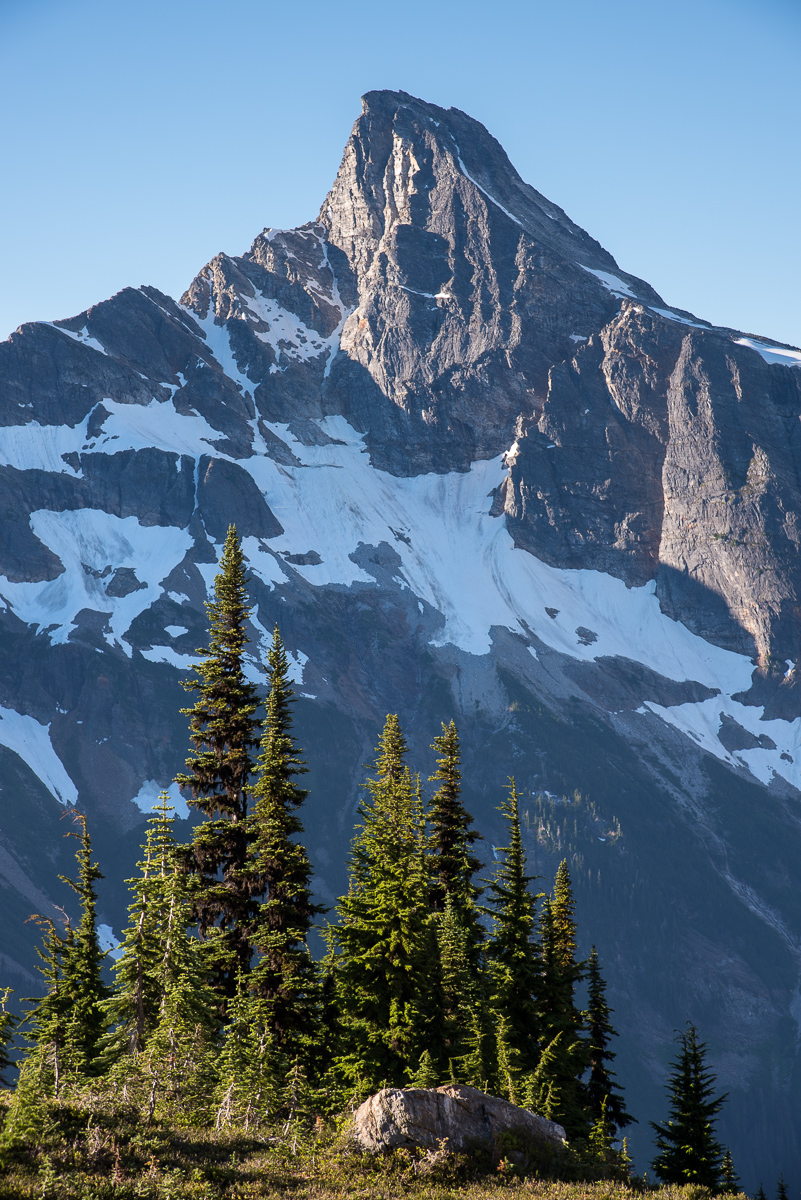 Note the bugs around Tim!: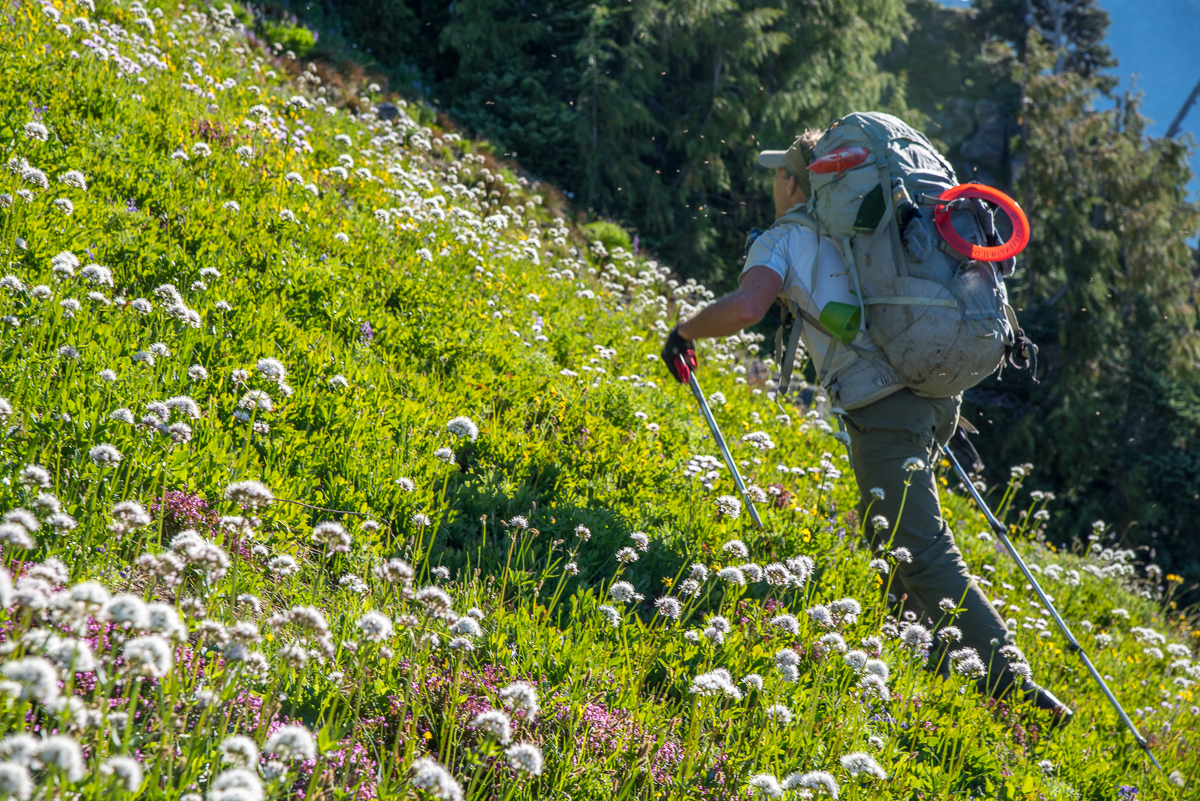 Big Beaver Valley: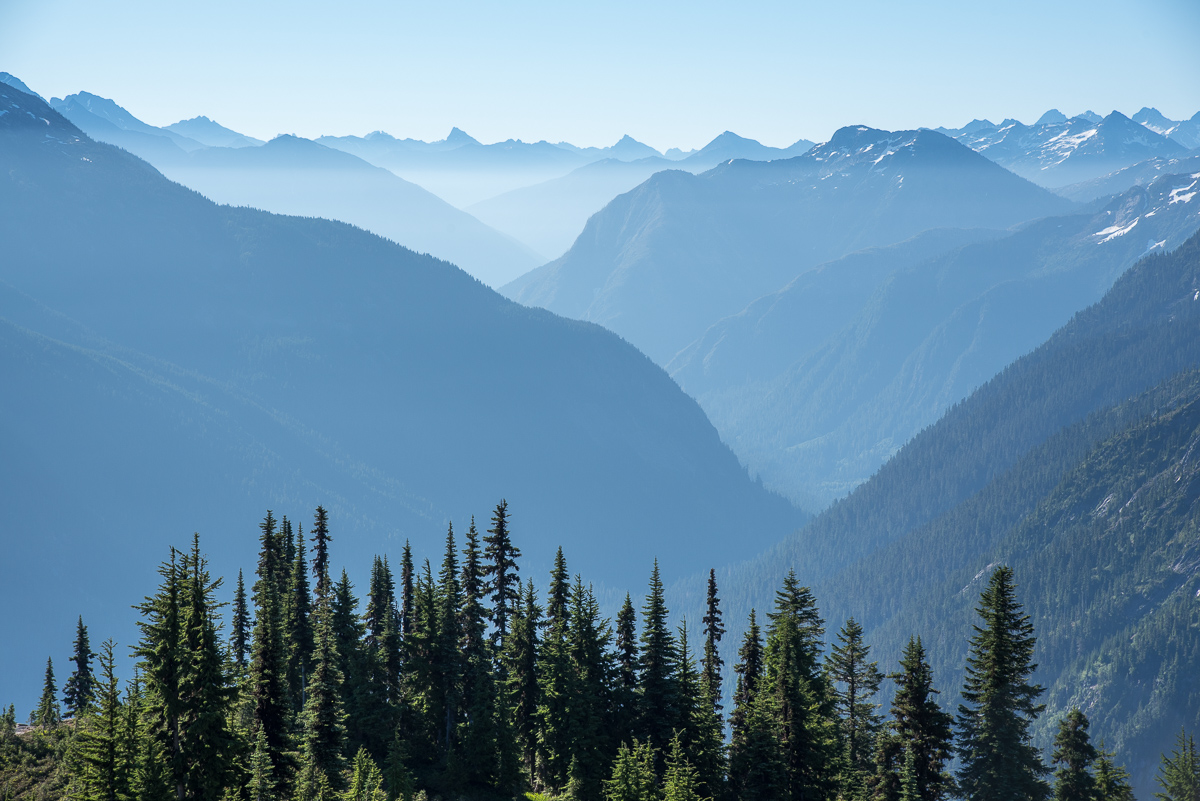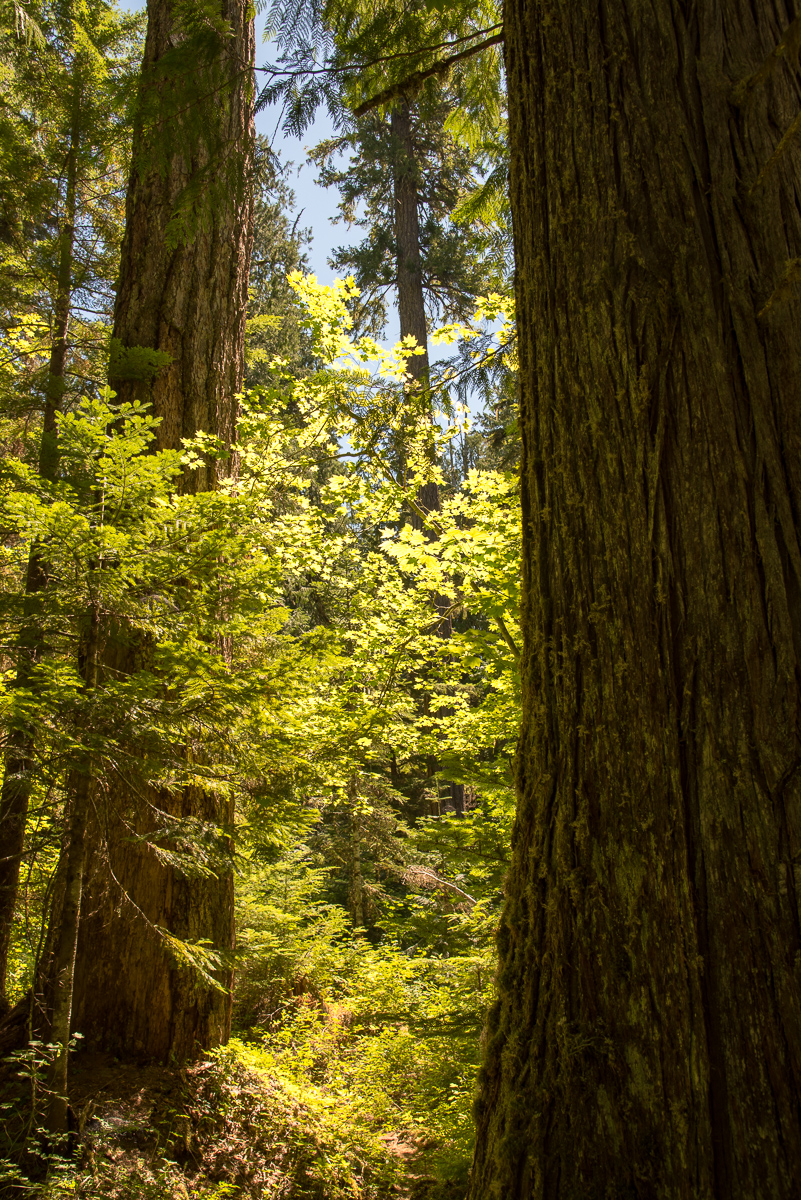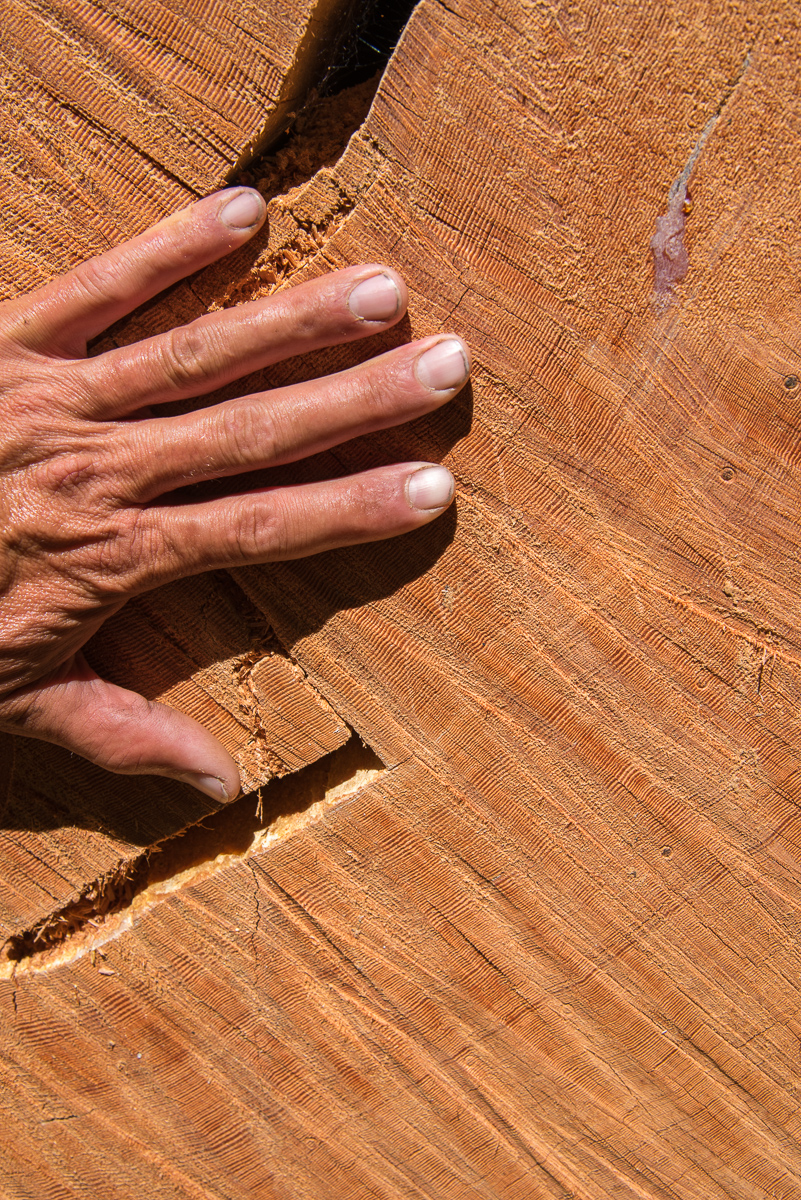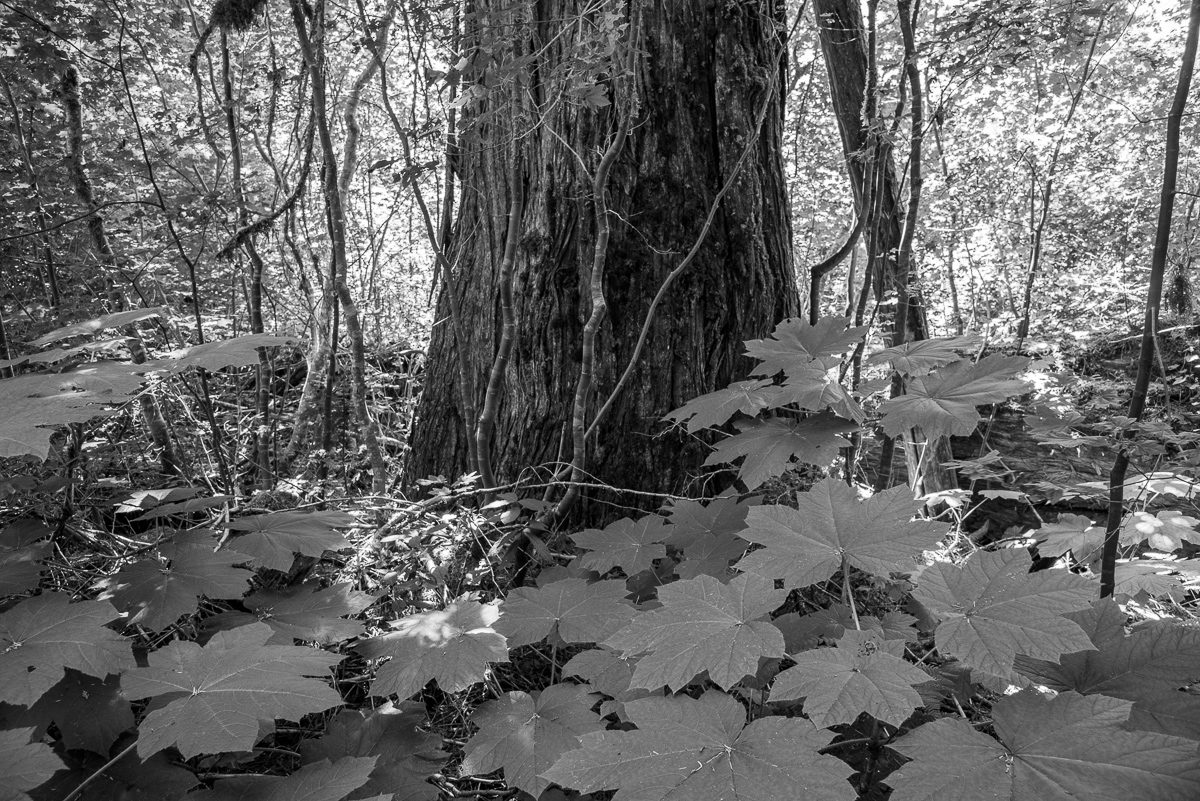 Picket Pants, day 7: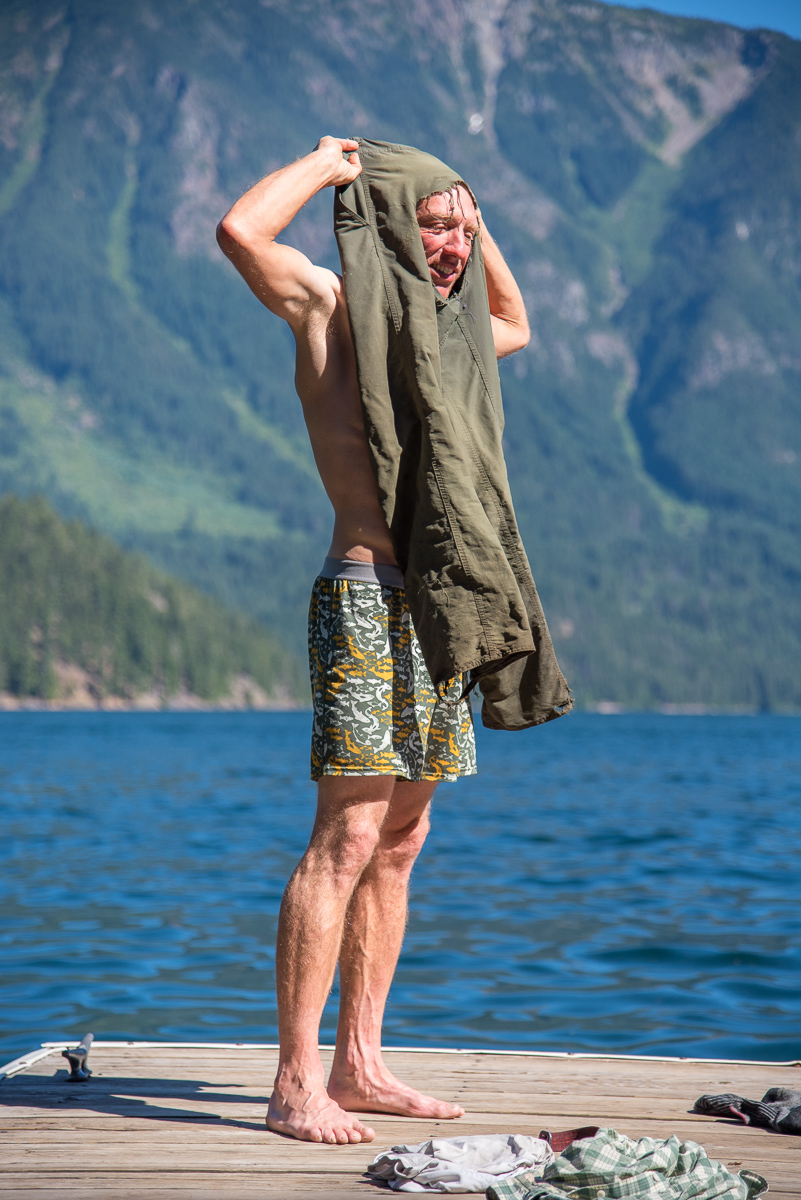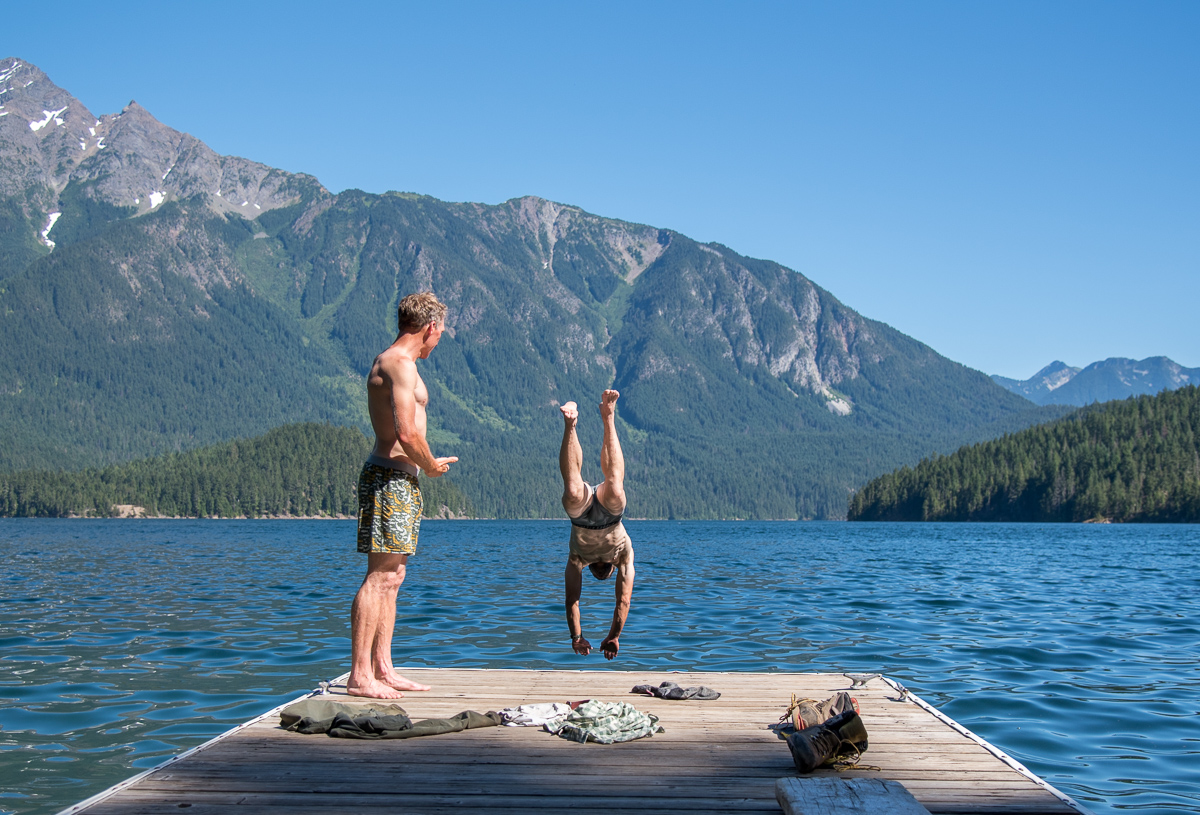 So much better than walking 7 miles: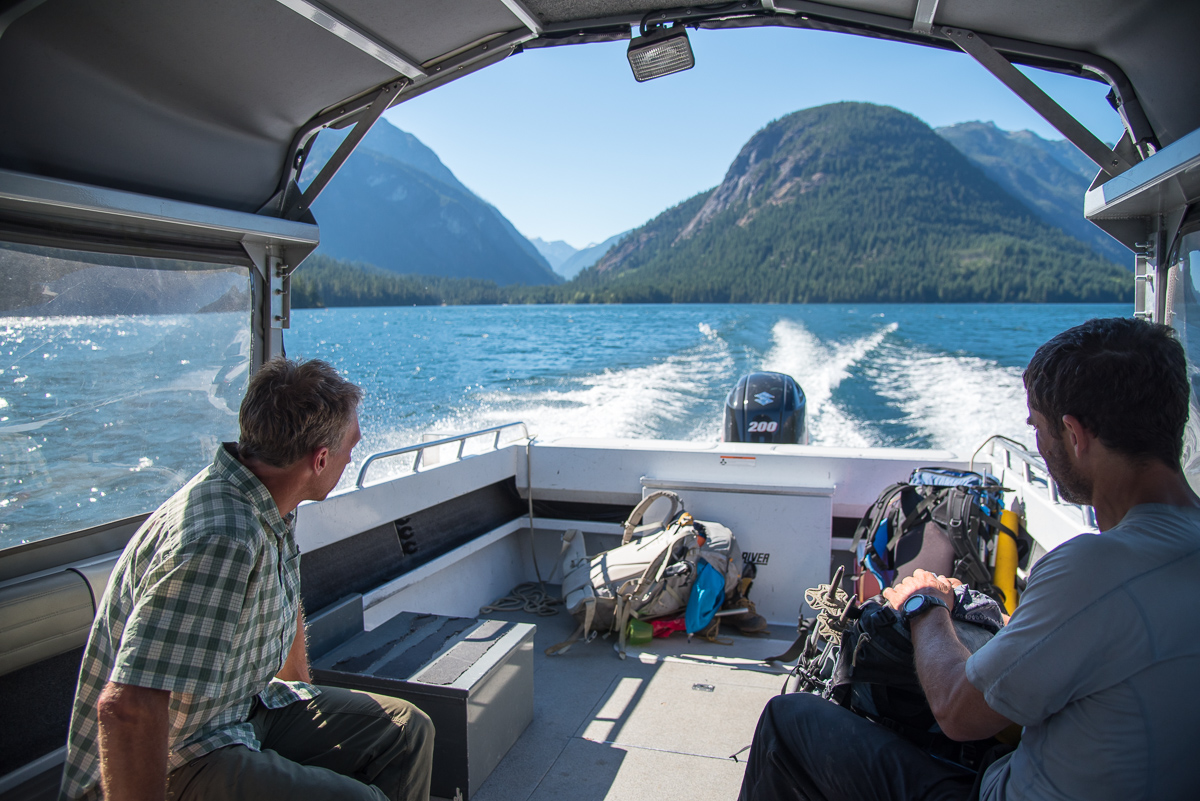 Gear Notes:
Light rack, 60m half rope, aluminum crampons, helmet, axe. 1lb cheese minimum.
Approach Notes:
Fisherman path to Blum Lakes then good luck. Stable weather is key. No easy options for bailing once past Pioneer or Mystery Ridges. Key to getting around Crowder is gully to the west that tops out at 5700'. Drop to ~5300' then contour N. Side of Crowder until you can climb easily to Pickell Pass. Raps and cramponing steep heather may be required. Recommend gully to be snow filled.
Don't be a cheap bastard. Hire the boat.