Trip:
Gunn Peak - Barclay Creek route
Date:
7/15/2017
Trip Report:
Ten years ago my wife and I attempted this peak. She was new to the Cascades and new to climbing. She was also new to any type of off-trail travel, route-finding and bushwhacking. Needless to say, Gunn is not a very good first peak. After numerous wrong turns, eye-level slide alder and miles of bushwacking, she sat down, took off her pack and exclaimed "I'm done with this shit!" She then took off her pack and through it on the ground. Well, we were still on very steep terrain and gravity took over. Her pack rolled several hundred yards down the mountain, only to be stopped by a stream. We fished her soaked pack out the the stream and descended. It didn't make for a very good trip.
Ten years later and numerous peaks under her belt, she was game to try it again. The challenge this year is the unknown snow pack on the hidden gully and narrow north ledge. I wasn't going to be deterred by snow or any other conditions. Prepared for the worst, we packed a rope, pickets, ice axe, crampons and some rock gear and set out at 0730.
The lower portion from the road was a lot easier to follow this time. Ten years of climbers have rendered a passable trail, though there are the abundance of nettles, pricker bushes and blowdowns. But there was a trail.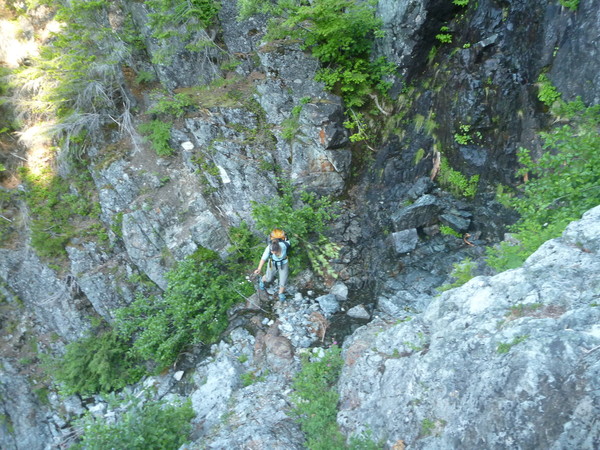 Lower waterfall crossing. No water, but it is steep down to this crossing and up the other side.
After a tremendously steep forest ascent on very clear trail, we reach tree-line and left the forest for the fern and heather meadows. Here, the growth became thick and the trail a bit harder to follow.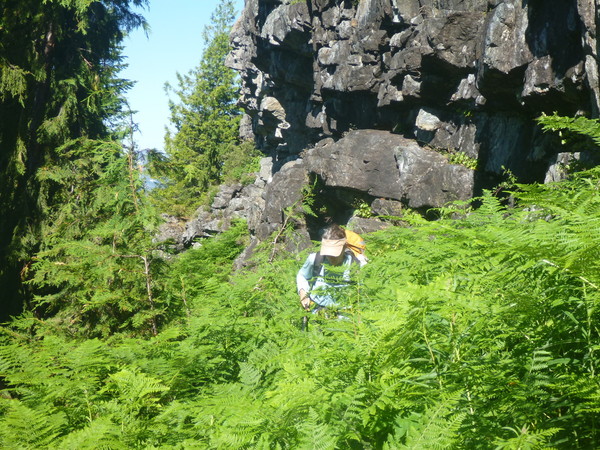 The trail is below all the ferns, just have to move the ferns to see it.
While overgrown, the occasional cairn and ribbon lead the way. Where we lost the trail, we either kept hiking up until finding it again, or backtracked and looked around until we came back upon the trail. It is about a thousand feet of ferns/slide alder bushwacking before reaching the open heather meadows, where the trail again became very easy to follow. My wife was a super-star this time, charging right through the growth and never once complaining about it. The more overgrown it was, the stronger she became. I think i have created a monster!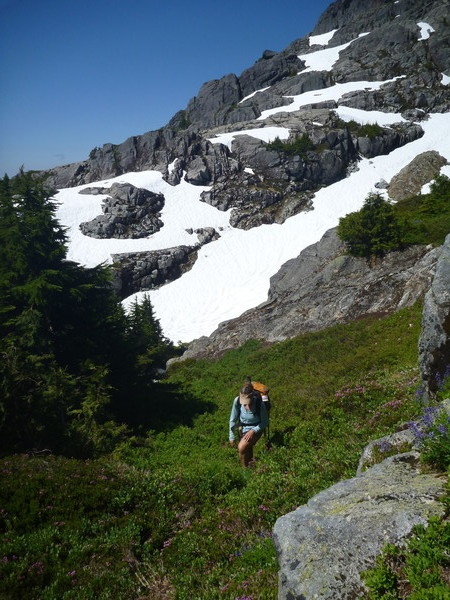 Upper meadows
Gunn came into view and we saw there was very little snow. Still not sure about the gully or backside though, so we continued to carry our gear.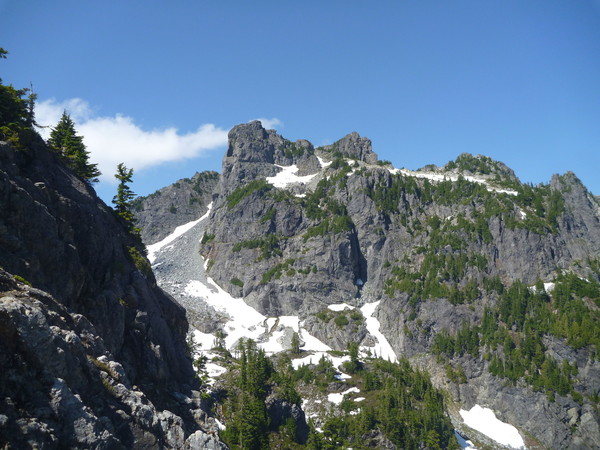 Gunn is the rocky crag with the clouds behind it. Take note of the snow field below the summit.
We reached the hidden gully and found it was snow free! The class 3 scramble, while only about 30 feet long, was almost vertical. We climbed up no problem, and later downclimbed it, but there are rappel options if downclimbing vertical, dirty rock isn't your thing.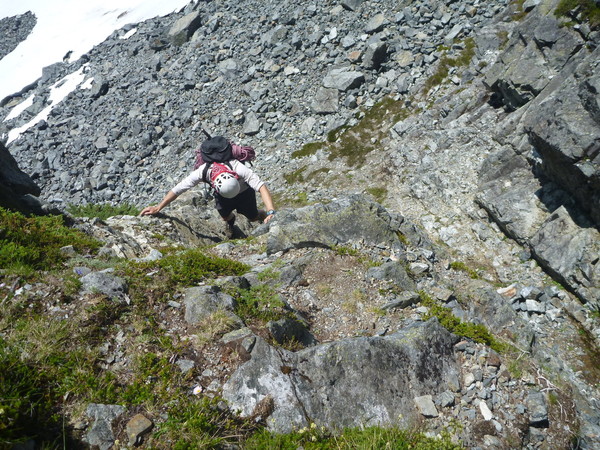 Class 3 scramble in hidden gully.
We reached the upper snow patch and crossed it with ease. It was soft enough where no crampons were needed. Just for kicks, we entered the moat behind the snow field, where the snow was up to 12 feet deep!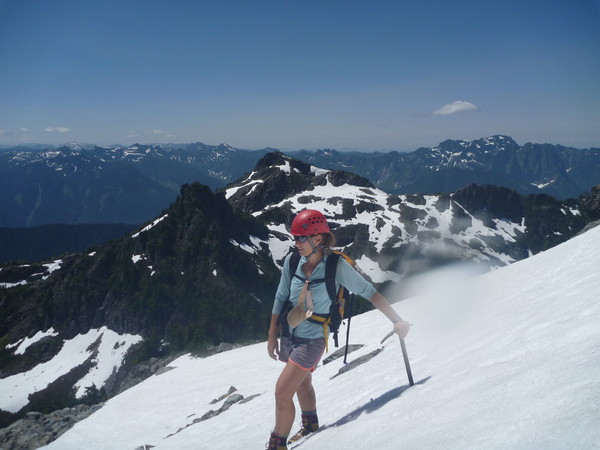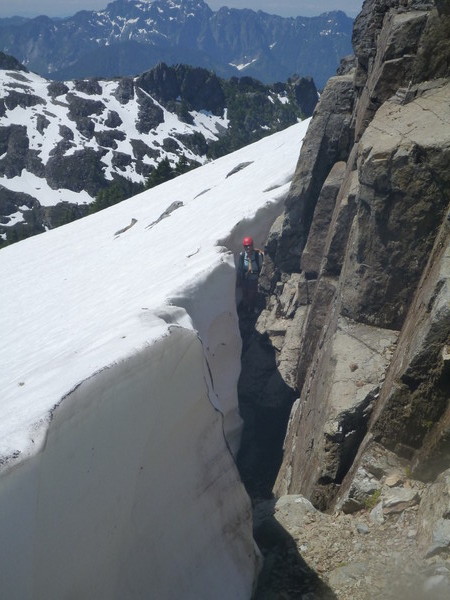 Now for the moment of truth: the north narrow ledge. Snow-covered or clear? It was clear!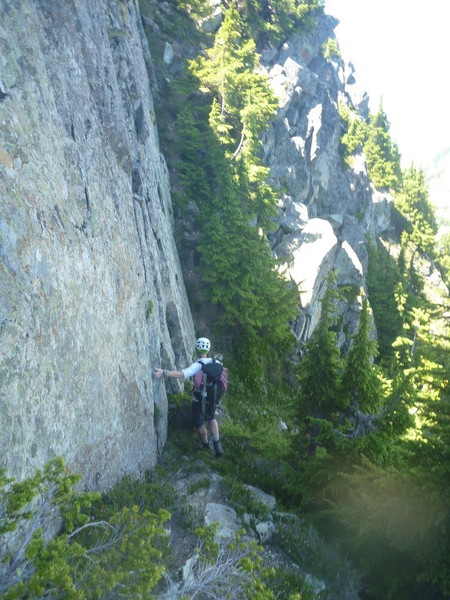 Turns out we brought a rope, pickets and protection for no reason. We easily crossed the narrow ledge and scrabmled to the top. The picture doesn't give the narrow ledge justice. It is about an 18" wide grassy ledge with several hundred feet of exposure. A fall would be fatal. Luckily, the ledge is only about 20' long, and there are options of cracks and trees for pro if one desires. We had no issues and walked right across. I can see, though, how snow can make this an impassable problem (unless one carried a rope, pickets and protection!)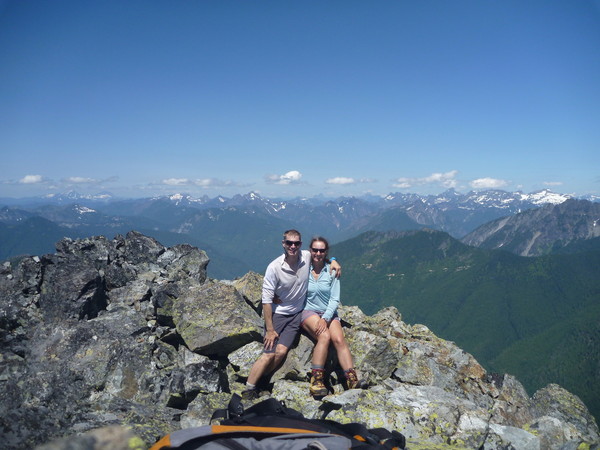 Five hours from car to summit. Now time to head down.
It took us five hours to get down, same time as going up. With such a vertical trail, going down was slower than going up. Using trees to slow our descent, essentially a controlled fall, we worked our way down the mountain and reached the car. Gunn is done!