Trip:
Colchuck Peak - North Buttress Couloir - NBC
Date:
6/11/2017
Trip Report:
Ed and I climbed the NBC and skied down the colchuck glacier on Sunday. As there is plenty of beta online so I will focus on conditions.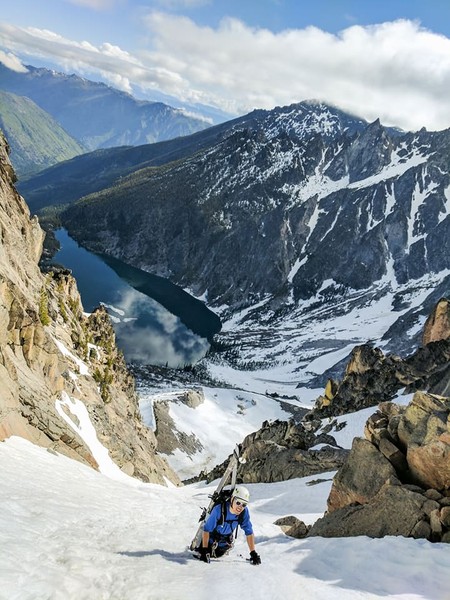 The couloir itself was cruiser aside from 3 rock steps to surmount.
- The first had a nice snow ledge below which made it feel easier than if there was any exposure. There was a bit of thunker ice on the right hand side which made it easy to pull through. Not sure how much longer that will hang on... looked like you could pass it via easy 5th on the right once our way goes.
- I cut to the right of the second and traversed a solid rock ledge to gain the snow above the it.
- The 3rd one required a move or two on rock but nothing memorable.
The 2nd and 3rd are visible in this photo: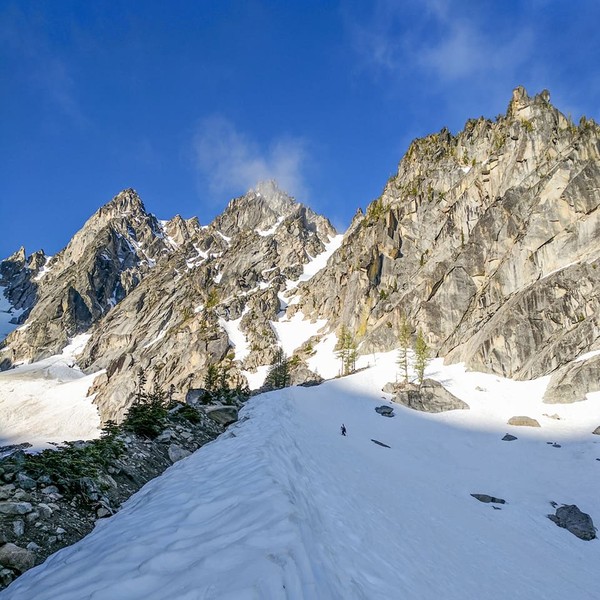 These steps will definitely get more interesting as time goes on...
From the top of the couloir to the north face we followd a snow finger up that turned into an exposed and loose ledge traverse. Nothing technical, but you wouldn't want to make a mistake...
North face: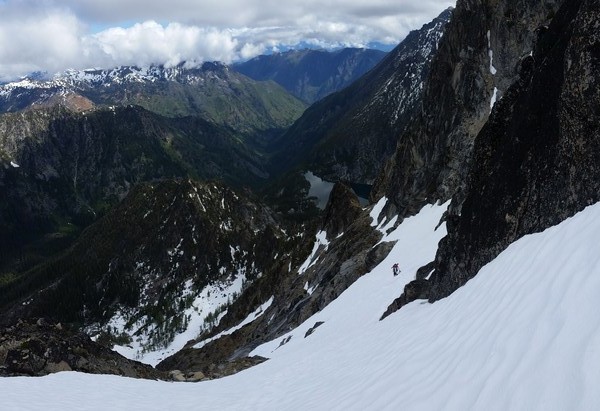 After a bit of this we got back to snow. We followed a bootpack (from last weekend?) which continued traversing up and right on the face. We saw a couple cairns on the right side of the face so we thought we should scramble that way. We got cliffed out above and though we had rock gear we didn't want to make things more difficult than necessary. We traversed left back to snow to a couloir which brought us up to a bit more scrambling, more low angle snow and then a rock chimney to the summit (interesting with skis on the pack).
We only roped up for the final snow couloir at the top of the north face and the bit of rock above placing a couple pickets, small cams and slinging a few horns.
From the summit the snow was patchy to the col and great skiing from the col to where the trail enters the boulder field on the south west end of the lake. Only required a short carry of a few feet.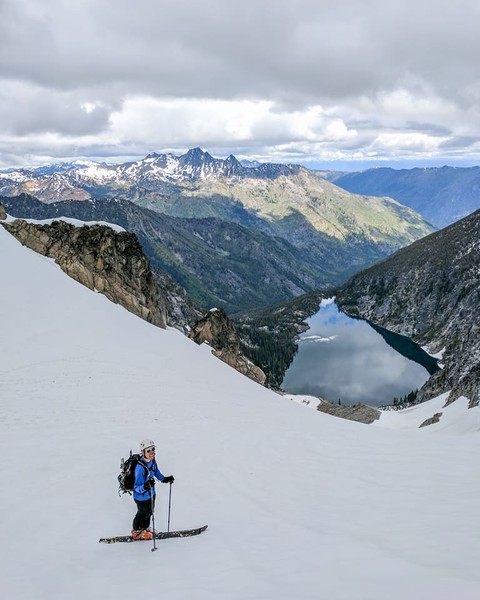 EDIT: fixing photos
Gear Notes:
crampons
2 tools
30m 8mm rope
2 pickets
~6 slings
5 nuts
4 small cams
Skis!
Approach Notes:
5 miles on trail with minimal snow/some soggy sections.