Trip:
Colchuck Peak - Colchuck Glacier
Date:
5/21/2017
Trip Report:
Drove up to Leavenworth Friday night, camped at Icicle creek, woke up early Saturday and headed to the ranger station to try our luck at getting a Colchuck Lake Permit. There were 6 other groups at the station trying to get some permits, but everyone else wanted a Core Permit, so we lucked out and got the Colchuck Lake permit we had been wanting so badly! Once we obtained our permit, we spent the morning/early afternoon doing some trad routes at clamshell, then headed up to the Stuart Lake TH around 4. We started hiking up towards the lake around 4:30-5pm, and it was slow going. Partly because this was my first time out this season and I'm out of shape, and partly because the trail is still mostly covered in snow, and it is melting fast. Snow conditions were pretty bad, lots and lots of postholing. We got to Colchuck around 8, set up camp and had some dinner, then off to bed.
Although the standard route up to Colchuck Peak is pretty straightforward, the snow conditions this weekend really made things tricky. We started up the Col around 4:30am, and the snow was alright. It didn't quite freeze overnight, but it was still consolidated enough that we were able to make it to the Col around 7am. However, the south side of Colchuck Peak had been baking in the sun for a few hours, and the snow was awful. After a short break at the Col, we headed up to the summit, and were standing on top at about 9am. We had a quick snack, and then decided to not hang out very long as the snow condition was detiorating very quickly. The descent back down to the Col was pretty sketchy. The conditions were MUCH worse than what they were when we went up. We would not have climbed the snow that we descended. It took us about an hour to get back to the Col, and another hour to get back to camp from the Col. We were back at camp by 12, and back at the car drinking a beer by 3:30pm.
The weather was fantastic for this climb, however I can't stress how horrible the snow is right now, with all of this heat that we haven't had since summer. A massive snow pack is melting out very quickly. There are rangers stationed at Colchuck Lake that are trying to keep people from going up either Aasgard and Colchuck Col due to the avy danger and rock fall. They are pretty much saying that if you are going to go up, make sure you are off the passes by 2 pm, as that's when both start getting sun. There is loose-wet avy debree all over both passes, and both passes turned into a bowling alley once the sun hit both late in the day. If anyone wants to go bad these peaks with this great weather, just make sure you are aware of avy conditions, and get an early start! You do not want to be anywhere near Aasgard/Colchuck Col once the sun hits them.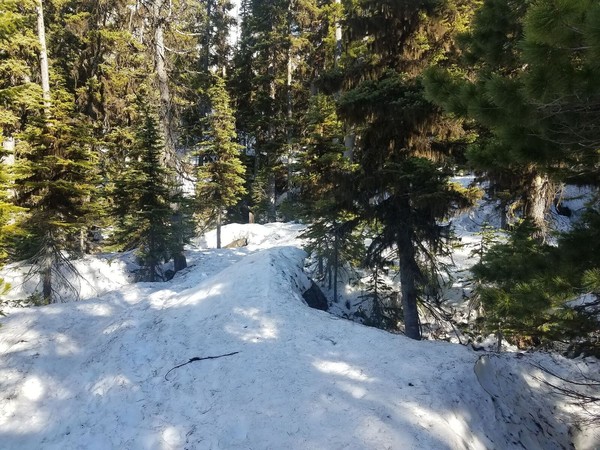 Still lots of snow on the approach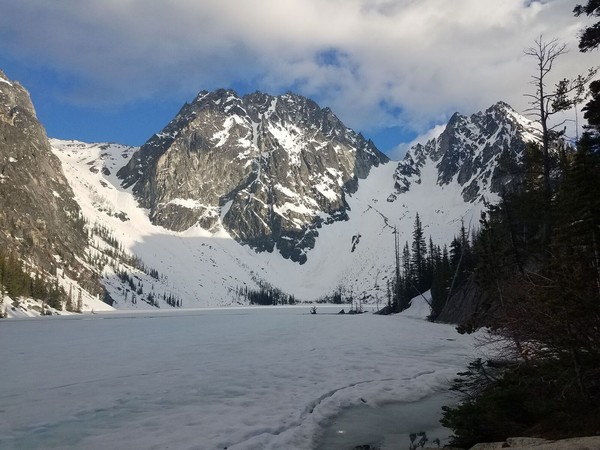 Colchuck lake still mostly frozen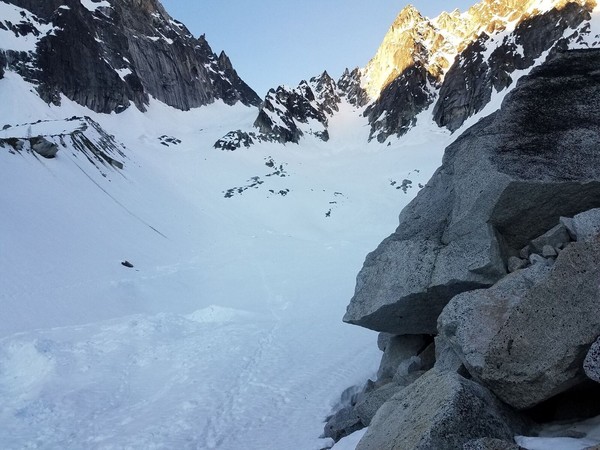 Looking up the Col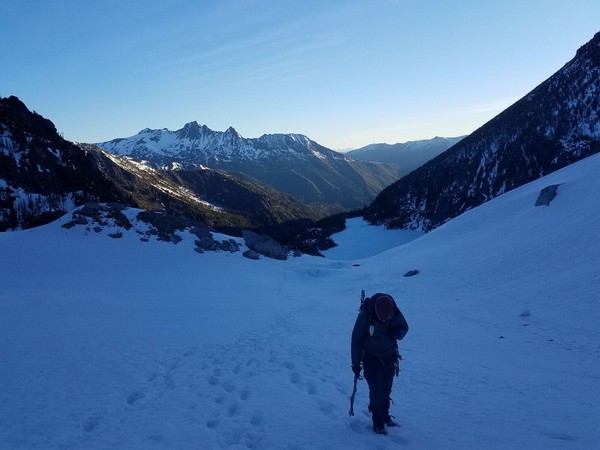 Almost to the Col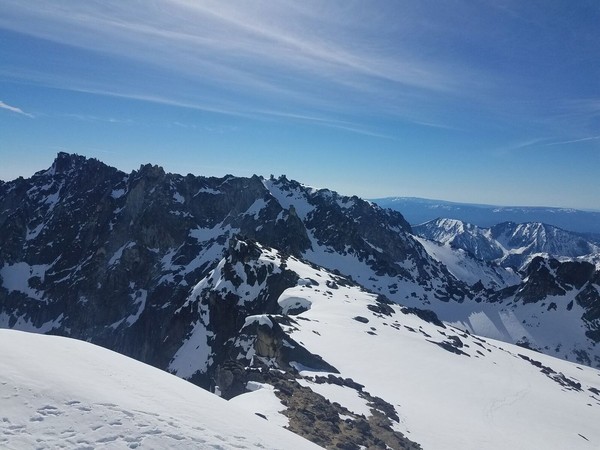 Looking back on the south side of Colchuck Peak. Sun had been baking this section for awhile, snow was horrible.
Gear Notes:
Usual alpine gear. We had pickets, didn't place any.
Approach Notes:
Trail is still mostly snow covered. Lots of post-holing, it was a very mentally draining approach.