Trip:
Mount Hunter - Moonflower (Bibler Klewin) to Summit
Date:
5/21/2013
Trip Report:
"Mount Hunter is a siren. Its seductive song captivated me the fist time I heard it. I have thrown aside logic and maybe even reason to try to climb it. I am not alone in this bewitchment.
Those of us who have been drawn to Mt. Hunter have never been the same. Few successful ascents have been achieved without epics; many have come to disaster on its sides. Yet the mountain is not malevolent. It sings the song it was meant to sing.
Only our passion, our curiosity and our hubris make us vulnerable to the pull. The song Mt. Hunter sings is that of possibility...And it is possibility combined with vision and courage that has always been the hallmark of a great ascent"
-Scott Backes, Alpinist 9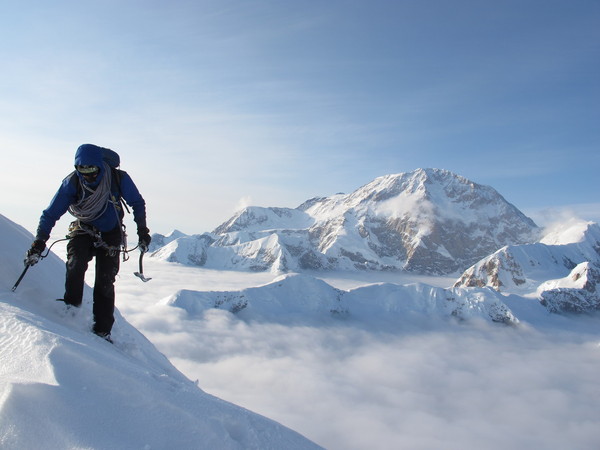 I'll never forget the first time my eyes and mind absorbed the enormity of Mount Hunter's iconic North Buttress. I was 23, naive, impatient and arrogant. What I postured on the outside merely shelled what I concealed deep within. I had made a few first ascents here and there in remote parts of Alaska and allowed my ego to blossom like a weed.
And then I stood beneath Mount Hunter. It tore away my hubris and forced me to confront my unwarranted pride.
For the next several years I mostly avoided the Central Alaska Range, instead choosing to focus on remote exploration in the Revelation Mountains. There I learned about myself, grew as a climber and ultimately, pushed myself to the limit of what I thought possible for myself. Yet in the back of my mind, Mount Hunter always loomed.
In 2011, I set my sights on Hunter's North Buttress. Fear still choked me when I envisioned myself on the route's many cruxes: the Prow, Tamara's Traverse, the Shaft, the Vision and ultimately, the descent.
We ended up climbing the West Ridge in a 3.5 day trip, a tour that would prove invaluable in the future.
The next year I returned with a partner I had met just days before. We climbed well and pitch after pitch fell away. I had just lead the Prow and was beaming with excitement. The First Ice Band, where we would bivy for the night, was only a few feet away. Then my crampon sheered in half and fell to the glacier while I lead the final pitch.
We core shot a rope, descended on a single 8mm line and kissed the ground when we reached our skis many hours later.
We flew out, cursed our bad luck, and drowned our sorrows in a multi-hundred dollar bar tab at the Fairview in Talkeetna.
For the next year, every waking thought was clouded by Hunter. A pretty blond would say something to me and she would be lost amidst a cold shadow under the North Buttress. At work as my boss shouted numbers over a howling wind, I would hear "on belay."
I trained extensively from December to May. From Joshua Tree, to the Cascades, to a dozen pitches of Grade 6 ice in the Canadian Rockies, a Grade V first ascent in the Revelations, the Phantom Wall on Huntington...every pitch, inch of ground gained or shivering belay was aimed at the North Buttress of Mount Hunter.
When I finally arrived in Kahiltna Base Camp, the cape of fear that had always been cloaked around me had, somewhere along the way, been stripped away.
After several partner changes, I met two guys from Canmore eager to have a third join their party.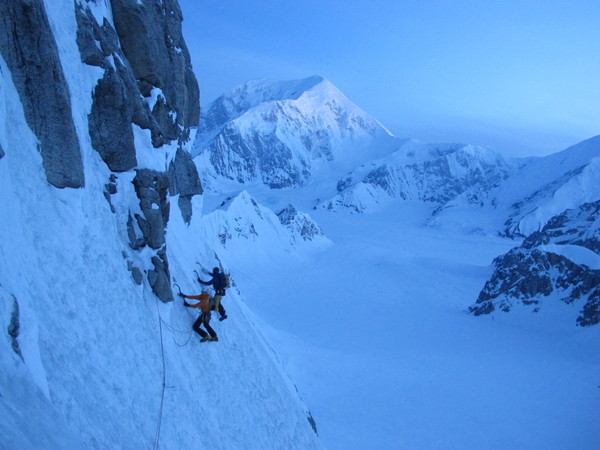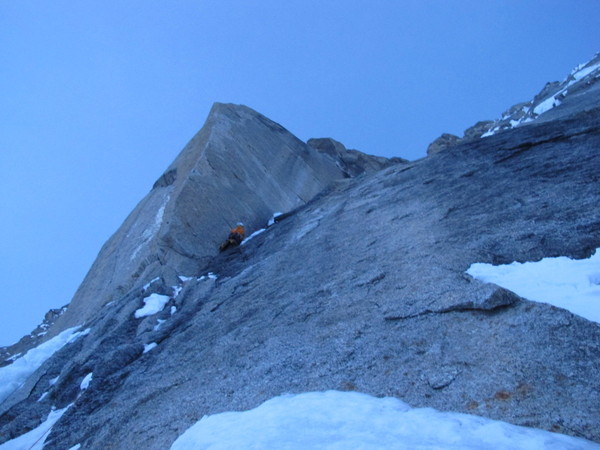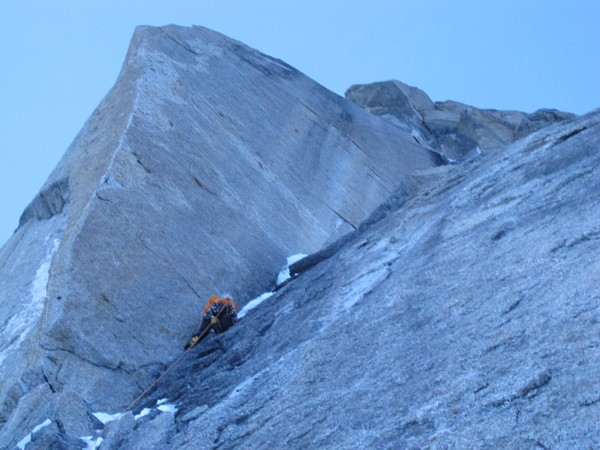 We set off at 9 PM, opting for the less traveled Mugs Start. Last year it took me nearly 11 hours to reach the base of the first Ice Band. This year, we made it in less than nine. A Dutch Team refused to let us pass, so we were forced to wait for twelve hours at the First Ice Band as ice reigned down the Shaft.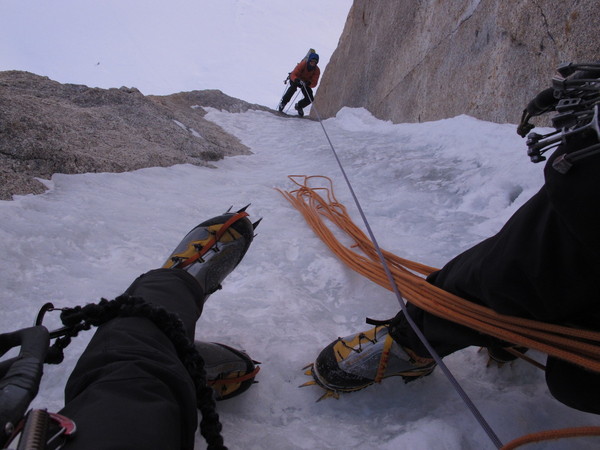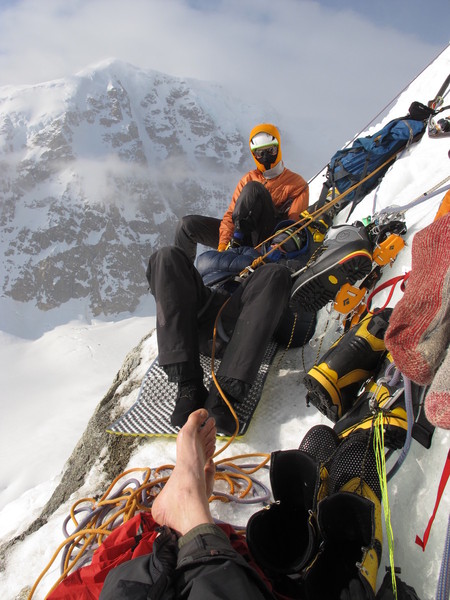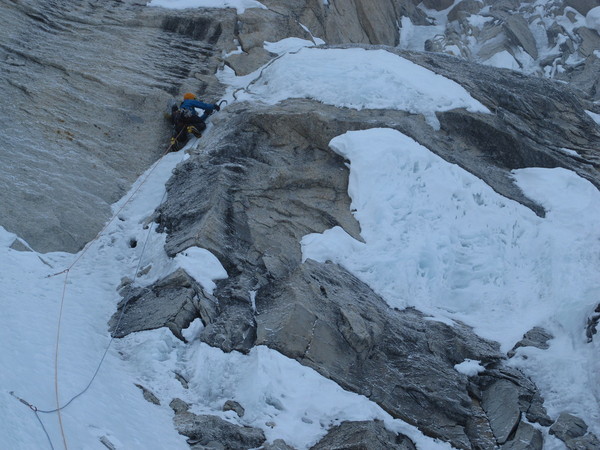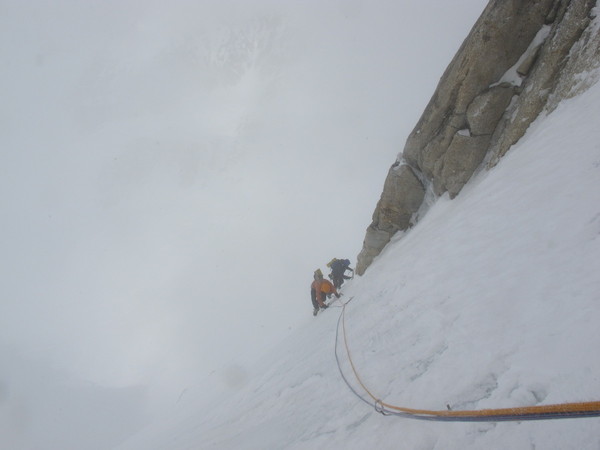 Eventually we were able to continue moving and, in two amazing pitches, we were through the route's crux of the Shaft. It is important to note for other interested parties that the 5.8 pitch before the Shaft is actually quite difficult, yet never stated as being so.
We stopped for a brew at the Second Ice Band and caught a very short nap. Mark took us to the base of the Vision and then I lead it mostly free, with a few moves of A0. The topo shows two pendulums, but we only did one, and found it to be not too bad.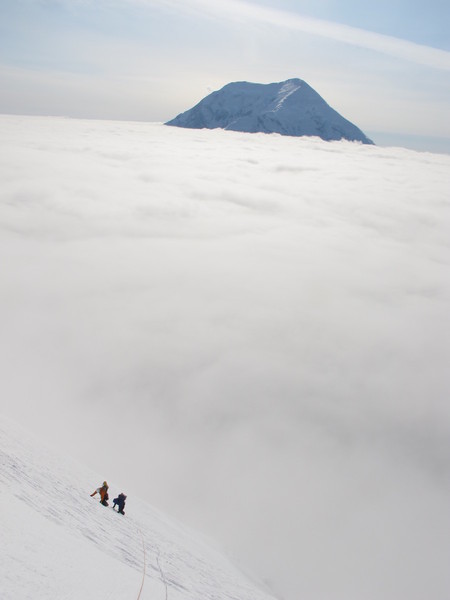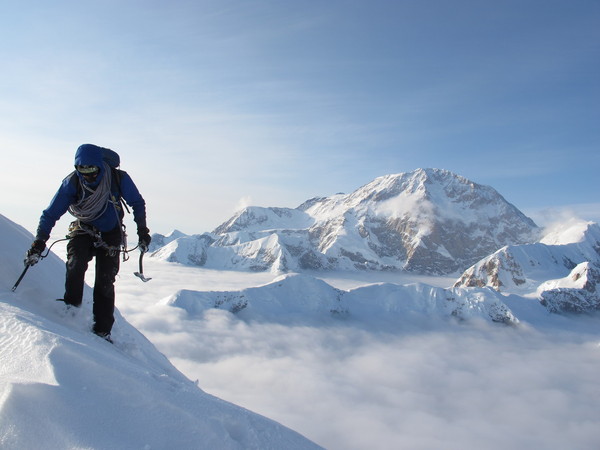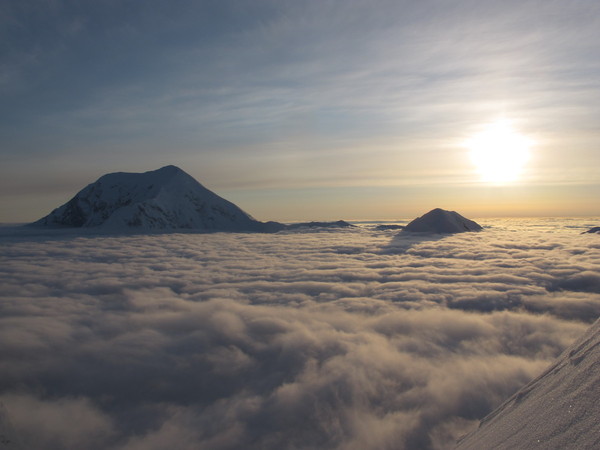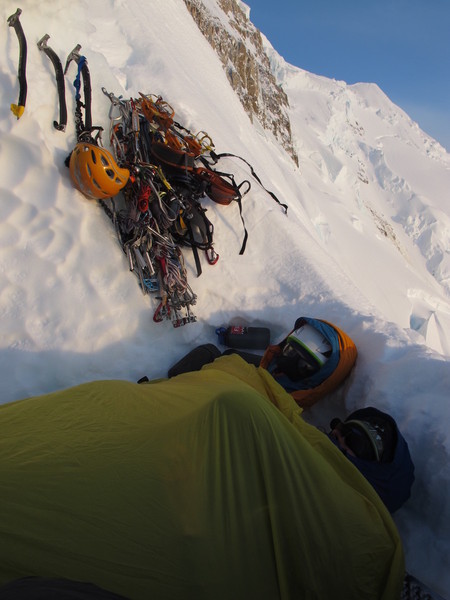 Above the Vision we encountered mostly moderate, but incredible mixed climbing to the Third Ice Band. Here we tried once again to pass the Dutch, but as soon as they saw us coming they resumed climbing. We lost several hours here, mostly not being able to move. As we waited for them to climb through the Bibler/Come Again, we wavered on continuing to the summit.
I have always considered the summit my ultimate goal, and when people ask if I'm going to climb the Moonflower, I use my friend Ryan's response: "No, we want to climb Mount Hunter via the Moonflower."
Above the Bibler/Come Again (which we found substantially easier than the M5 OW rating) (again, probably due to conditions), we were surprised to see the Dutch team rigging a rappel.
This fueled our fire and in a burst of effort, I kicked steps all the way up the Final Ice Band, to the Cornice Bivy at 12,700'.
Here we enjoyed our first real bivy of the climb. We took off harnesses and, ahem, slept...almost comfortably. Without sleeping bags, we were still fairly warm with our two bivy sacks.
Early in the morning, we were awoken by violent shivering. The weather was beautiful and there was little question that we would continue to the summit. Several moderate pitches of ice culminated in easy step kicking to the summit. We were excited to find snow conditions to be near perfect...boot top deep neve. We followed tracks left by Kyle Dempster and his girlfriend Jules (this was her first trip to Alaska and she climbed Deprivation to the summit!!!!) and were on top within a few hours.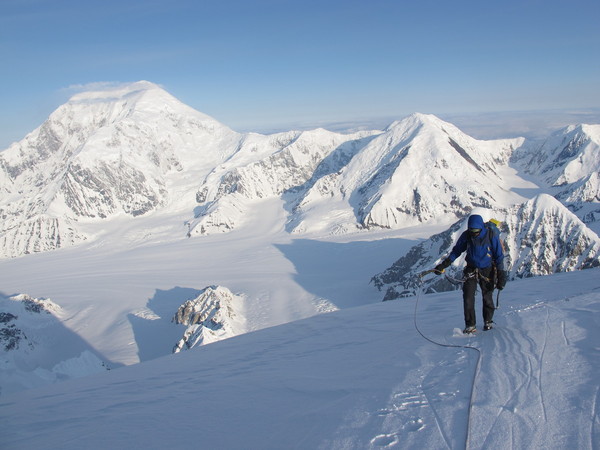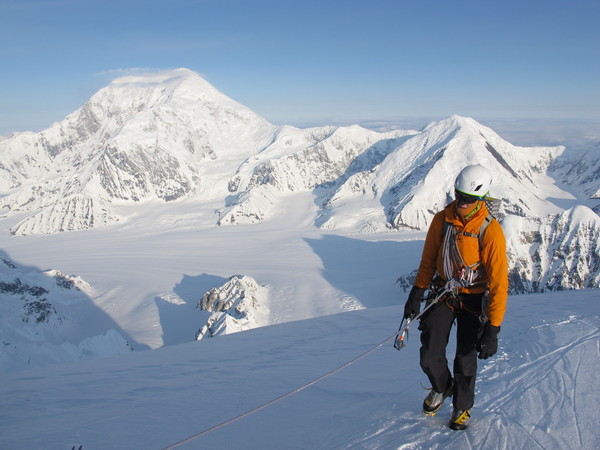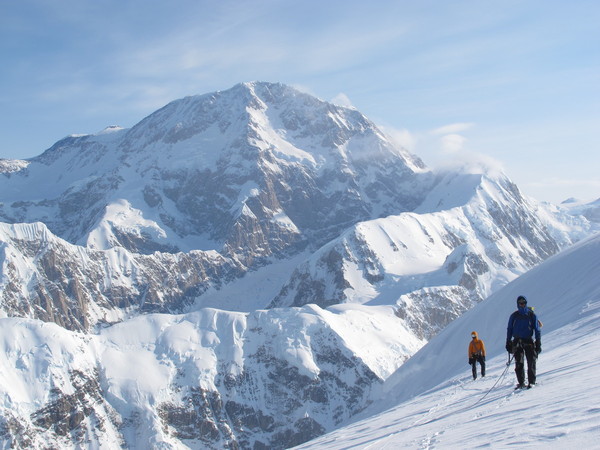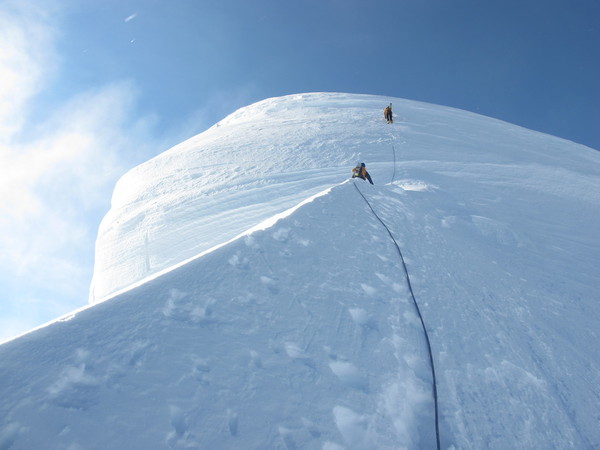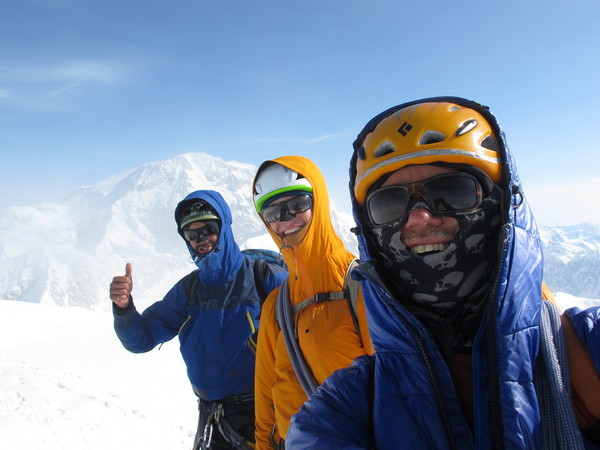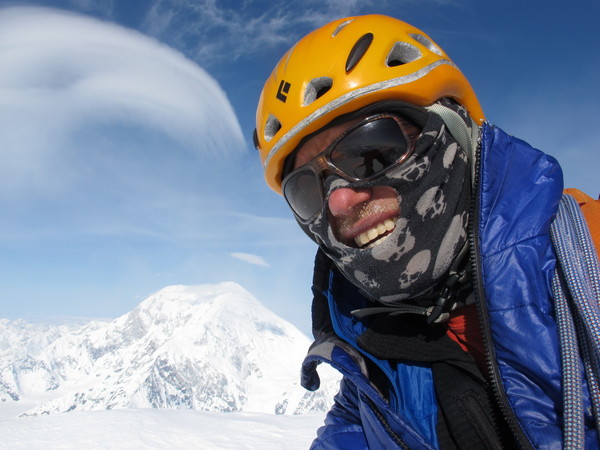 On the summit, my emotions ran high. It felt surreal, almost unbelievable. I questioned how I had made it to this point. Was it through skill or simply luck?
I was less excited about the descent down the North Buttress and had long romanticized the idea of traversing down the West Ridge.
Familiar with it from several years before, we opted for the West Ridge descent, planning on taking the Ramen Couloir, which I had also descended in 2011. A Japanese team had climbed through the Ramen Ice Fall and we hoped to find steps, otherwise we would use the standard rappel descent through the notch on the hump, described in Joe Puryear's book.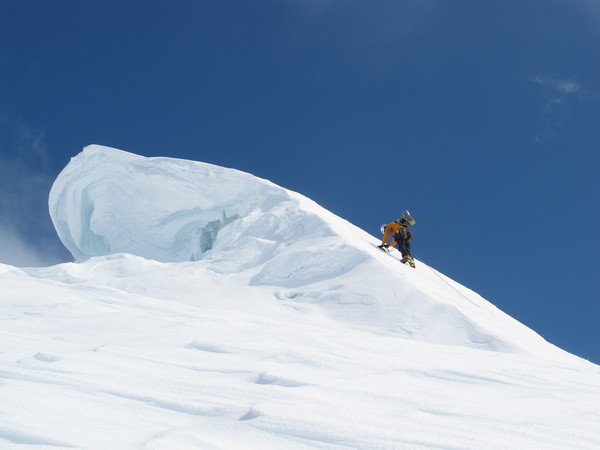 We found the entrance to the Ramen and rappelled in the ever warming day. Water ran down the rocks and we stripped down to our base layers. We reached the base in less than two hours and were psyched to find remnants of the Japanese team's trail.
I think it is important to note that we were from the summit to the Ramen Valley base in less than five hours and only had to make three rappels as opposed to nearly 30 on the North Buttress (all teams who rappelled the North Buttress had multiple stuck ropes). I would rather walk a long distance and deal with complex glacier travel as opposed to dealing with stuck ropes/difficult rappelling when I haven't slept for three days.
The ice fall went quickly, but it was not without peril. Soft snow bridges made the going spooky and we dodged a few considerable wet slide avalanches. All in all. From the base of the Ramen Couloir we hiked seven miles to base camp. By the time we arrived, my feet were suffering and I was in extreme pain. Walking was so painful, due to a type of immersion or trench foot, that I had to crawl the final 500 feet back to camp.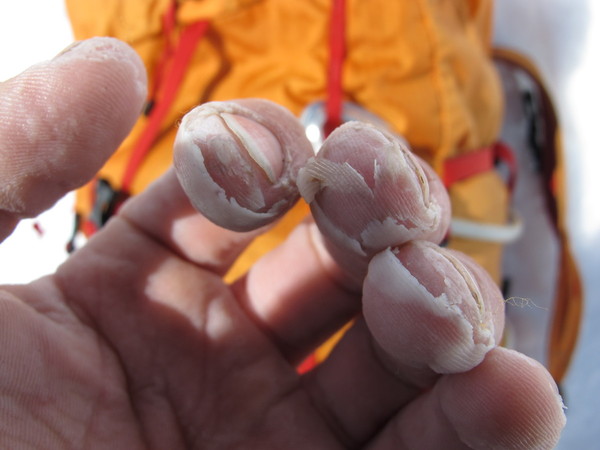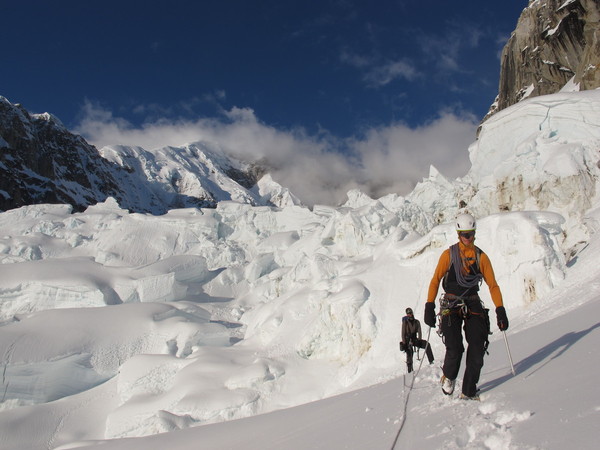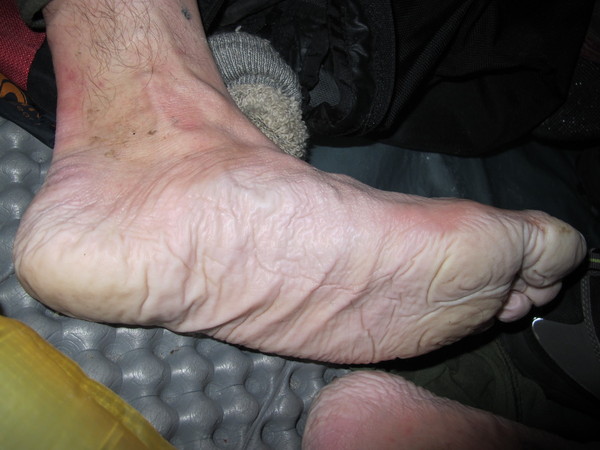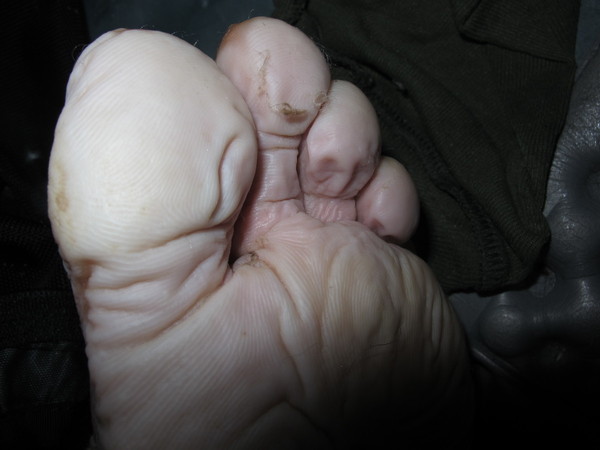 All in all, we were 73 hours camp to camp. We could have easily cut 10-12 hours off that time had we not been stuffed by the Dutch, who ultimately refused to let us pass.
The next day, I woke up to a big party from my friends in base camp. We had a few kegs flown in and enjoyed our success.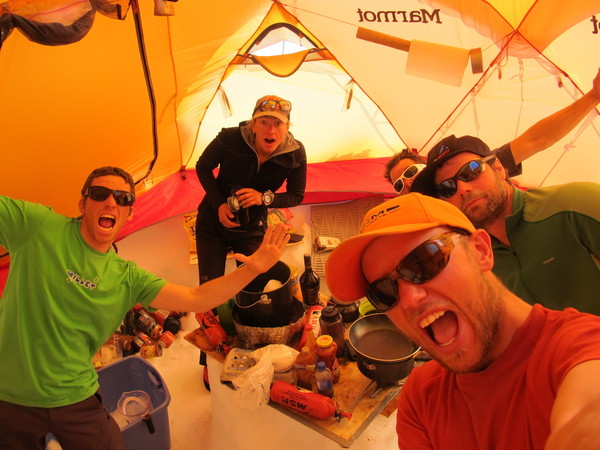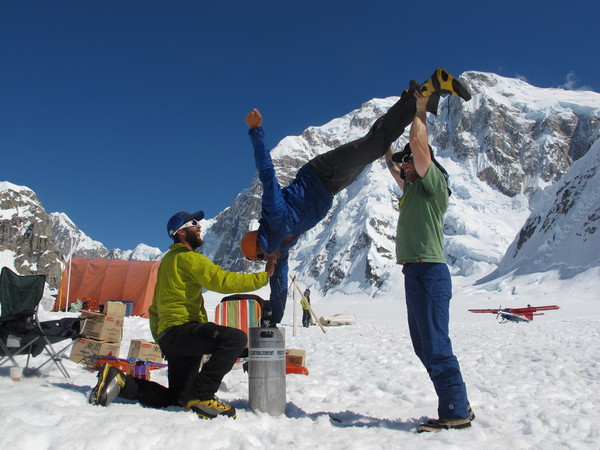 A few days later, we skied up Denali and enjoyed another two weeks, hoping to try the Denali Diamond.
Weeks later it still didn't feel real. Logically, I knew I had just climbed one of the biggest routes of my life, but my emotional synapses hadn't yet formed the connection. Only now, several months later, does the feeling become real. I am filled with humble respect, awe and a sense of completion.
Already my mind drifts back fondly to those days and then quickly flirts with dreams of the future on the massive bulk of Hunter.
Thank you for reading.
-Clint Helander
Here is a video from the summit of Mount Hunter:
https://www.facebook.com/photo.php?v=732016052443&l=354603671358417459
Please note that my opinions/comments here are highly subjective. We had warm weather, good conditions and a familiarity with the lower 1/3 of the route as well as the descent down the West Ridge/Ramen. All of these aspects made our decisions different from what others may encounter.
Important notes about the Moonflower (Bibler/Klewin):
-The (now) standard start is becoming increasingly more difficult to gain due to the ice apron melting away from the rock. The schrund required multiple parties to aid up it with pickets.
-If it is in, the Mugs Start is (in my opinion) far superior. The climbing is fun, moderate and much, much quicker to the base of the Prow.
-The pendulum bolt at the top of the Prow ultimately needs to be replaced. It is an old 1/4" buttonhead that is quite rusted.
-Don't underestimate the 5.8 pitch before the shaft. I would recommend the central line (look for a fixed pin directly above the belay).
-We waited for several weeks in camp for the perfect window.
-The key for us feeling so good with so little sleep was keeping VERY hydrated. We made many many many stops to brew water. We were all drinking AT LEAST six liters per day, with electrolyte enhancers. I noticed a huge difference from other climbs where i have allowed myself to get dehydrated. My mental state was always sharp and physically I felt strong.
-We didn't bring aiders, mechanical ascenders, pins, pulleys, sleeping bags, cups/bowls, etc. We went light. The new Petzl microscender and a tibloc worked great for the few times we had to haul/jug.
-because of light packs we only jugged one pitch (the prow) and only hauled on the Shaft.
I hope that info helps future parties!!!!!
Gear Notes:
Single rack to #3, a few nuts, 11 ice screws, 2 pickets (very nice for the final ice band)