Trip:
Mt. Hood - Solo Hogsback to Pre-Season Pearly Gates
Date:
12/12/2011
Trip Report:
For you Grand Masters of Alpine, this TR will probably not be very interesting. I wasn't even going to write one, especially considering I didn't summit, but because of some personal firsts, and the unexpected conditions of the route, I decided somebody might find it worthwhile.
This climb was a couple of firsts for me- my first winter ascent of a glaciated peak, and my first solo attempt of a glaciated peak. A finish at the top would have been cool, obviously, but overall, despite turning around a mere 50' from the summit, I really think this was probably my most enjoyable climb yet.
I originally wanted to climb Devil's Kitchen Headwall (DKH), and tried for about a week to get a partner. Monday looked to be the best weather day, and I prefer to climb on weekdays anyway, but that obviously limits partners, who frequently work. By Saturday, I still had no partner, and started posting in the partner's section of the boards. By Sunday night, still no partner... so I figured it was time for a solo.
I didn't know what route I'd take, once I got up there, but I knew it would be a South Side route. I wanted the security of an easy bail, in case of surprise weather, for my first solo foray. But I hoped I might run into another soloist, or even a team, who'd be willing to give DKH a try with me... so I packed my harness, a length of 60m twin, and a light ice rack.
Arriving at T-Line at 22:00 (I don't use 24-hour time to be pretentious, I've just decided that it makes a lot more sense, for mountaineering, when normal sleep and daylight patterns tend to raise the question), I found conditions less than ideal. The wind was blowing me all over the road, it was snowing sideways, and visibility was maybe 100m. I trusted the forecast, however, which called for clearing in the wee hours, and set my watch alarm for 2:00. When I woke at 1:55, I noticed the wind had died down significantly, and by 2:00, was almost completely dead... how bout that??
Though I felt bright-eyed and bushy-tailed, it took some time to get my shit together. Plus, I really wanted HOT gatorade... and the hot gatorade I'd brought up was now COLD gatorade, so I let the truck run for well over an hour to try to heat it back up. I finally swung my ruck on at about 3:30, and was up the Climber's Trail by 4:00.
'Bout ready..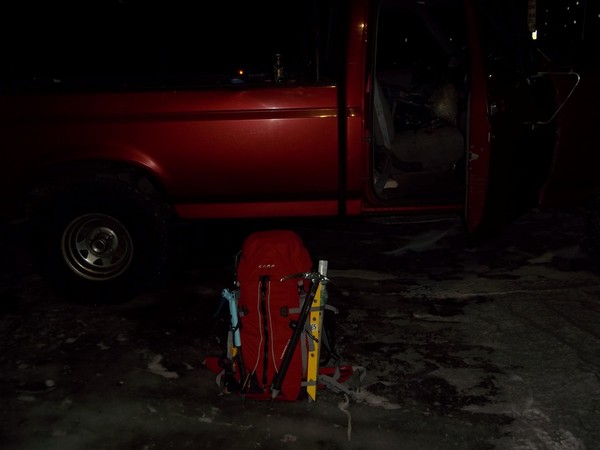 Winter hiking through the resort is frakkin awesome... no dirt climbing, and snowcat tracks that take you right up to Palmer. Was above 8,500' in no time at all. It was very cold, but I was moving fast, feeling very strong... no need to stop and get chilled.
No partners to stop and wait for every 500'.
I kept luke-warmish gatorade in my tube, and forced myself to take a sip about every 5 minutes to prevent freezing. Wind was very light, actually pleasant, all the way up the slope toward the crater.
A pair of Adidas "Cross Trainers" my buddy Dan and I found on a boulder at about 9,000' back in October. They'd looked like somebody had just cashed them for the trip back down, so we didn't fuck with them... but a month and a half later, frozen in time!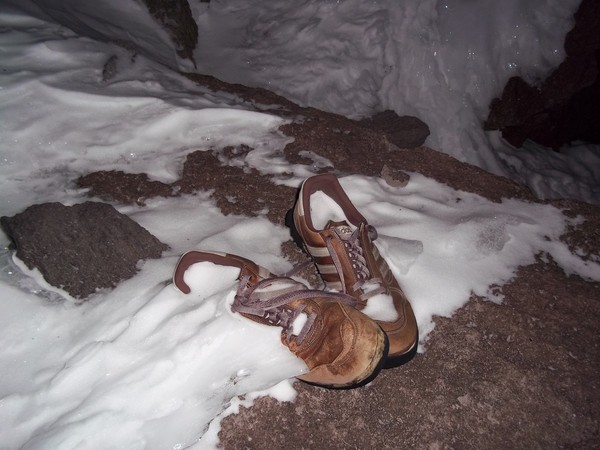 The eastern horizon started to light up about 6:45, just as I was starting up the spur toward Crater Rock from the top of Triangle Moraine. The wind started to pick up about this time... expecting 20mph wind at the summit, I wasn't too surprised, but was definitely disappointed. I considered finding a place to sit down, out of the wind, somewhere in the crater, and wait for the sun to come up. But I just kept climbing, and I never did find a place out of the wind... next thing I knew, I was at the lip of the bergschrund, ripping my sweat-frozen soft shell off my fleece to put my down on.
By this point, it seemed the Pearlys was probably the best course of action. I didn't want to try DKH alone, I was obviously the only guy in the crater, if not on the mountain (I later saw another guy descending from the Wy'East side), I'd done the Old Chute already, and it really just looked like a pretty straight shot up.
So I dropped some gear I knew I wouldn't need... pickets, trekking poles, a stuff sack full of more layers... pulled a basic ice ax off of, and re-shouldered my pack. A couple steps across a small snow bridge, and I was above the schrund and heading up again.
Snow bridge over the right edge of the 'schrund.. taken on descent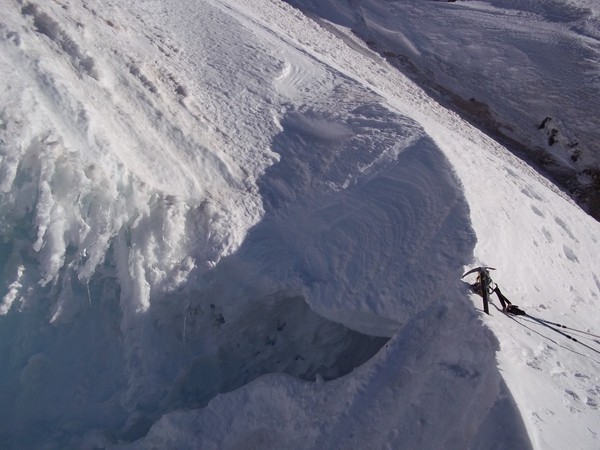 I was surprised by the condition of the "Gates." It wasn't the easy 45* snow the route is known for... it was a fairly bare, very icy, deep couloir network without an exactly obvious path up. Everything looked technical, and after about 50 or so feet up, not even in the main couloir yet, I had a second tool out, and was sticking mostly ice, with some snow. There were several steep sections, approaching probably 55*, but nothing exactly scary... in fact, it was a hell of a lot of fun- my tools and points stuck very well, and, best of all- NO WIND once inside.
Mouth of the couloirs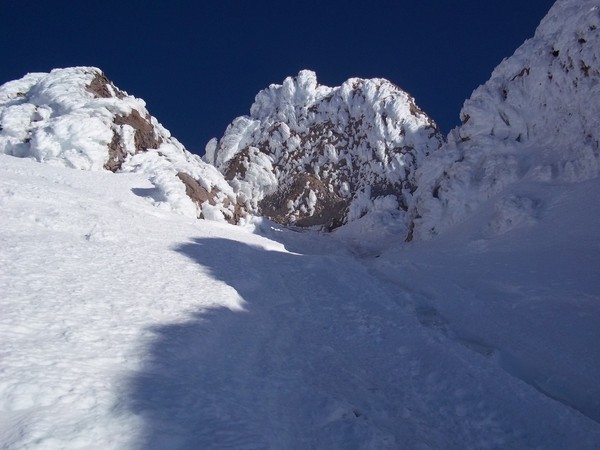 a couple hundred feet up, I was confronted with a couple of options up... the one to the left ran into a very steep, 20' or so high ice step. The ice was good, but I was free-soloing... so I barely even stopped to consider it. But I feared I might find exactly the same in the couloir to the right... a few dozen more feet, my fear was confirmed.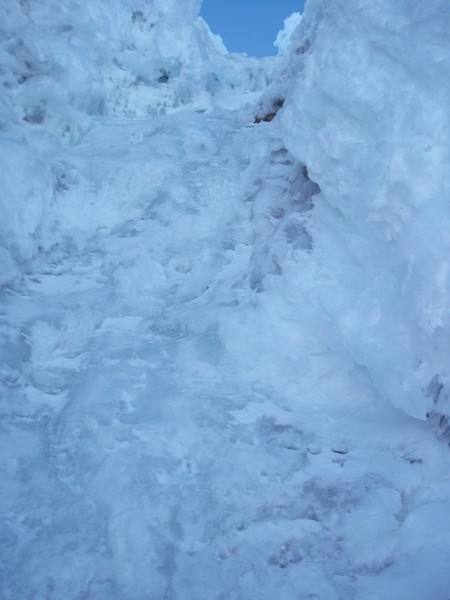 Doesn't look like much, I know... and to you Grand Masters of the Alpine, it probably wouldn't have been. But to me, a technical noob to begin with, and on my first ever solo attempt, without a belay.... 15' of 75ish degree ice was probably not gonna happen. Checking my altitude at
11,175'
, my first thought was just "oh, lame.. this is gonna be scary," and I started up. My tool strikes were clean, and I was sticking very well. But after about 5 or 6 moves, a tool stick shattered on me, giving me a slight start, and I looked down to see a short fall to 50 degree hard ice, dropping away 1,000 feet to the bottom of the crater.... my concern wasn't so much that I couldn't ascend, but mostly that I would never be able to descend it safely. I thought to myself "well, this is why you brought that 22cm screw, remember?" and then also remembered that I'd forgotten to pack my v-thread tool... and so I very sketchily down-climbed the 5 or so feet I'd climbed. Anchored in to rest for a bit, staring at that damn wall, I eventually surrendered to the fact that I would not be summitting.
Yea, Walmart Remington. So what?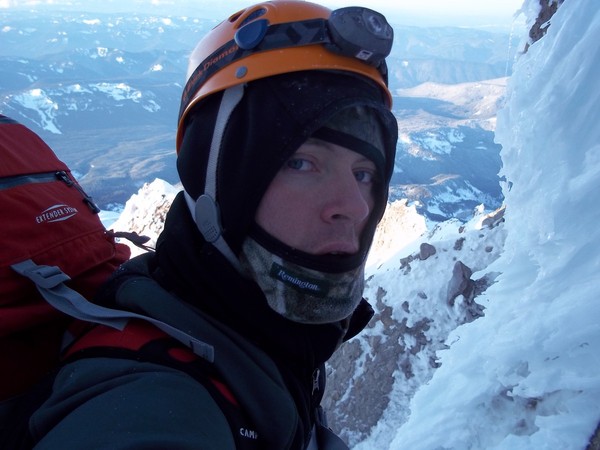 Just a shot back down the main coulior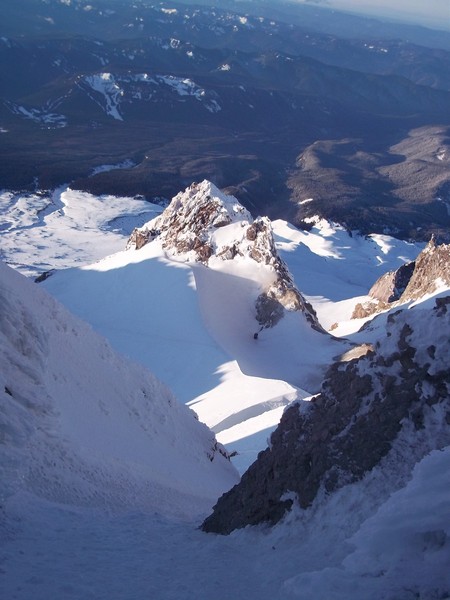 Down-climbing back down to the schrund, I regrouped, and reconsidered my options. The Old Chute was still there, obviously, and I still had some energy left. I munched a Powerbar, gulped the last of my Gatorade, and tried to estimate my time... by this time, it was around 9:00... I figured, factoring my inevitable rapid strength declination, probably halfway up the snow field, it would be another 2:30 to 3 hours till I'd be back to the schrund, with still another 2 hours to descend. Looking back down the slope, I observed a semi-startling sight- a HUGE blanket of clouds was cooking in from the east. I couldn't quite tell the elevation, but it looked to be between 5,500 and 7,000'... possibly complicating my descent. Once again, soloing for my first time, I decided I should probably just go ahead and pack it up.
I began descending pretty quick. Despite warm sun, the snow was staying firm, and heel-plunges were out of the question... 'pons stayed on, and I got the quad workout of the season. Once below Crater Rock, I observed the cloud blanket was still "rolling," but had stopped forward progress... Odd. I'd estimated it would absorb the mountain in 45 minutes, but after an hour, it was still stalled out about a mile from the base of the 'tain. My guess is that I was observing a weak cold front running into the shield wall of a high-pressure zone... like a brick wall. Whatever the case, the remainder of my now lazy descent was in the sun. Got some good glissades in, too- something I'd never had much luck with on the mild South Side slopes.
The clouds that never did come in
All in all, it was an awesome climb. Soloing, I waited for no-one... moved at my own pace, and moved up the mountain faster than I would have guessed possible. The "lame" hike to the top I was expecting turned into a pretty neat little ice climbing 101, and even though I surrendered maybe 50' from the summit, I think this was my most enjoyable Hood climb yet. I see more solo attempts in the future.
And this is what I came home to... and that's all he was wearing. Rock on, young Otto.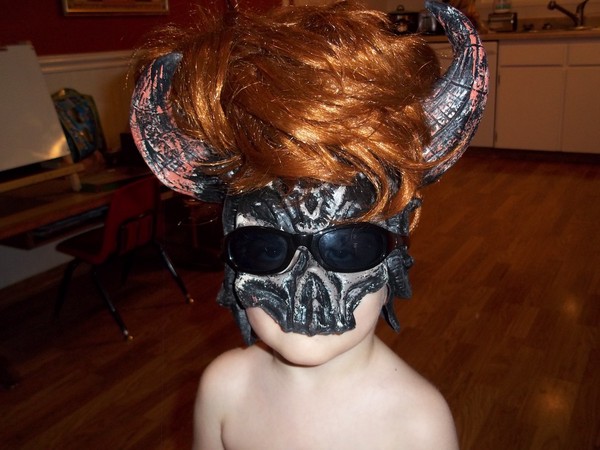 Gear Notes:
A belay would have got me up. Remembering I had a "bail screw" in my pack might have, too... but I really can't say, from the safety and comfort of my desk, if I would have had the balls...
Approach Notes:
It's the south side... just go up!